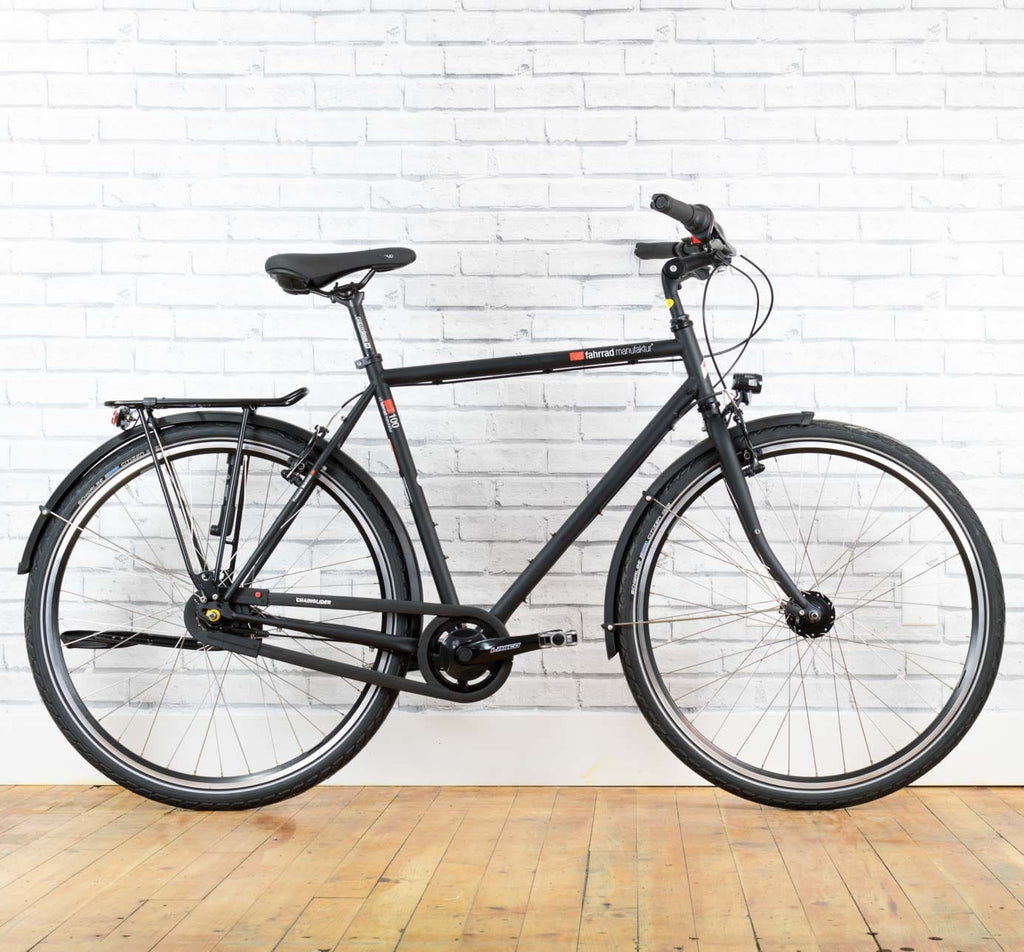 VSF FAHRRAD MANUFAKTUR
T-100 - ROADSTER - NEXUS 8
The VSF Fahrrad Manufaktur T-100 Roadster is the European answer to making bicycles (Fahrradmanufaktur literally means "bike maker") that aren't just designed for small flat cities like Amsterdam or Copenhagen, but large sprawled out cities like Berlin, where cycling is transportation but also a pastime - and the weather is as lousy. Kind of like Toronto! 

If your city riding is largely within a dense, highly defined radius the T-100 is a lightweight alternative to heavier Dutch bikes. If you have any hills in your usual route, the T-100 is lightweight and geared for the job. If you ride longer distances, or want to use the same bike in the city as you would on the weekend, the T-100 may be the only bike that does both equally well. It is, in fact, the ultimate do-everything "everyday" bike.
Like most of the German products we sell, the T-100 is a marvel of thoughtful design, engineering and top notch quality. The T-100 includes a dynamo lighting system that turns on automatically when you pedal, and even has a capacitor to keep the lights burning on stored energy when stopped. The parts are a collection of top-notch European companies, from the puncture resistant Schwalbe Tires to the Swiss made Pletscher kickstand. Everything is designed to work, and work well.
Unlike Dutch bikes which assume a consistently short ride in their design, the T-100 is upright but does position the rider ever so slightly over the bars to get more efficiency and control over distance. Just a touch more steering control and power to the pedals. It's not bolt-upright, but then, this is a bike you could ride for several hours if the spirit moves you. The chromoly steel frame is lighter and much more compliant than heavier steel frames from Holland, meaning you can finish a short bumpy ride or long gravel ride in comfort. It's stronger too. Like all the city bikes we sell, the Fahrradmanufaktur is built for perpetual outdoor storage but it's still light enough to carry inside.
VSF Fahrrad Manufaktur T-100 Roadster
Roadster-style frame with upright riding position 
Chromoly Steel frame  - Strong, lightweight and comfortable

Shimano Nexus 8-Speed internal gears - Low maintenance and reliable
Twist shifter - Dependable and easy to use in the winter
Shimano & AXA dynamo system - powerful, bright & battery free lighting 24/7
SKS full fenders - Unbreakable, lightweight, keeps you clean
Adjustable stem - Dial in that perfect fit
Hebie full chain guard - Keeps the chain and your clothing clean
Racktime rear rack with Snapit system - Best in class, made by Tubus in Germany 
V-Brakes - Powerful & easy to adjust
Selle Royale Rio saddle - Super comfy, made in Italy
Double walled rims - Strong and lightweight
Large volume, puncture resistant tires - Care free city riding
Strong side mount kick stand - made in Switzerland
VSF FAHRRAD MANUFAKTUR T-100 - ROADSTER - NEXUS 8
FRAME
Lightweight Cro-moly Steel - Powdercoated
FORK
Lightweight Cro-moly Steel

- Powdercoated

HEADSET
1" Alloy
STEM
Adjustable Alloy Quill 25.4mm
HANDLEBAR
Stahl Trekking, alloy
GRIPS
Herrmans DD37 - made in Finland
SEATPOST
Humpart Alloy Two-pin micro-adjust
SEAT
Selle Royal Rio - made in Italy
BRAKES
Shimano BR-T4000 V-Brakes
BRAKE LEVERS
Shimano
SHIFTER
Shimano Nexus 8 rotary
FRONT HUB
Shimano DH-C3000 Dynamo
REAR HUB
Shimano Nexus Internal 8 Speed
SPOKES
Niro 13G Stainless Steel, 36 Spokes
RIMS
Double-wall alloy
TIRES
Schwalbe Citizen - Puncture resistant
BOTTOM BRACKET
Thun Sealed Cartridge Bearing 68mm/105mm
CRANKS
38T x 170mm Steel
CHAIN
KMC Z-610 Zinc coated (rust resistant)
COGSET
3/32" 18T
PEDALS
Aluminum, 9/16 City/Trekking
KICKSTAND
Pletscher Zoom - made in Switzerland
FRONT LIGHT
AXA Blueline - made in Germany
REAR LIGHT
AXA Slimline - made in Germany
RACK
Racktime Standit - made in Germany
FENDERS

SKS Kunstoff - made in Germany

CHAIN GUARD
Hebie Chainglider - made in Germany
 

FAHRRADMANUFAKTUR T-100 - ROADSTER - NEXUS 8

FROM
TO
52CM
5' 6"
5' 9"
57CM
5' 9"
6' 1"
62CM
6' 1"
6' 5"
FAHRRADMANUFAKTUR COMPANY HISTORY: Fahrradmanufaktur (literally: bike manufacturer) builds strong, lightweight steel and aluminum bikes that are made for the sprawl of Berlin and the hills of North America. Fahrradmanufaktur originated with a group of Berlin retailers who were witnessing a boom in city cycling. They knew that heavy Dutch bikes couldn't provide solutions for big cities with sprawl and hilly topography. Frustrated with the sporting focus on the German bike industry, they first set up standards and approvals for a "no-nonsense" city bike, which ultimately led them to creating their own. Today Fahrradmanufaktur makes city bikes and touring bikes that are designed for life on two wheels. Fahrradmanufaktur is the evolution of the city bike, and we're pleased to be North America's first Fahrradmanufaktur retailer..
How is a city bike different from other types of bikes?
Behind each bike lies a designer, and within each designer lies assumptions. The assumption of most North American bike designers is that people ride bikes for recreation, which usually involves a bike path, a country road, and several hours of spare time. The bikes that result from this assumption are usually hunched-over, have exposed oily drivetrains that require tighter athletic clothes, feature anywhere from 21 to 33 speeds, and aren't often made to be locked up to metal poles all day, especially in foul weather. A city bike is quite the opposite. Its position is gloriously upright, the chain is totally covered, you can wear whatever you want, you have all the gears you'd ever need (3-speeds for flatter terrain, 7 or 8-speeds for hills), and tough frames and sealed mechanisms to battle all kinds of weather.
What's the difference between a brand like Fahrradmanufaktur and others you carry?
We're just going to say it: Fahrradmanufaktur is the best city bike we've ever seen. Sure, it may not be as pretty as an Achielle, but it still beautiful, perhaps functionally so. And yeah, it's functional. The frame is a rust-proof, strong and very lightweight aluminum – which is a bit disruptive to the traditional world of steel city bikes (but that's just the point). The geometry is upright but still sporty enough to multitask city riding and longer weekend adventures. The parts are made in Europe and best-in-class: chaincovers from Hebie (Germany), kickstands from Pletscher (Switzerland), racks from Racktime (Germany), fenders from SKS (Germany), grips from Herrmans (Finland) and lights from Axa (Netherlands), Herrmans (Finland) and Busch & Muller (Germany). Durable for all weather, light enough to bring inside, great for the city, and great to bring up to the cottage too. Best of all, the prices are more than reasonable.
What does Fahrradmanufaktur mean?
It means "bike manufacturer," because all of their bikes are literally made in Oldenburg, Germany. The company started by a group of urban retailers who were seeing the same increase in city cycling that we've seen here in North America, but weren't seeing great options from the German bike industry – which is largely focused on recreational riding – or the Dutch and Scandinavian markets – which continue to produce heavier bikes for short-burst city commutes. Like North American brands like Simcoe, Fahrradmanufaktur took matters into their own hands, but unlike Simcoe, they had access to a wide breadth of well-designed European parts from purpose-built kickstands to lights to racks. Their bikes are almost… perfect.
What's the difference between the S-80 and the T-100?
The S-80 is a slightly more economical bike targeted a bit more at the city cyclist while the T-100 can multitask city riding and longer rides at the cottage with equal aplomb. The S80 has a more upright position that prioritizes absolute safety in the city while the T-100 is still upright, but tilts the rider over slightly for better agility and power. The S-80 uses a ¾ chaincase whereas the T-100 uses the (amazing) full coverage Hebie Chainglider. And there's some other differences: the T-100 has a much brighter lightset, and uses some nicer parts like the Racktime rack (light and strong) and quality Swiss made Pletscher kickstands.
What is dynamo lighting?
Cars come with lights and so should a city bike. Dynamo lightsets are an integrated system that generates electricity from the hub and blasts this into a bolted-on, theft-resistant light that projects more power than most battery systems so that you can see and be seen. Unlike the old days where the dynamo rubbed against the tire (slowing you down) the new systems are part of the front hub and are very low friction as well as very low maintenance. Most of the dynamo sets we carry feature a "standlight," or capacitor which means they produce and store energy so that when you're stopped the lights keep going.
Is a Step-thru for Women and a Roadster for Men?
Heck no! It's the 21stcentury and anyone can ride either a Step-thru or a Roadster. The difference between the two is not gender, but position. A Step-thru has a remarkably high head-tube that raises the handlebar up very high so the back is straight and the hips pointed forward. A Roadster has a much shorter headtube that positions the rider over the handlebars for more control, and the hips over the cranksets for more power. If you imagine yourself toodling through the bike lane at a stylish and efficient pace, choose a Step-thru. If you imagine a bit more zip and power then choose a Roadster.
How strong are the wheels and will I get a lot of punctures?
Wheels are always the first part to break on most bikes and these wheels are strong! All the city bikes we sell feature strong double-walled rims that are internally box-sectioned to handle streetcar tracks and potholes. They all feature strong stainless-steel spokes that can never rust. Bikes like the Fahrradmanufaktur also feature Schwalbe Citizen tires that are Kevlar-belted tires to drastically reduce punctures in the city.
What is an internal gear hub?
In Europe a bike with an internal gear hub is what makes it a definitive city bike. Internal gear hubs are awesome. Because the chain isn't derailed up and down a set of external cogs (using a derailleur), the chain will never fall off again, and best of all, the chain can be covered so you can wear whatever you want. The gears are sealed inside the rear hub and they hold a tune two times longer than a derailleur, minimizing tune-ups and allowing you to store the bike outside throughout the winter problem-free.
How do I ensure my new bike won't get stolen?
Research shows that very few bicycle thefts are related to a bicycles value and are best defined as low-risk/low-return. A good bicycle lock is expensive to break through and takes time, thus increasing the risk and lowering the return. Estimates are that over 90% of bicycle theft is tied to cash-for-drugs and that makes every bike a target. Make sure you buy a good Abus U-lock or a chain and you'll be fine. You can read more about bike theft here.
What's the warranty?
Ten year warranty for manufactures defects on frame and fork, one year on parts. Does not include wear and tear.
Shipping Calculator
Did you know we ship bikes completely built and ready to ride? Our bikes are shipped Ride Out Of The Box meaning they are professionally tuned and delivered - worry free. Your bike will arrive at your door step with any accessories installed, so you can ride it right out of the box!
TUNED UP
DELIVERED
READY TO RIDE
Want to learn more about our Ride Out Of The Box shipping? Keep reading here.
Learn more about our return policy here.
Want to know how much shipping will cost? Just tell us where its going!