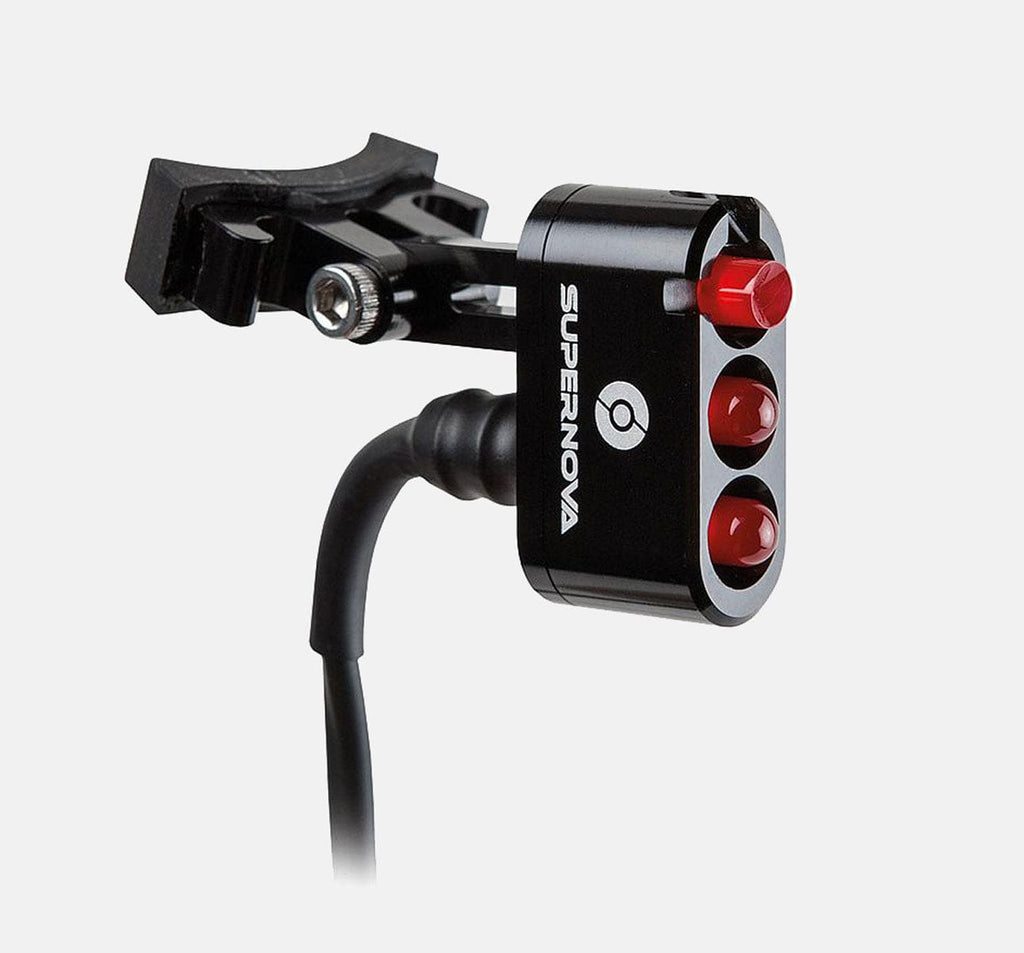 SUPERNOVA
E3 TL2 REAR LIGHT - E-BIKE - 12V - SEATPOST MOUNT
At only 18g the Supernova E3 Tail Light 2 is the lightest tail-light in the world. Combining this with an exquisitely crafted CNC aluminum body, 100% waterproof casing, multiple mounting positions and adaptors, and three supremely bright LEDs, the E3 TL 2 is unrivalled in its sleek simplicity and impressive functionality.   
This E3 TL2 model is compatible with 12V e-bike batteries. The seat post mount bolts ingeniously to the seat post sitting vertically for a higher placement and more visibility. And don't worry about not being seen from the sides - the E3 Tail Light has the widest visibility ranging at 250 degrees. For lighting up the night you can do no better than the E3 Tail Light 2.
Supernova E3 TL2 Rear Light for 12V E-Bikes
Seatpost mount puts the light up high for maximum visibility
3 super-bright LEDs provide 270 degrees of visibility for rear and perpendicular safety
CNC-aluminum body is durable, rust-proof, and 100% waterproof
Voltage: 12 V
Weight: 18g 
Dimensions: 16 x 61.5 x 11.5 mm
Cable length: 180cm
Made in Germany
| E3 TL2 SEATPOST  - E-BIKE | |
| --- | --- |
| LUMENS/LUX | n/a |
| BATTERY OR USB | E-bike - 12V  |
| WATERPROOF | Yes |
| REMOVABLE OR BOLT-ON | Bolt-on, theft-resistant |
| SUITABLE FOR | City Bikes, Hybrid Bikes, Trekking Bikes, Road Bikes, Mountain Bikes |
| USAGE | Seatpost |
| MANUFACTURED | Made in Germany |
| WARRANTY | 5 year from purchase date unless otherwise stated |
Supernova Company History: The year 1995 saw a tomato paste can, a halogen bulb, and motorcycle battery turn into a headlamp - and so came the first of countless innovations from Supernova. From then on, Marcus Wallmeyer took his original idea and designed a company that could allow riders from many disciplines, primarily mountain bikers, to ride into the night on unlit and relatively uncharted paths. The lights to follow brought about some of the brightest and most powerful lights the industry had ever seen. As the concepts grew bigger (dynamos, pedelecs, and battery) the designs got smaller and even more powerful. In 2004, the E3 dynamo headlight and tailight were produced to huge acclaim and numerous awards. Supernova continues to be the go-to for the best design, meticulous engineering and near-perfect functionality.
FREE SHIPPING ON ALL PARTS & ACCESSORIES ORDERS OVER $150*
Canada: We use UPS, Purolator, Canpar or Canada Post within Canada. All applicable Provincial Taxes are charged at checkout. Orders may take 1-2 business days to process. A tracking number will be provided by email.
USA: We use UPS, UPS Mail Innovations, or Canada Post/USPS in the USA. No US or Canadian Tax is charged at checkout and a small flat rate international processing charge covers all cross-border Fees and Duties. Orders may take 1-2 business days to process. A tracking number will be provided by email.
*Does not apply to oversize items.