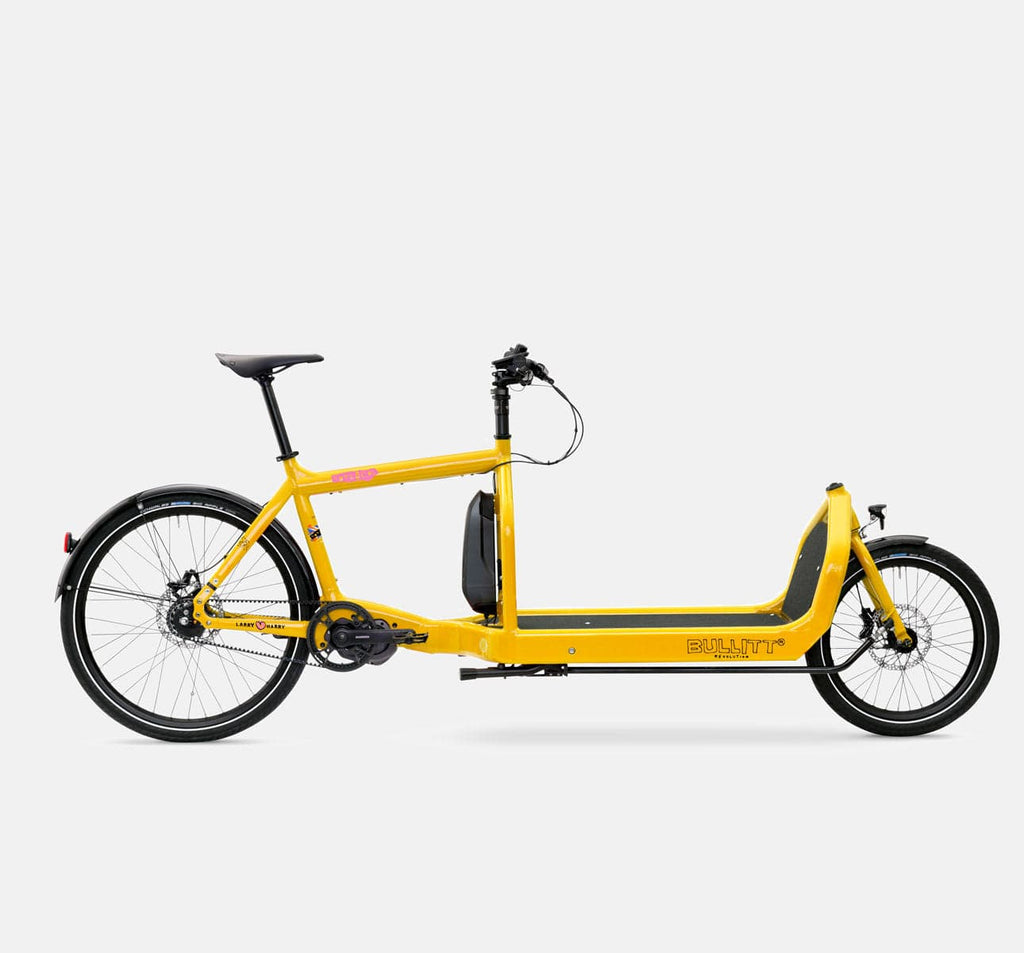 LARRY VS HARRY
E-BULLITT - STEPS E6100 - NEXUS 5 Di2 GATES - BIKE ONLY
The E6100 Bullitt takes the standard Bullitt and gives you way more capability, whether that's longer rides or bigger hills. A Bullitt is a legendary bike and its light frame and high performance parts are the choice of bike messengers, weekend warriors and bike commuters across the world.   

This is the ultimate low maintenance, all-weather machine. The Nexus 5 hub is Shimano's purpose-built e-bike hub; low-maintenance and made to sustain the constant torque and power of their E6100 motor. The E6100 motor, meanwhile, has an insane 800W of peak power (250W nominal), 65nm of torque (perfect for uphill acceleration), and a massive 504W battery that can push up to 180km on a single charge. And, with the Gates CDX belt drive, you get up to 30,000km of zero-maintenance drivetrain use. Add the electric shifting and hydraulic brakes and you have the perfect winter bike (no cable freeze, no chain, almost no maintenance). 
Anybody who has ridden a Bullitt knows the feeling. Whereas most cargo bikes are heavy, sluggish and tend to 'bow' in corners, the Bullitt is light, fast and ultra-stiff. What you give it, it gives back. This performance is only advanced by a performance geometry that maximizes pedal-transfer and steering performance. It's a highly responsive machine... it reads your mind. This is even more the case with the E6100 motor constantly tuning output power to your torque, cadence and wheel RPM. Add the automatic electric shifting (there's a manual option too), and this is pure mind-bike connection.  
Lightweight 6061 Aluminum frame, made for STePS
Large payload chassis with 100kg payload  
250W nominal power, 800W peak. 65nm of torque 
504W battery for long rides (up to 180km)
Satori Easy-up stem adjusts handlebars from upright comfort to demon speed racer
Shorter wheelbase and low centre of gravity puts less bike and more handling into corners
Steep seat and head-tube angles optimize acceleration and handling
Super-stiff frame doesn't flex in corners: total mind-bike connection
Low maintenance Nexus 5 internal hub with a 263% gear range 
Di2 electric shifting w/ optional Automatic shift
TRP Slate T4 4-piston caliper with massive 180mm rotors (2mm thick)
High-puncture resistant Schwalbe Tires
Heavy duty aluminum kickstand
Designed in Denmark
Does NOT include Honeycomb Board
BULLITT
FRAME
Super-stiff Aluminum Alloy - Powder-coated
WEIGHT CAPACITY
400lbs (rider + payload)
DRIVE UNIT
Shimano STePS E6100 250/500W w/60Nm Torque
BATTERY
Massive 418W battery for long run time
MAX ASSISTED SPEED
32km/hr as per Canadian regulations
COMPUTER MODES
Low, Medium, High 
RANGE ESTIMATE

180km on low (eco)

CHARGING TIME
Four hours
HEADSET
FSA Orbit XL Pressfit w/cartridge bearings
STEM

Satori Easyup w/ quick 100mm up/down adjustment

HANDLEBAR

Alloy 

GRIPS
Lock-on (never loosens up)
SEATPOST

350mm Alloy w/optional quick release

SEAT

Velo

BRAKES

Hydraulic TRP Slate T4 4-piston caliper with 180mm rotors

BRAKE LEVERS

Tektro

SHIFTER

Shimano Di2 Electronic Shifting w/automatic

FRONT HUB
Novatec disc front
REAR HUB
Shimano Nexus 5 hub w/ 263% range
SPOKES
Stainless steel, 36H, 14G
RIMS

Alex DM24

TIRES

Schwalbe Marathon

BOTTOM BRACKET
Cartridge sealed
CRANKS

Shimano w/ Gates CDX cog

COGSET
Gates CDX
CHAIN
Gates CDX Belt drive
PEDALS
Alloy, sealed bearing
KICKSTAND

Integrated wide-base aluminum spring loaded 

RACK
Optional
FENDERS
SKS Chromoplastics
FRONT LIGHTING

B&M Lumotec (powered from battery)

REAR LIGHTING
B&M

Secula (powered from battery)

STEERING DAMPER
Optional
BIKE DIMENSIONS

L 243 x W46 x H76 cm

CHASSIS DIMENSIONS
L: 724mm bottom, 824mm top, W; 466mm
FRAME WEIGHT
25lbs
| BULLITT  | FROM | TO |
| --- | --- | --- |
| | 5' 4" | 6' 7" |
Bullitt Company History: Bullitt is owned by Larry and Harry and the company that owns Bullitt is called Larry Versus Harry, because they don't always agree on everything. When they do, a product like Bullitt appears - the most drool-worthy cargo bike on the market. Larry is an industry veteran in the three-wheeled Danish cargo bike market and Harry is an ex-courier and contractor who used and old Danish two-wheeled "long john" cargo bike. They both agreed that the two-wheeled cargo bike is faster than three-wheeled cargo bike and, is perfect for deliveries where time is money. So, an industry veteran and an ex-courier got together and revived the Danish "long john" (the two wheeled cargo bike is a Danish, not Dutch invention) and today it's used by DHL and families all over the world. This is, unabashedly, the best handling cargo bike on the market, and that means good handling skills are required. If you're an existing cyclist who has a small business or a small family (this bike only seats one kid), this is a cargo bike you can immediately understand. It's obsessively lightweight, uses performance parts you already love, and positions your body over the handlebars for maximum acceleration, cornering and efficiency. It's not a cargo bike for everyone, but in a world of upright, heavy, mini-van style cargo bikes, this is a high-handling and (equally) safe alternative.
Will this take up a lot of space on the road?
Nope. This is the narrowest, fastest and meanest cargo bike on the road. You can even pass in the bike lane (if you're good).
How does this compare to other two-wheeled cargo bikes?
Nothing compares to a Bullitt, full stop. But, it's not for everyone. This is a cargo bike that has a definite learning curve, but that learning curve entails a human-machine connection that, when reached, is beyond words. Bullitt was designed originally for fast cargo deliveries, and this DNA lies behind its punchy acceleration and telekenetic handling. Safety and handling are deeply intertwined, so once the learning curve is mastered (takes a week) this is arguably one of the finest kid-carrying machines too. If you're ok with a little bit of a learning curve, you're going to love this bike.
How the heck do I buy one of these?
Unlike the non e-assist Bullitt bikes, the STePS systems are sold as complete bikes. The hard part is choosing your colour!  
Can I use this bike for a business?
The original intention of the Bullitt is for business, which is why it is used by DHL throughout Europe and many courier companies throughout North America. The Bullitt frame offers endless possibilities for custom boxes and Bullitt has several turnkey options that are available anytime by special order. Email eric@curbsidecycle.comif you're interested in discussing a Bullitt for your business or business idea.
I want to set this up for carrying a child, what's the process? 
First you need the Honeycomb Board, which is a lightweight laminated lattice-aluminum baseplate that makes the foundation. To this mounts the Foldable Seat. For impact resistance you can either choose the canopy which has an aluminum roll-bar inside. Or, you can buy the BBX panels, made of impact-resistant laminated lattice-aluminum. If you want to use the Canopy in the winter the BBX panels remove quickly, and the inverse is true if you want to use the open-air BBX panels in the Summer.
How many kids will this carry?
One. Two if they're tiny.
Can I store it outside?
Of course. But if you are storing it outside during the winter we strongly recommend going with the traditional Shimano STePS e-assist since it uses a low maintenance Alfine internal gear system.
Does the battery lock to the bike? 
Yep. That's one expensive chunk of Lithium Ion. It locks on to the down-tube and only you can remove it with the key provided.
How long does it take to charge the battery?
It takes five hours to charge the battery from flat to full, and there is no problem if you only charge the battery a little bit, halfway, or whatever. You'll get over 1000 complete charges with the battery which is typically 5+ years of use before a replacement is required.
Is the unit serviceable?
You bet it is. For years the e-assist market was dominated by small fly-by-night companies with good ideas and no balance sheet. The consumer took all the risk and were often left with technical assistance phone numbers that no longer worked. Today's systems are made by huge players like Bosch, Yamaha, and Shimano – and they are sophisticated, which means they are updateable, diagnosable, and if something does break, fundamentally repairable.
This is expensive! Will it get stolen?
Estimates are that over 90% of bicycle theft is tied to cash-for-drugs and this (unfortunately) makes every bike a target. Make sure you buy a good   U-lock or a chain and your bike will be safe. You can read more about bike theft here.
What's the warranty?
Two-year warranty for manufacturer defects on frame and fork, one year on parts. Does not include wear and tear.
Shipping Calculator
Did you know we ship bikes completely built and ready to ride? Our bikes are shipped Ride Out Of The Box meaning they are professionally tuned and delivered - worry free. Your bike will arrive at your door step with any accessories installed, so you can ride it right out of the box!
TUNED UP
DELIVERED
READY TO RIDE
Want to learn more about our Ride Out Of The Box shipping? Keep reading here.
Learn more about our return policy here.
Want to know how much shipping will cost? Just tell us where its going!