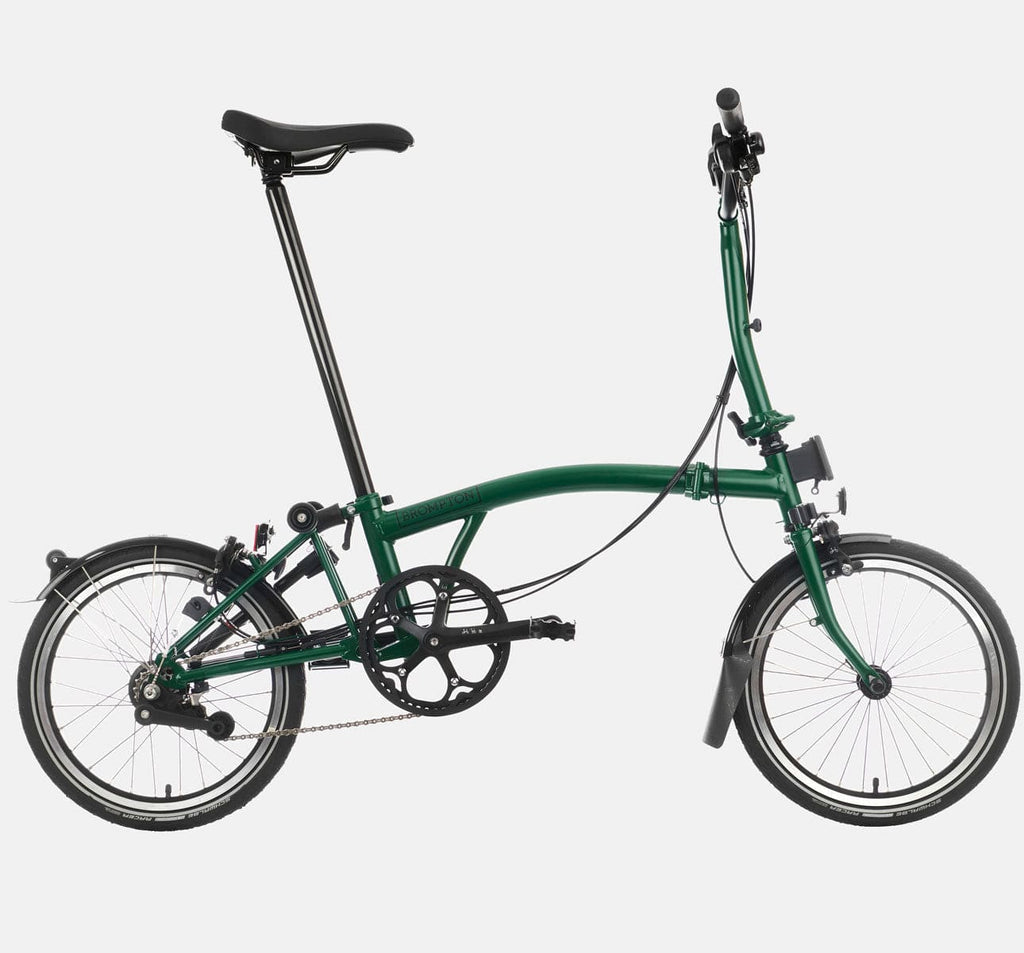 BROMPTON
2023 C LINE URBAN - MID HANDLEBAR
The new 2023 Brompton C Line Urban folding bike is the classic All-Steel Folding Brompton people have known and loved for years, but now has all-black componentry, along with black fork and rear triangle in the spirit of the wildly popular "Black Edition" Bromptons. It's the most customizable bike in Brompton's lineup and the chromoly steel frame can be finished in an assortment of colours from classics to vibrant pop tones - including the all-new Matcha Green or Yellow. For a premium look, choose the Black Lacquer or Flame Lacquer finish which is made using only the best frames where the hand brazing is visible.        
Ideal for shorter rides or fast flats, the Urban model is a great solution for those who want the simplicity, low maintenance and weight savings of a two speed bike. Ideal for a flat city dweller or occasional weekend warrior, this model offers one gear for speed and one for climbing. Schwalbe Marathon Racer tires provide a zippy ride and a Front Carrier Block lets you customize your bike with a wide range of Brompton bags. Ideal for city use, plus all the low-key travel your heart desires - perfect for someone who expects to be carrying their bike often.  
This bike uses the Mid Handlebar which is Brompton's bestseller and the sweet spot for short riders seeking an upright ride or average-height riders wanting a bike that is both efficient and comfortable. Fenders keep you and your bike looking presentable and make entry to shops, museums, and theatres a lot easier as a result. The bike is fitted with a Standard seatpost but can be swapped to Extended or Telescopic seatposts depending on your height. It comes standard with the Brompton Wide saddle which suits this handlebar the best but can be swapped out to the Brompton Standard saddle at no extra charge.
An optional aluminum rear rack makes the bike considerably more stable when folded and much easier to roll when using it in "rolling transport mode". It also allows you to carry extra luggage on the back while touring, or if you need to haul something too large to fit in a front bag.
Note: The photos here depict a Brompton with a 3-speed internal Sturmey Archer hub. The Brompton C Line Urban is in fact a 2-speed bike.
Questions? Book a consultation with a Brompton expert, or read our 2023 Brompton Buyer's Guide blog post

Brompton C Line Urban - Mid Handlebar
Main frame painted in one of seven high quality standard finishes or the luxury Black Lacquer or Flame Lacquer finish
New for 2023, Rear Frame and Fork all painted Black
Mid Handlebar - Sweet-spot for shorter riders who want to sit upright or average-height riders who want a bike that is both efficient yet comfortable
Urban Two Speed Standard Gearing (56-74.7 Gear Inches) - This can be changed to -7% or -18% at no extra charge
Schwalbe Marathon Racer Tires - Comfortable and light puncture resistance 
Integrated Trigger Shifter with Gear Display Window
Front and Rear Fenders - Keep you clean and dry whatever the weather
Front Carrier Block (FCB) - For mounting Brompton bags 
Standard seatpost - Can be swapped to Extended or Telescopic if needed
Brompton Standard or Wide saddle
Weight: 24.60 lbs
ADD: Front Bags & Covers
BROMPTON C LINE URBAN - MID HANDLEBAR - MARATHON RACER
*Specs subject to change without notice due to global supply chain issues*
FRAME

Main Frame: Precision drawn heat-treated steel tubing, full ED coated, Hand-brazed in England

Rear Triangle: Cold formed micro-alloy steel tubing, full ED coated, hand brazed in England

FORK
Chromoly steel, full ED coated, Hand-brazed in England
HEADSET
Brompton Steel - Black
STEM
Brompton Mid Stem - Precision drawn heat-treated steel tubing, full ED coated, Hand-brazed in England
HANDLEBAR
Brompton Mid Handlebar (Moderate Riding Position) - Black - Triple butted aluminum with shot-peened finish
GRIPS
Brompton Lock-On, with soft compound rubber adhered to engineered core - Black
SEATPOST

Brompton Steel Standard, Extended or Telescopic - Black

SEAT
Brompton Standard or Wide with built in handle and rear light mount
BRAKES
Brompton Dual Pivot Calipers - Black
BRAKE LEVERS
Brompton with Integrated Bell - Black
SHIFTERS
Brompton Integrated Gear Trigger - Left Hand 2-Speed

R. DERAILLEUR
Brompton Chain Tensioner
FRONT HUB
Brompton Alloy - 28h - Black
REAR HUB
Brompton 

Alloy Sealed Bearing - 28h - Black

SPOKES
Stainless Steel Straight Gauge - Black
RIMS
Brompton Alloy, Double Walled - Black with Machined Braking Surface
TIRES
Schwalbe Marathon Racer
BOTTOM BRACKET
Cartridge 119mm JIS
CRANKS
Brompton 5-bolt - 54T - Black
COG-SET
Brompton 12/15T
PEDALS
Brompton (left hand folds) - Black
RACK
Optional - Aluminum, 24lb weight limit
FENDERS
Brompton Chromoplastic - Black with rubberized flap
SUSPENSION

Rubber Elastomer - Firm

WEIGHT
24.60 lbs
FOLDED SIZE
645mm (H) x 585mm (W) x 270mm (D) (25.3" x 23" x 10.6")
EXTRAS

Optional Brompton Zefal Pump

Front Carrier Block (FCB) included
| BROMPTON C LINE URBAN - MID HANDLEBAR - MARATHON RACER | FROM | TO |
| --- | --- | --- |
| Standard Seatpost | 5' 2" | 5' 11" |
| Extended and Telescopic Seatpost | 5' 10" | 6' 4" |
A BIT ABOUT BROMPTON: If you were to walk into the store and look at a Brompton we would say there are three things you should look for in a folding bike. All of them are fairly obvious. One, the bike should ride well - and, on a small wheeled bike that's tricky because there's a fine line between maneuverability (which is a virtue) and twitchiness (which is a vice). Two, the bike should fold well - otherwise you're blood pressure will rise and you'll curse the day you bought it. Third, it should be transportable, or highly storable - because that's the whole point, right?

Brompton is the only company we've seen that answers all three criteria - and believe us, we've tried every brand out there. The reason others can't compete is because Brompton has answered a fundamental engineering problem. If a bike is going to unfold to a large footprint (which takes the twitch out) then it is unfolding to a bigger bike - and by all logic, a bigger bike unfolded would be a bigger bike folded. So, it's pretty much true that for most folding bikes they either have great rideability but poor transportability or vice versa. And nearly all of them are a mess to fold.

Not Brompton. Brompton has designed the Platonic form of all folding bikes. The bike folds to the smallest size on the market, unfolds in a highly precise and easy manner, and has the same axle-to-axle footprint as a hybrid bike. How did they do this? By not only designing a clever frame, but also designing some 1200 proprietary parts that make everything fit - and fit perfectly. Oh, and nearly all of this is made in England. No wonder this bike has a cult following.
Shipping Calculator
Did you know we ship bikes completely built and ready to ride? Our bikes are shipped Ride Out Of The Box meaning they are professionally tuned and delivered - worry free. Your bike will arrive at your door step with any accessories installed, so you can ride it right out of the box!
TUNED UP
DELIVERED
READY TO RIDE
Want to learn more about our Ride Out Of The Box shipping? Keep reading here.
Learn more about our return policy here.
Want to know how much shipping will cost? Just tell us where its going!