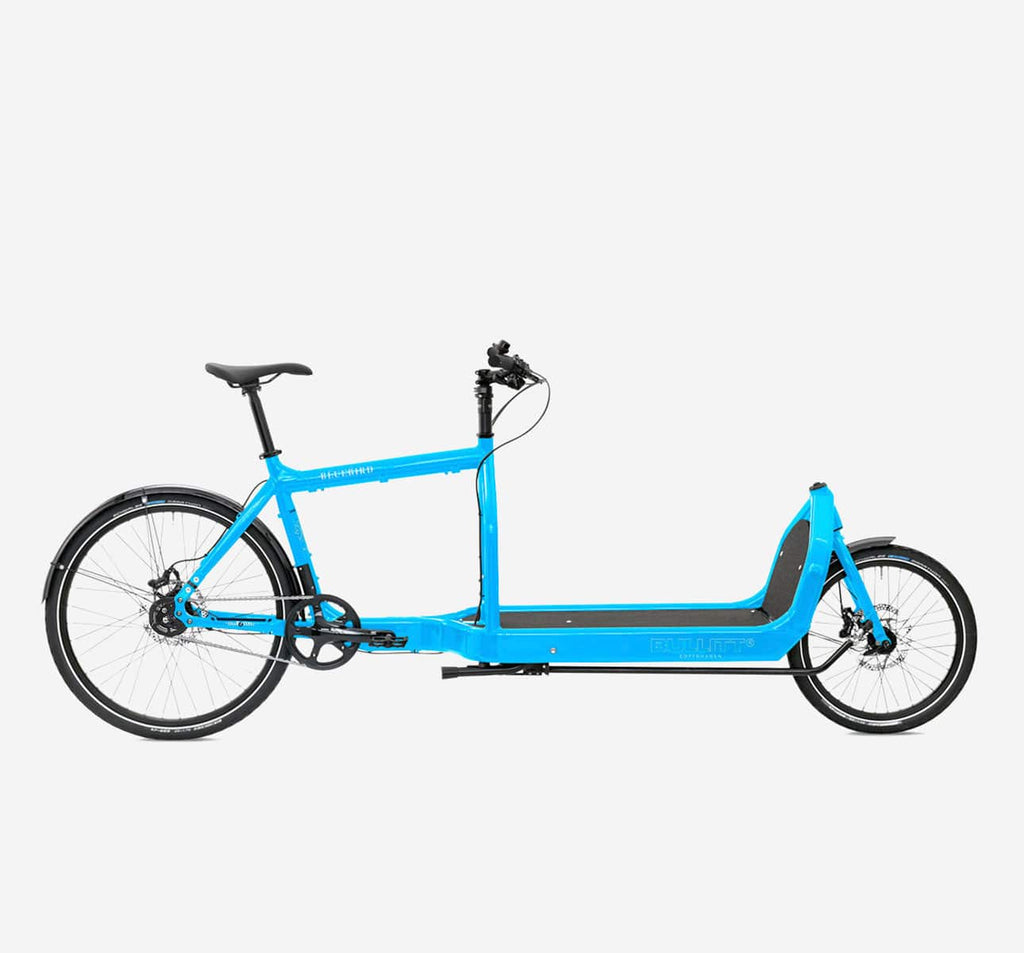 LARRY VS HARRY
BULLITT - BIKE ONLY
The Bullitt cargo bike is a high-handling cargo bike in a world of cargo bikes that assume their customers are over-cautious and inexperienced as cyclists. Bullitt makes no such assumption. Their cargo bikes are a revival of the two-wheeled Danish "long john" (the two-wheeled cargo bike is a Danish invention) and it's meant to hop curbs, maneuver tight around corners, accelerate quickly and drop off packages (or kids) quickly - because hey, time is money. This bike is all about handling, and that means the ride is as safe as your handling skills. You can ride slow-and-safe as you drop off the kids and then hammer and corner your way to work. It's as fast as you want it to be and as safe as you want it to be.  
This stripped-down Bullitt is for the user who's got a plan, whether that means strapping cargo down to the chassis by bungee cord, buying one of Bullitts cargo-boxes on the chassis (available by special order), or throwing down a big rubbermaid container down for groceries. You just have to choose your frame colour and drivetrain.
Year-round cyclists who want low maintenance usually opt for the internal gear options. The Nexus 7 option offers a fairly wide 244% gear ratio with a heavier steel hub but keeps the price low - great if you're mostly riding with low payloads on flat terrain. The Alfine 8 hub option uses a lighter alloy hub and jacks the ratio up to a decent 306% - great for hills, speed, and everything in between. Want lower maintenance? Add the Alfine 8 system with the Gates Belt drive.
The two derailleur systems on-offer vastly increase climbing and speed range and also lighten up the bike significantly - but they do add maintenance, especially in winter. The Deore system has 20 speeds with a massive 327% gear range, most of it on the climbing side. However, if you're carrying heavy loads, have bigger hills, and don't want the e-assist options we advise spending the dough on the XT drivetrain. The XT drivetrain use a large 42T rear cog (the Deore only has a 32T), giving you a massive 418% gear range, perfect for all-terrain all-payload and all-everything. 
Want to learn more? Read our Bullitt Review!
Lightweight 6061 Aluminum frame
Short wheelbase and low centre of gravity puts less bike and more handling into corners
Steep seat and head-tube angles optimize acceleration and handling
Super-stiff frame doesn't flex in corners: total mind-bike connection
All bikes use high-end hydraulic disc brakes
Low maintenance, Nexus 7 internal gears provide 244% gear range, good for light payloads and few hills
Low maintenance, Alfine 8 internal gears provide 306% gear range, good for heavier payloads and bigger hills, optional Gates Belt Drive
Lightweight Deore system provides 327% gears with more in-between increments, perfect for heavy payloads and all terrain
Lightweight and high-performance XT system provides massive 418% gear range, ready for anything 
Replaceable dropouts for easy drivetrain switcheroos
Split frame for Gates installation
Heavy duty aluminum kickstand
Experienced cyclists recommended
Maximum Capacity: 180kg or 400lbs 
Designed in Denmark
BULLITT
FRAME
Super-stiff Aluminum Alloy - Powder-coated
WEIGHT CAPACITY
400lbs (rider + payload)
HEADSET
FSA Orbit XL Pressfit w/cartridge bearings
STEM
Satori Easyup w/ quick 100mm up/down adjustment
HANDLEBAR

Alloy 

GRIPS
Lock-on (never loosens up)
SEATPOST
350mm Alloy w/optional quick release
SEAT

Velo

BRAKES

Tektro 2-piston front + coaster on Nexus 7
Tektro 2-piston Hydraulic Deore
Magura 4-piston on Alfine 8
Shimano Zee 4-piston w/cooling on XT

BRAKE LEVERS
Tektro, Magura or Shimano (see brakes, above)
SHIFTER
Varies per bike
FRONT HUB
Novatec disc front
REAR HUB
Varies per drivetrain choice
SPOKES
Stainless steel, 36H, 14G
RIMS
Super-strong Alex DM24
TIRES

Schwalbe Marathon (except XT model: super-fast Schwalbe Kojak)

BOTTOM BRACKET
Cartridge sealed
CRANKS
Varies per model - Alloy 170mm
COGSET
Varies per model 
PEDALS
Alloy, sealed bearing
KICKSTAND

Integrated wide-base aluminum spring loaded 

RACK
Optional
FENDERS
SKS Chromoplastics
LOCK
Not included

LIGHTING
Optional
STEERING DAMPER
Optional
BIKE DIMENSIONS

L 243 x W46 x H76 cm

CHASSIS DIMENSIONS
L: 724mm bottom, 824mm top, W; 466mm
FRAME WEIGHT
25lbs
| BULLITT  | FROM | TO |
| --- | --- | --- |
| ONE SIZE | 5' 4" | 6' 7" |
Bullitt Company History: Bullitt is owned by Larry and Harry and the company that owns Bullitt is called Larry Versus Harry, because they don't always agree on everything. When they do, a product like Bullitt appears - the most drool-worthy cargo bike on the market. Larry is an industry veteran in the three-wheeled Danish cargo bike market and Harry is an ex-courier and contractor who used and old Danish two-wheeled "long john" cargo bike. They both agreed that the two-wheeled cargo bike is faster than three-wheeled cargo bike and, is perfect for deliveries where time is money. So, an industry veteran and an ex-courier got together and revived the Danish "long john" (the two wheeled cargo bike is a Danish, not Dutch invention) and today it's used by DHL and families all over the world. This is, unabashedly, the best handling cargo bike on the market, and that means good handling skills are required. If you're an existing cyclist who has a small business or a small family (this bike only seats one kid), this is a cargo bike you can immediately understand. It's obsessively lightweight, uses performance parts you already love, and positions your body over the handlebars for maximum acceleration, cornering and efficiency. It's not a cargo bike for everyone, but in a world of upright, heavy, mini-van style cargo bikes, this is a high-handling and (equally) safe alternative.
Will this take up a lot of space on the road?
Nope. This is the narrowest, fastest and meanest cargo bike on the road. You can even pass in the bike lane (if you're good).
Why might I consider the e-assist version?
Several reasons! First, you might carry a lot of weight up in the box, or second, you commute longer distances or have to deal with hills. When buying a cargo bike we recommend not always thinking about the short-distance errands that constitute most urban life, but also its use for all-day weekend adventures.
Have you ever put a Bionx on a Bullitt?
Yep. Bionx make some of the most powerful rear-drive e-assist systems out there and they match up to a Bullit's frame and purpose perfectly. The 350 and 500 systems offer power that no mid-drive system can compare with but make sure you buy a derailleur parts-kit since Bionx replaces the hub on a bike and therefore cannot work with an internal gear hub. If you want an internal gear hub and smoking performance this year Bullitt announced the new STePS E8000 version which offers mind-blowing acceleration and power-under-load.
How does this compare to other two-wheeled cargo bikes?
Nothing compares to a Bullitt, full stop. But, it's not for everyone. This is a cargo bike that has a bit of a learning curve, but that learning curve entails a human-machine connection that is deeply intuitive and remarkably sensitive. It makes sense that the original Bullitt design was for fast cargo deliveries, and this DNA lies behind its high performance acceleration and impressive handling. It's the safest cargo bike for kids if you've got that human-machine connection dialed, because handling and safety are deeply intertwined. Anyways, it's awesome: a parts package that would make most cyclists drool and a lightweight, very stiff aluminum frame that just feels incredible. If you're ok with a little bit of a learning curve, you're going to love this bike. 
Can I use this bike for a business?
The original intention of the Bullitt is for business, which is why it is used by DHL throughout Europe and many courier companies throughout North America. The Bullitt frame offers endless possibilities for custom boxes and Bullitt has several turnkey options that are available anytime by special order. Email eric@curbsidecycle.comif you're interested in discussing a Bullitt for your business or business idea.
I want to set this up for carrying a child, what's the process?
First you need the Honeycomb Board, which is a lightweight laminated lattice-aluminum baseplate that gets you started. On top of that we'll mount the Foldable Seat. But, the child in this seat needs impact-protection, and you can do this one of two ways: the first is to buy the canopy which has an aluminum roll-bar inside to protect the child in case of an impact. The second is to buy the BBX panels, made of impact-resistant laminated lattice-aluminum. If you want to use the Canopy in the winter the BBX panels remove quickly, and the inverse is true if you want to use the open-air BBX panels in the Summer.
How many kids will this carry?
One. Don't even try to carry more.
Can I store it outside?
Of course. But if you are storing it outside during the winter we strongly recommend going with one of the internal gear parts kit.  
This is expensive! Will it get stolen?
Research shows that very few bicycle thefts are related to a bicycles value and are best defined as low-risk/low-return.   A good bicycle lock is expensive to break through and takes time, thus increasing the risk and lowering the return. Estimates are that over 90% of bicycle theft is tied to cash-for-drugs and that makes every bike a target. Make sure you buy a good Abus U-lock or a chain and you'll be fine. You can read more about bike theft here.
What's the warranty?
Two year warranty for manufactures defects on frame and fork, one year on parts. Does not include wear and tear.
Shipping Calculator
Did you know we ship bikes completely built and ready to ride? Our bikes are shipped Ride Out Of The Box meaning they are professionally tuned and delivered - worry free. Your bike will arrive at your door step with any accessories installed, so you can ride it right out of the box!
TUNED UP
DELIVERED
READY TO RIDE
Want to learn more about our Ride Out Of The Box shipping? Keep reading here.
Learn more about our return policy here.
Want to know how much shipping will cost? Just tell us where its going!