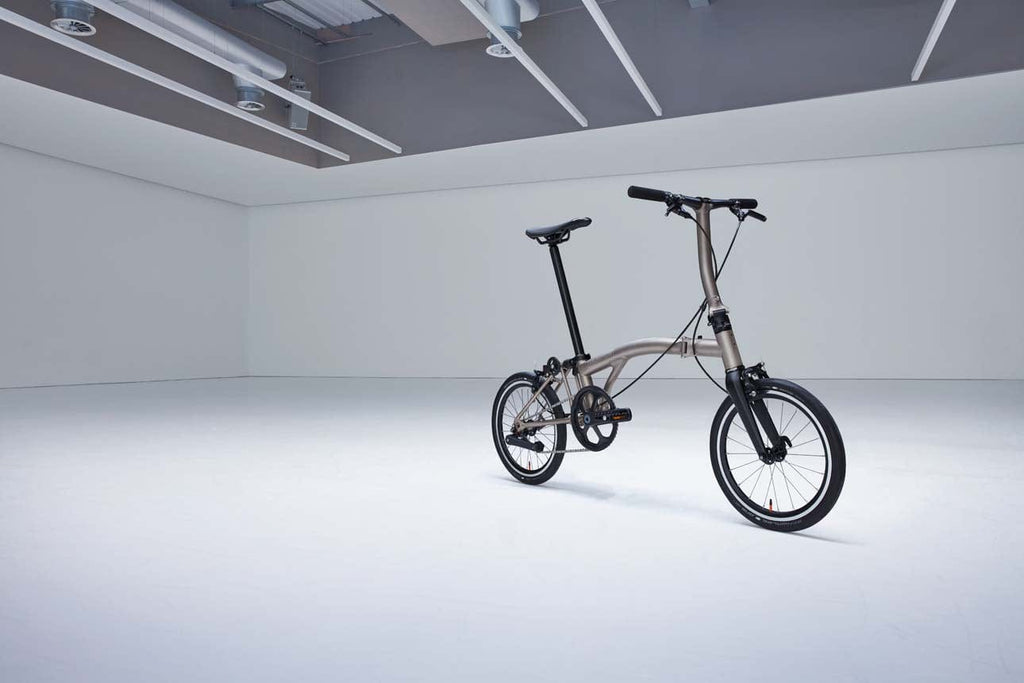 BROMPTON
BROMPTON T LINE URBAN
PLEASE NOTE: T Line bikes are currently only available to waitlist customers who have been explicitly contacted.
The all-new ultra-light titanium frame. Over 150 specially developed weight-saving components. Three years of obsessive material choices and rigorous testingEverything brand-new except the fold. Andrew Ritchie, founder, obsessed over that 40 years ago. Never bettered, just refined, it's the original and still the best. The entirely re-engineered T Line titanium frame weighs 37% less than the original all-steel equivalent and is just as strong. At 7.95 kg in total, the T Line is comparable to a carbon road bike. Yet, it can be comfortably ridden by a 110kg rugby player. And withstand the punishing impact of the city. 
Nothing rides like it—the entirely new* drivetrain. Designed ground-up to sit inside the fold, to be light as possible and for optimal city performance. The carbon crankset gives greater power transfer. The 60-gram derailleur delivers smooth shifting in a small package. The new gear-ratio, tested from Amsterdam to San Francisco, perfected for city roads. The first bike in the world with a steel-armoured carbon seat post. We know because we invented it. Ordinary carbon seat posts are stiff, strong and lightweight, but they can't stand up to the daily use of a Brompton. So, Brompton developed a new process to reinforce the limitations of carbon with 0.3mm steel armour. The result: a superlight seat post that can take the abrasion of the fold, 110kg load and all-weather riding. Faster to fold, easier to carry. They studied every interaction with the folded bike and improved it. New: self-aligning hinges, always set-to-go. A spring-loaded handlebar catch that effortlessly clicks. Larger diameter rolling wheels go with the flow—an easy-grab carbon saddle with an integrated nose handle. Nothing folds like this Brompton, not even other Bromptons. Brompton ride dynamics have always made owners smile, and now they're elevated in every way. Carbon cranks and cast Ti bottom bracket shift your power for a faster ride. Naturally, shock-absorbing titanium smooths out the road. The one-piece carbon fork and wider carbon handlebars make it stiffer and even more responsive. This is a serious machine that's seriously fun to ride
This bike is offered with the Mid Handlebar which is Brompton's mid-height option giving the rider both a peppy yet comfortable ride, or the Low Handlebar giving the rider a sportier and speedier ride. 
2024 Brompton T Line Urban
Grade 9 titanium tubes, welded main frame with cast titanium bottom bracket manifold 
The all-new compact 4-speed gearing system optimised for city riding.
Faster, smoother folding mechanisms. 
Schwalbe ONE with Addix race compound and v-guard puncture protection - Stylish and fast
Superlight saddle with carbon rails and base with integrated carry handle and mount
110kg load carrying for you and your luggage. 
Weight: From 17.5 lbs
2024 Brompton T Line Urban
*Specs subject to change without notice due to global supply chain issues*
FRAME

Main Frame: Grade 9 titanium tubes, welded main frame with cast titanium bottom bracket manifold

Advance Superlight rear frame with replaceable hanger, suspension block and 54mm roller wheels

FORK
One piece carbon fork and steerer with magnetic pedal holder
HEADSET
Brompton Steel - Black
STEM
Grade 9 titanium diameter tubes with integrated headset and spring loaded steerer catch hinge
HANDLEBAR
31.8mm Superlight carbon low handlebar in 560mm width
GRIPS
Superlight lock-on foam grips
SEATPOST

Superlight seatpost with carbon core and 0.3mm steel armour. Standard length for up to 33"/84cm

SEAT
Superlight saddle with carbon rails and base with integrated carry handle and mount
BRAKES
Brompton Dual Pivot Caliper - Black
BRAKE LEVERS
Brompton with Integrated Bell and Shifters - Black
SHIFTERS

Brompton Integrated Gear Trigger (L) - 4 speed

R. DERAILLEUR
Patent pending direct mount 4 speed derailleur
FRONT HUB
Brompton Alloy - 28h - Black
REAR HUB

Lightweight rim, double butted spokes, aluminium hub body and 4 speed freehub body

SPOKES
Stainless Steel Straight Gauge - Black
RIMS
Lightweight rim, double butted spokes and aluminium hub body with sealed bearings and allen key axle.
TIRES
Schwalbe ONE with Addix race compound and v-guard puncture protection 
BOTTOM BRACKET
FSA Mega Evo Bottom Bracket
CRANKS
Superlight carbon crankset with hollow BB30 axle, integrated spider, 50T chainring and chainguard
COG-SET
Brompton 11-13-15-18 tooth
PEDALS
Superlight cnc aluminium pedal set with left hand QR pedal
RACK
n/a

FENDERS
Curved profile mudguards with titanium stays and rubberized flap
SUSPENSION

Rubber Elastomer - Firm

WEIGHT
from 7.95 kg
FOLDED SIZE
645mm (H) x 600mm (W) x 320mm (D) (25.4in x 23.6in x 12.6in)
EXTRAS

Large diameter front carrier block adaptor for all types of Brompton luggage
| BROMPTON T LINE URBAN -  | FROM | TO |
| --- | --- | --- |
| Standard Seatpost | 5' 2" | 5' 11" |
| Extended and Telescopic Seatpost (N/A) | 5' 10" | 6' 4" |
A BIT ABOUT BROMPTON: If you were to walk into the store and look at a Brompton we would say there are three things you should look for in a folding bike. All of them are fairly obvious. One, the bike should ride well - and, on a small wheeled bike that's tricky because there's a fine line between maneuverability (which is a virtue) and twitchiness (which is a vice). Two, the bike should fold well - otherwise you're blood pressure will rise and you'll curse the day you bought it. Third, it should be transportable, or highly storable - because that's the whole point, right?

Brompton is the only company we've seen that answers all three criteria - and believe us, we've tried every brand out there. The reason others can't compete is because Brompton has answered a fundamental engineering problem. If a bike is going to unfold to a large footprint (which takes the twitch out) then it is unfolding to a bigger bike - and by all logic, a bigger bike unfolded would be a bigger bike folded. So, it's pretty much true that for most folding bikes they either have great rideability but poor transportability or vice versa. And nearly all of them are a mess to fold.

Not Brompton. Brompton has designed the Platonic form of all folding bikes. The bike folds to the smallest size on the market, unfolds in a highly precise and easy manner, and has the same axle-to-axle footprint as a hybrid bike. How did they do this? By not only designing a clever frame, but also designing some 1200 proprietary parts that make everything fit - and fit perfectly. Oh, and nearly all of this is made in England. No wonder this bike has a cult following.
Shipping Calculator
Did you know we ship bikes completely built and ready to ride? Our bikes are shipped Ride Out Of The Box meaning they are professionally tuned and delivered - worry free. Your bike will arrive at your door step with any accessories installed, so you can ride it right out of the box!
TUNED UP
DELIVERED
READY TO RIDE
Want to learn more about our Ride Out Of The Box shipping? Keep reading here.
Learn more about our return policy here.
Want to know how much shipping will cost? Just tell us where its going!