---
Posted on 01 February 2022
WHY BABBOE IS THE WORLD'S MOST POPULAR CARGO BIKE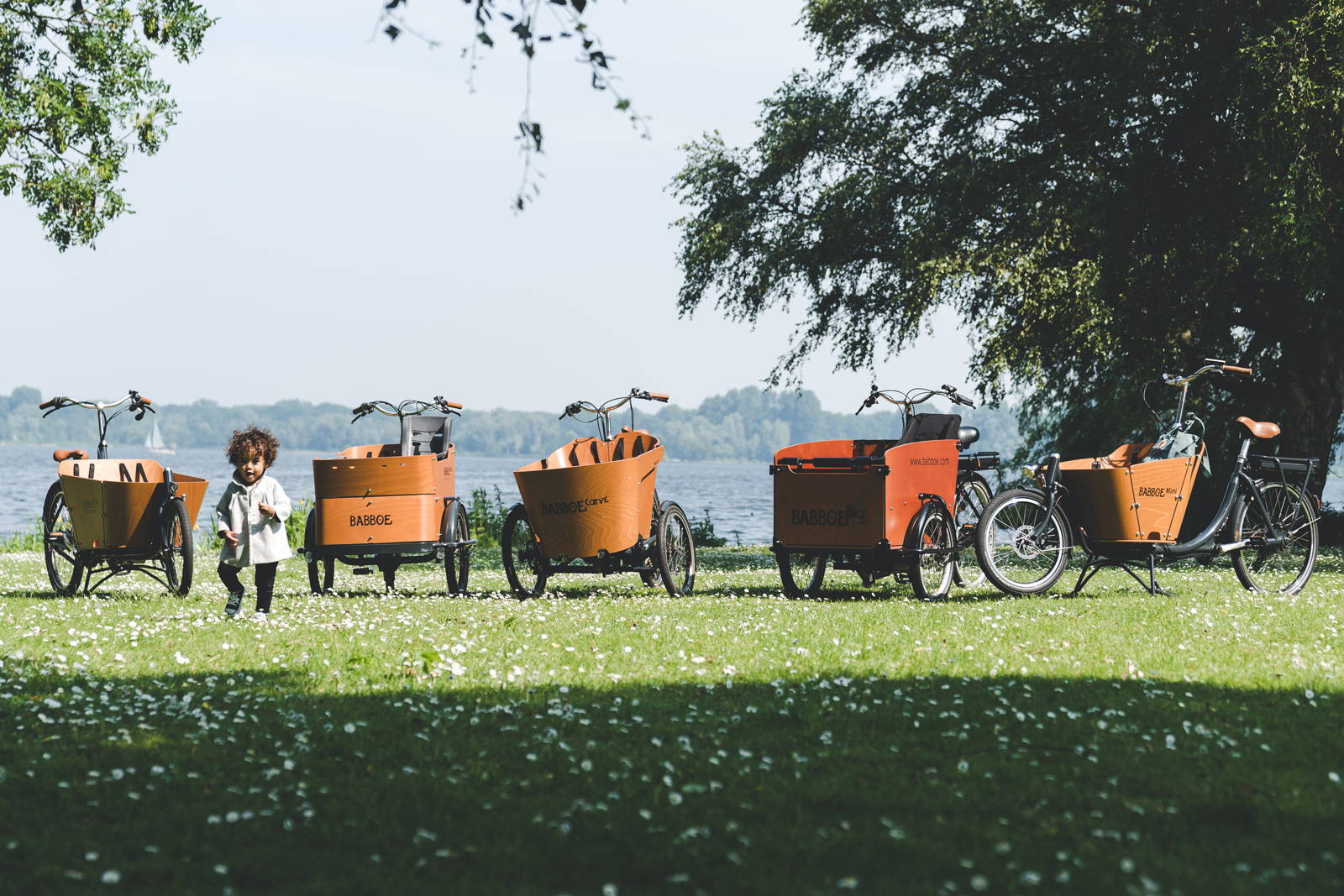 Holland is charming for its gabled houses, cobblestone streets and cute canals, but what always strikes each visitor is how many cyclists there are! It's a strange thing that as the world moved more and more to the automobile, the Dutch stubbornly held onto their bikes. And they aren't just any old bikes - they're all Dutch designs. Of course, one of the coolest Dutch designs you'll see in Holland is the steel and wood cargo bike. They're everywhere, and we mean everywhere. Look left or right and you'll see a family riding with kids chattering away in the wooden box while the parent weaves through traffic. Turn around and you'll see a baker or a butcher delivering their goods by cargo bike. It's well known that some people even move house with their cargo bike!
Babboe was the first company to realize that this Dutch way of life didn't need to be exceptional to Holland. They believed the whole world could use this Dutch way of life. Babboe made it their mission to export the Dutch lifestyle in the form of export-ready cargo bikes.
Now, it should be noted that one other Dutch sensibility is that you should always get quality and never pay more than you should for something. The first problem with Dutch cargo bikes is that they are big and quite expensive to ship! Who pays for these costs? You, the customer. So, just like IKEA, Babboe re-designed the Dutch cargo bike for flat-pack shipping.
This is great news! It means you get a high-quality cargo bike for a fair price. Ever wonder why other Dutch brands like Azor or Bakfiets are so much more costly than Babboe? It's not quality you're paying for, it's needless shipping expenses. Babboe builds quality bikes designed for transportation and sold at fair prices - that's Dutch sensibility in a nutshell.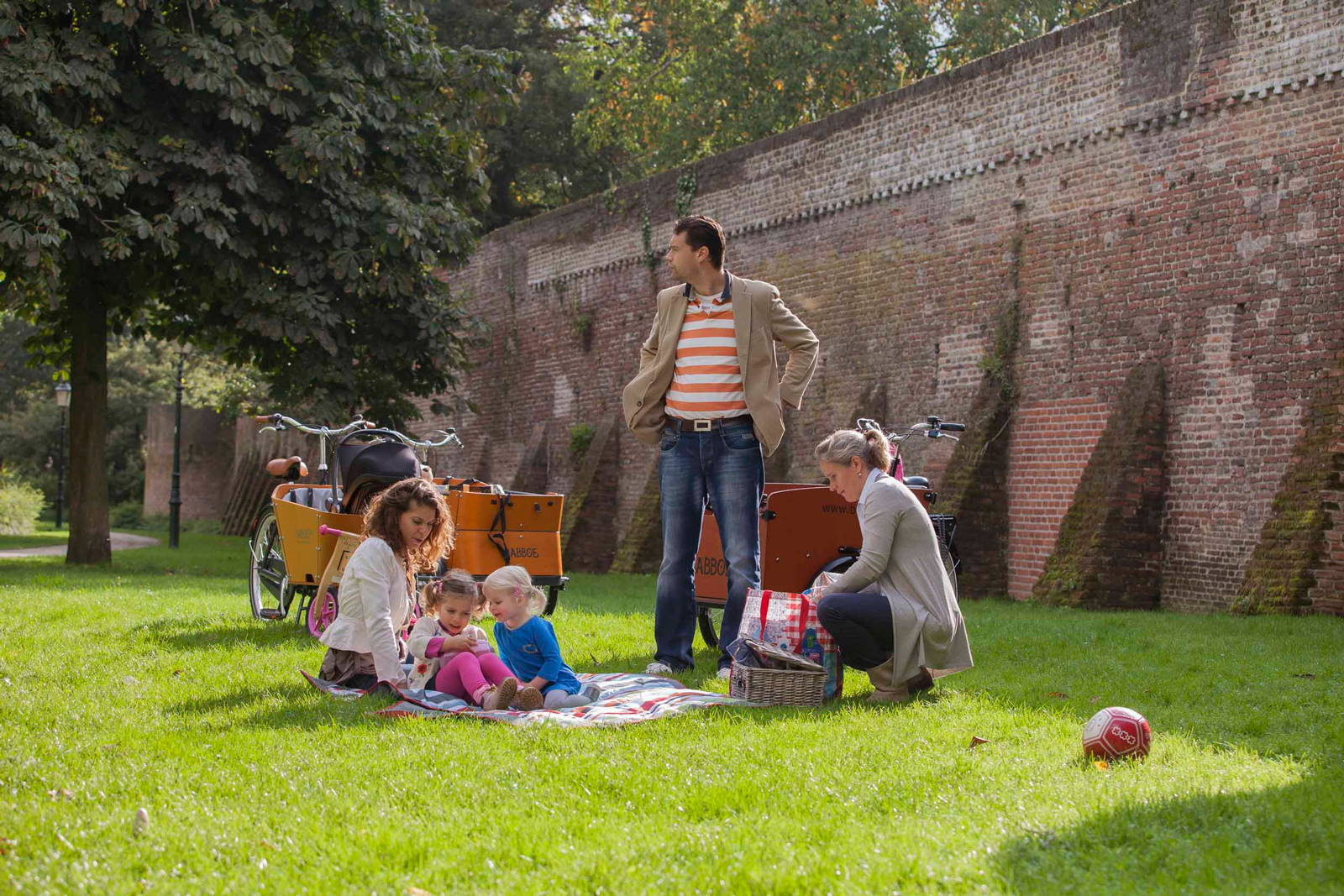 DUTCH PHILOSOPHY - Designed for life can mean that a Babboe cargo bike is designed to fit your life, but also designed to last for life. These two approaches really represent the Dutch philosophy of product design. People have speculated that the Dutch build things well because their whole country is surrounded by man-made dikes. Maybe that's true! A Babboe bike is not only built to last a lifetime, but also to increase efficiency, decrease friction, lower costs, and make life more enjoyable too!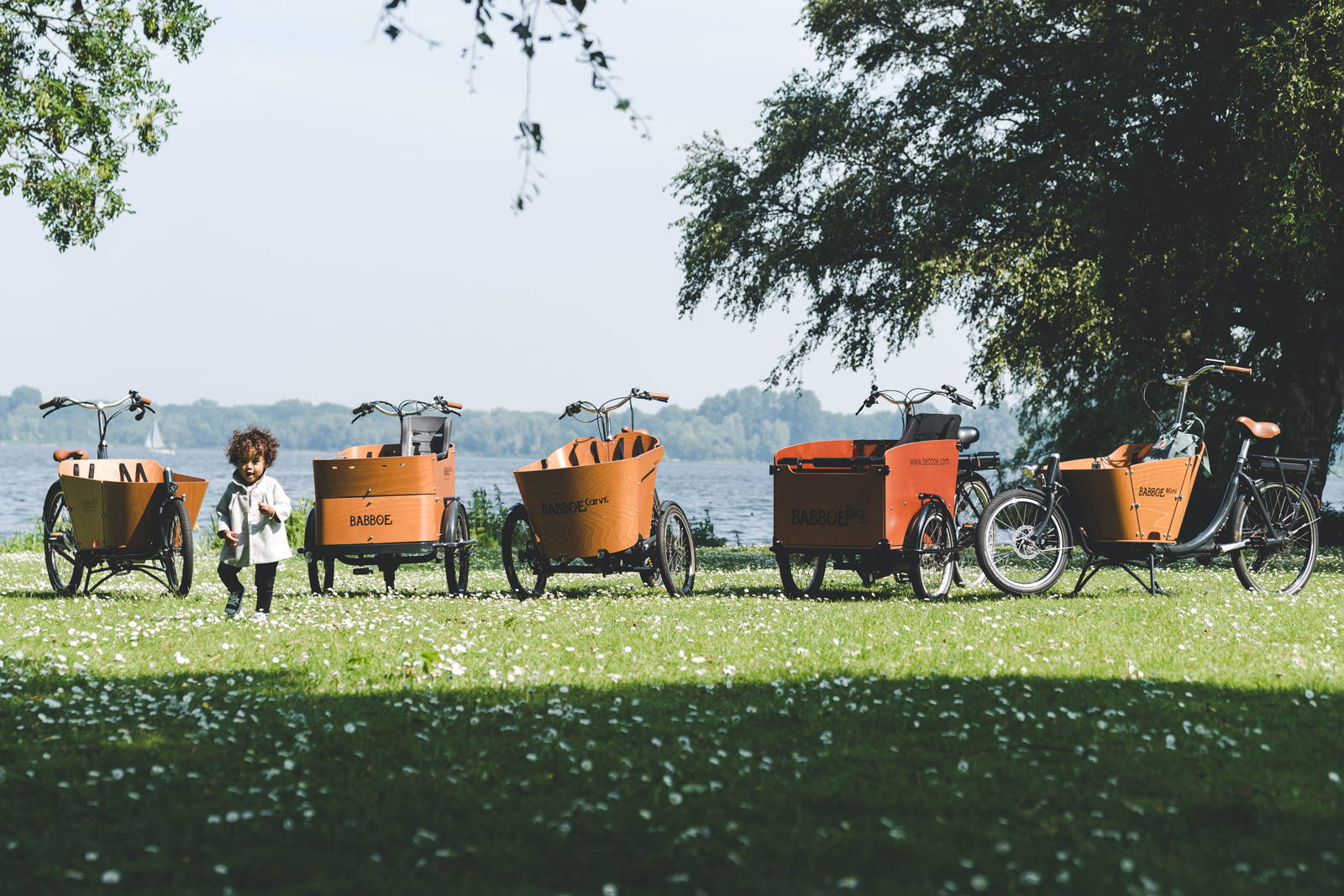 CHOOSE THE MODEL THAT FITS YOUR NEED - Babboe is the largest cargo bike company in the world, and that's why they continue to innovate with more and more models. If you prefer a three wheeler, the Babboe Big is one of the most economical bikes we've imported, and the quality is spectacular. Bikes like the Babboe Go offer three wheeled stability with a front door, so kids (or a dog!) can step in easier. The Babboe City, meanwhile, is the best-selling cargo bike in the world and almost needs no introduction. It comes in both an electric and non-electric option (and a shorter box option called the Mini, also electric or non electric). Like the look of the City but not a fan of the wood box's weight? Opt for the Babboe Slim, with e-assist to boot. Bikes like the Flow or the Carve feature advanced independent steering for more controlled handling. Want proof of just how cool cycling is in Holland? Babboe even makes a school bus (called the Babboe Max) which we can order by special request.
3. YOUR PRIMARY CAR (OR SECOND CAR)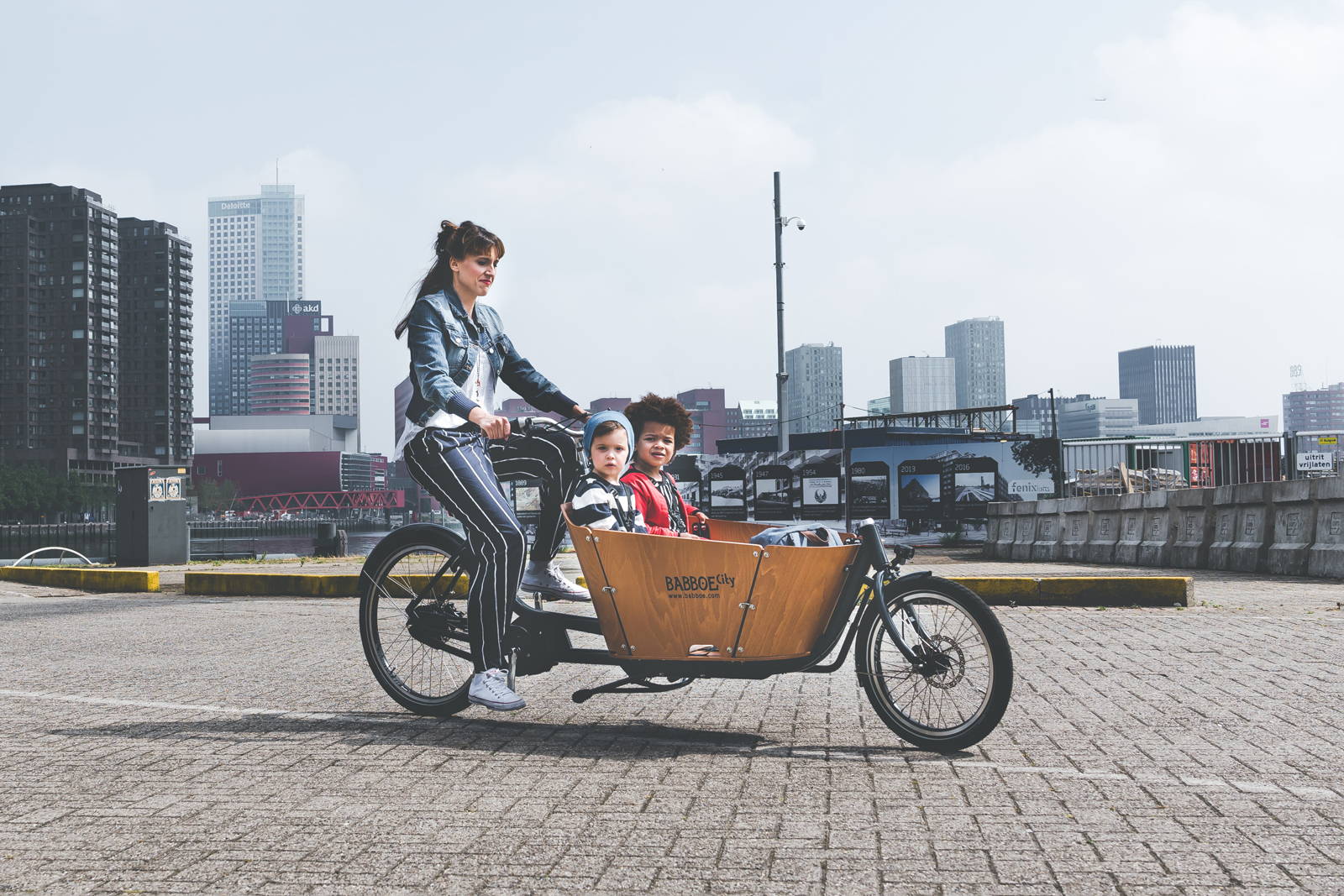 CAR ALTERNATIVE - We have mentioned that the Dutch are very sensible. This is especially true when it comes to transportation. The Dutch have the highest bike ownership in the world, but also very high car ownership. Why? It's because the Dutch use a bike for one thing and the car for another. For instance, in North America, a majority of trips are under 7.5km long. Most of these trips are in brain-frazzling gridlock where parking is expensive and walking is probably faster. Now, the argument the Dutch would make is that if you live downtown anywhere, chances are good that most of your life is lived within a 7.5km radius. And, because these distances are generally too close to drive and too far to walk, a cargo bike is perfect! (Interestingly, in Holland distances up to 15km are now being replaced by electric assist cargo bikes - a bike still makes more sense!). Now, a cargo bike, of course, offers the ability to do all of this but with trunk space! The idea is that the cargo bike becomes your car for the majority of your trips, because the majority of your daily trips aren't really all that far. As for owning a car? Sure! But, a car - if used sensibly (and affordably, and without stress!) - handles a minority of trips and is more optional than necessary. That's a different way of thinking, but you have to admit, it makes a lot of sense.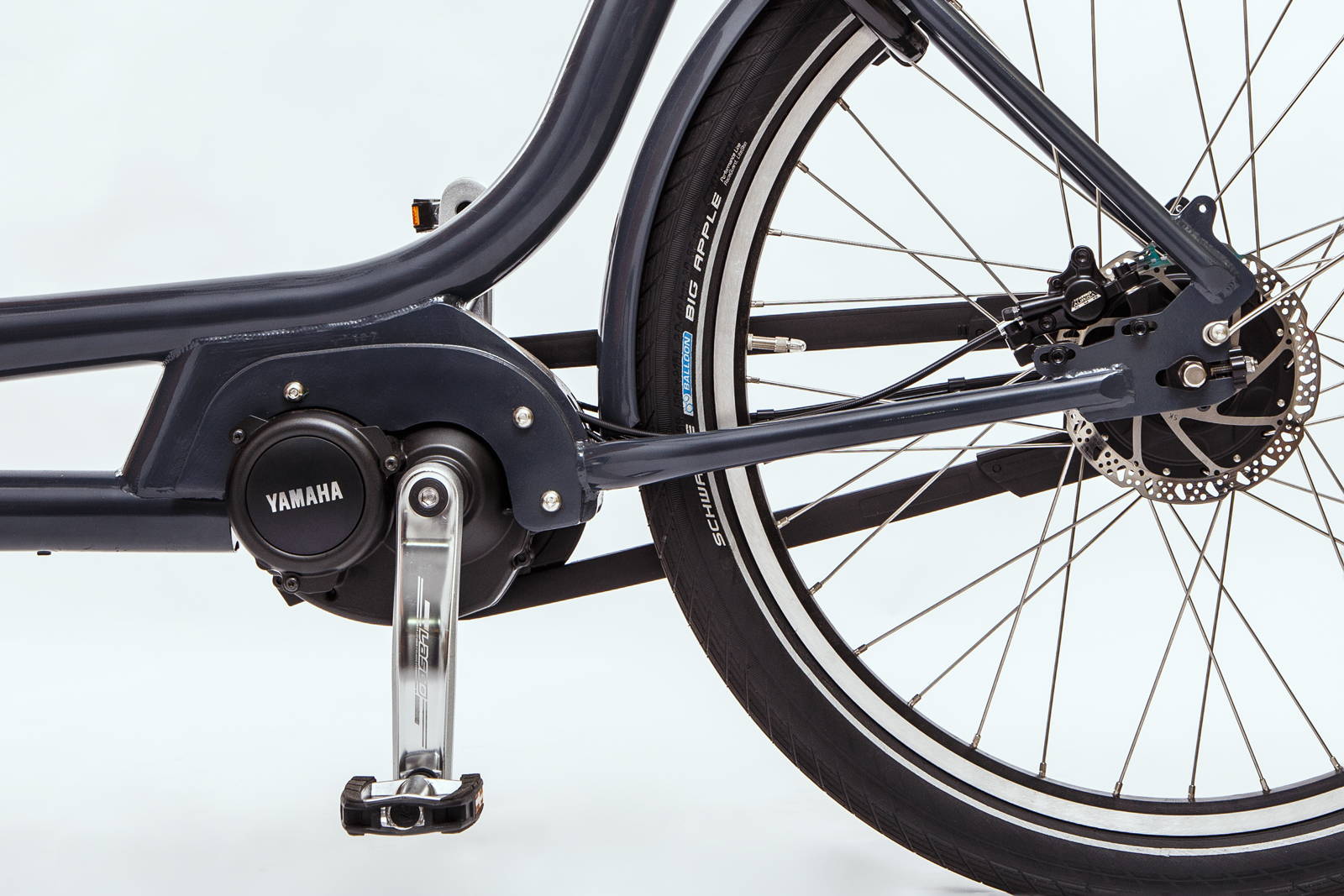 BIG ASSIST - A cargo bike is very different from regular bikes because it carries cargo. That means the overall weight of the bike is constantly changing. The heavier the bike gets, the more you have to work! That's why an electric assist is so popular on cargo bikes as it can assist with heavier weight whether it's over distance and up hills. There are many excellent motors on the market (Bosch and Shimano) but Babboe chose Yamaha. Why? From our experience, Yamaha makes the lowest maintenance motor we've worked with. It requires no constant updates - it just does its job. It is also very high torque, which is important for a cargo bike because cargo bikes need a gentle boost to get started. Of course, you don't need to buy an electric assist cargo bike, and luckily Babboe makes a ton of 'acoustic' models. But, if you are looking for an electric assist, you're in great hands with Yamaha.
5. IMPACT RESISTANT SAFETY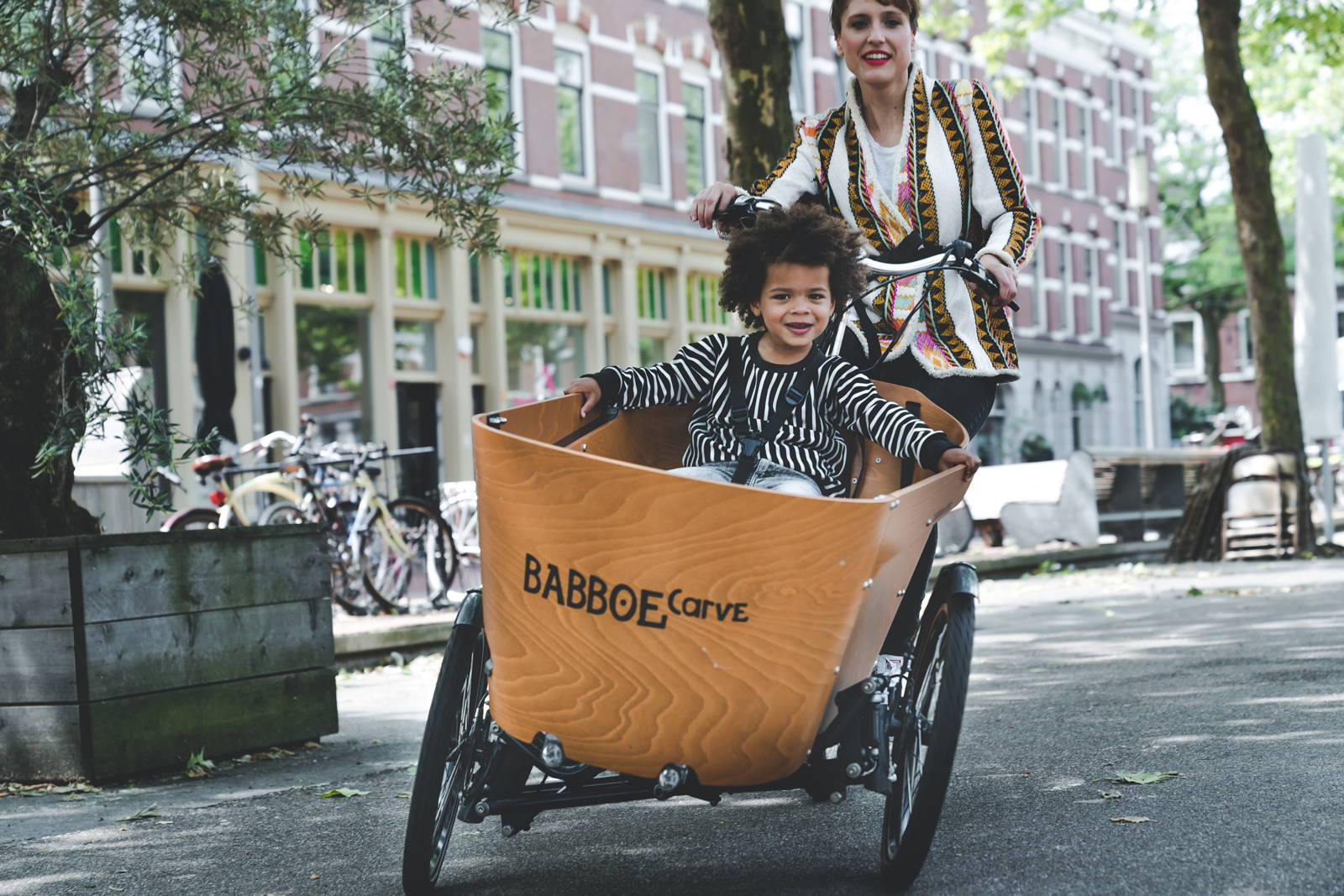 IMPACT TESTED - One of the funnest parts of owning a cargo bike is all the great conversations you share with strangers and friends. Cargo bikes really build a community! You might say they are high impact this way. But, a good cargo bike is also designed to be impact resistant. That box you see in the front of all Babboe bikes is tested to keep precious cargo safe, and it can sustain impacts up to 40 km/h. This is important because we're starting to see a bunch of unproven cargo bikes enter the market from China. A lot of them are what we call "white label" products. That means someone with some money can buy them from a Chinese catalog or website, and so long as they buy enough, they can brand it as they like. For many of these bikes, the box is treated as storage, not safety. This is completely the wrong approach. That's the difference between Babboe and many of its inferior copycats, a Babboe is designed to carry your precious cargo, but also carry your precious cargo safely.
6. IT CAN WEATHER ANYTHING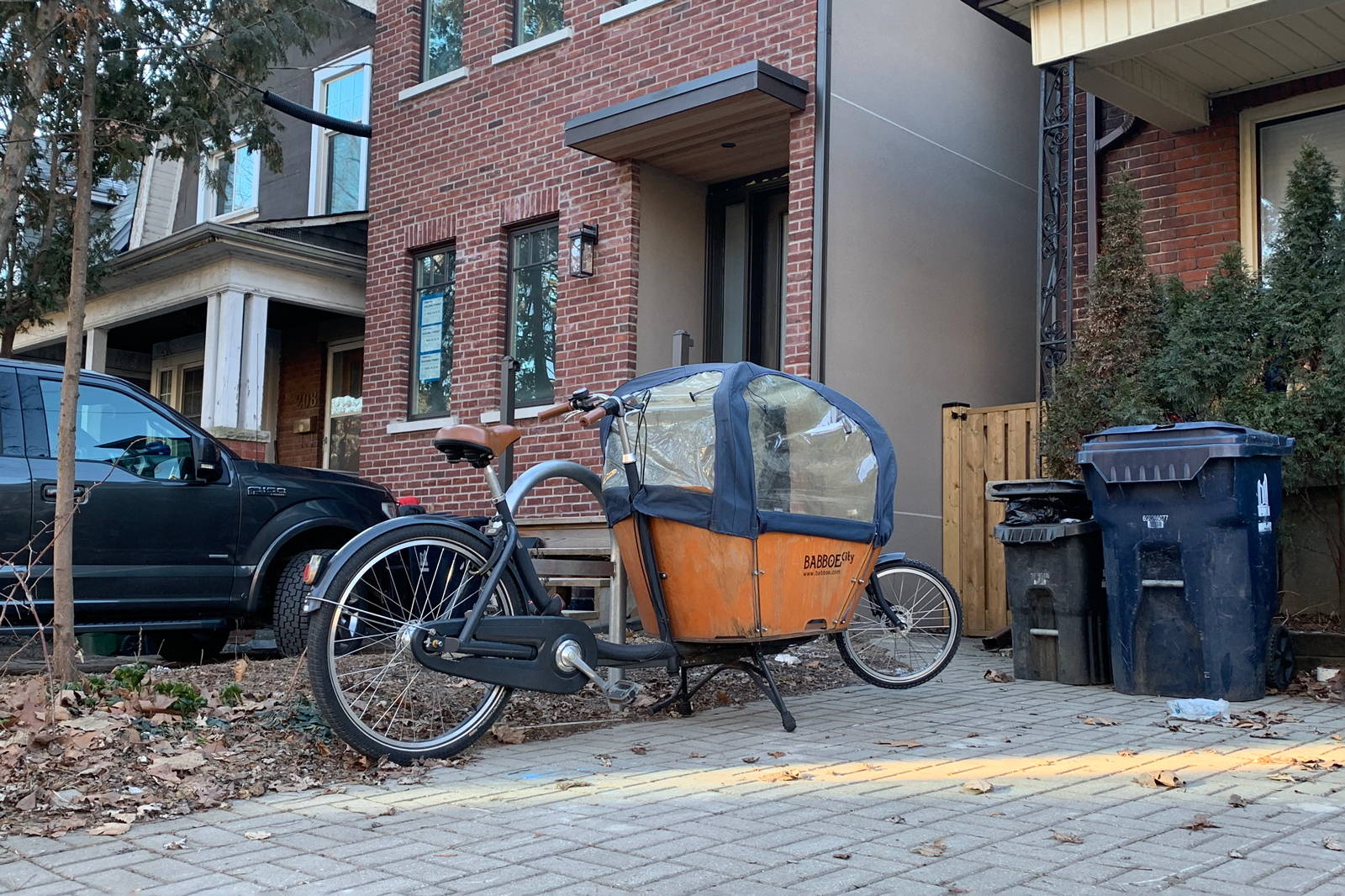 RAIN, SLEET, OR SNOW - Perhaps the strange thing about Holland is that so many people choose to bike despite the constant rain. Perhaps it's that fierce Dutch spirit that prefers to be independent rather than rely on a bus or tram. But, when you add this inclement weather to the fact that most people don't own a garage in Holland, it becomes imperative that their bikes can weather year round riding and year round outdoor storage. Babboe bikes embody this design philosophy perfectly. The frames are finished with a chip and rust-resistant powdercoat. The boxes are made of marine-grade wood. This also is represented by the sealed mechanical parts, but that's our next point.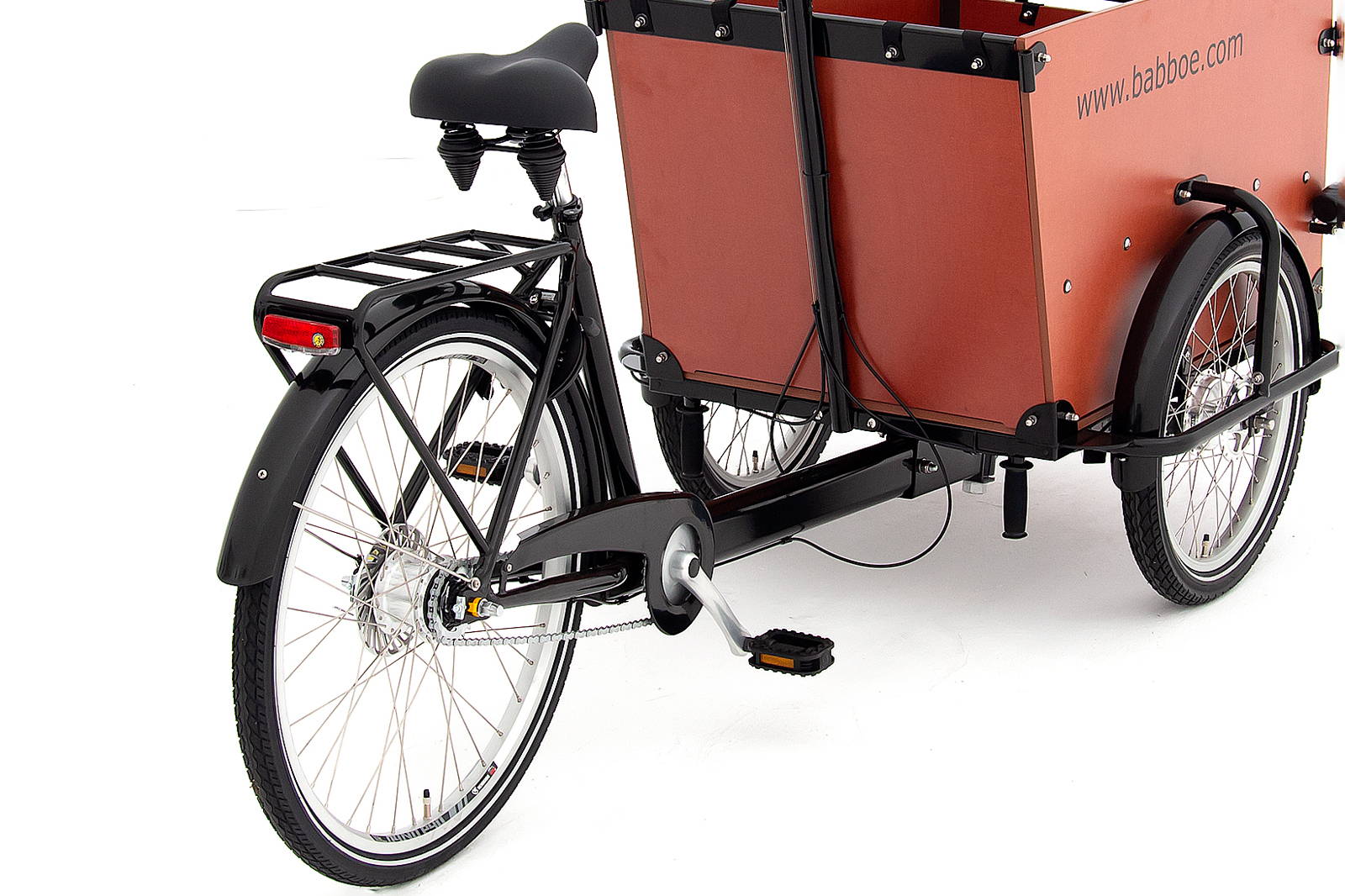 LESS TRIPS TO THE REPAIR SHOP - We mentioned briefly that all the parts on Babboe bikes are mechanically sealed. This includes the gears and the brakes! Now, this is a very different philosophy from the bikes sold in North America, which, if we're being honest, are all designed for spring/summer use and overnight storage indoors. On all of the Babboe bikes we import, you will see that the gears are sealed inside the rear hub. This makes them weather resistant and very low maintenance. And the brakes are also sealed in the form of drum or hydraulic disc brakes. No constant trips to the bike shop!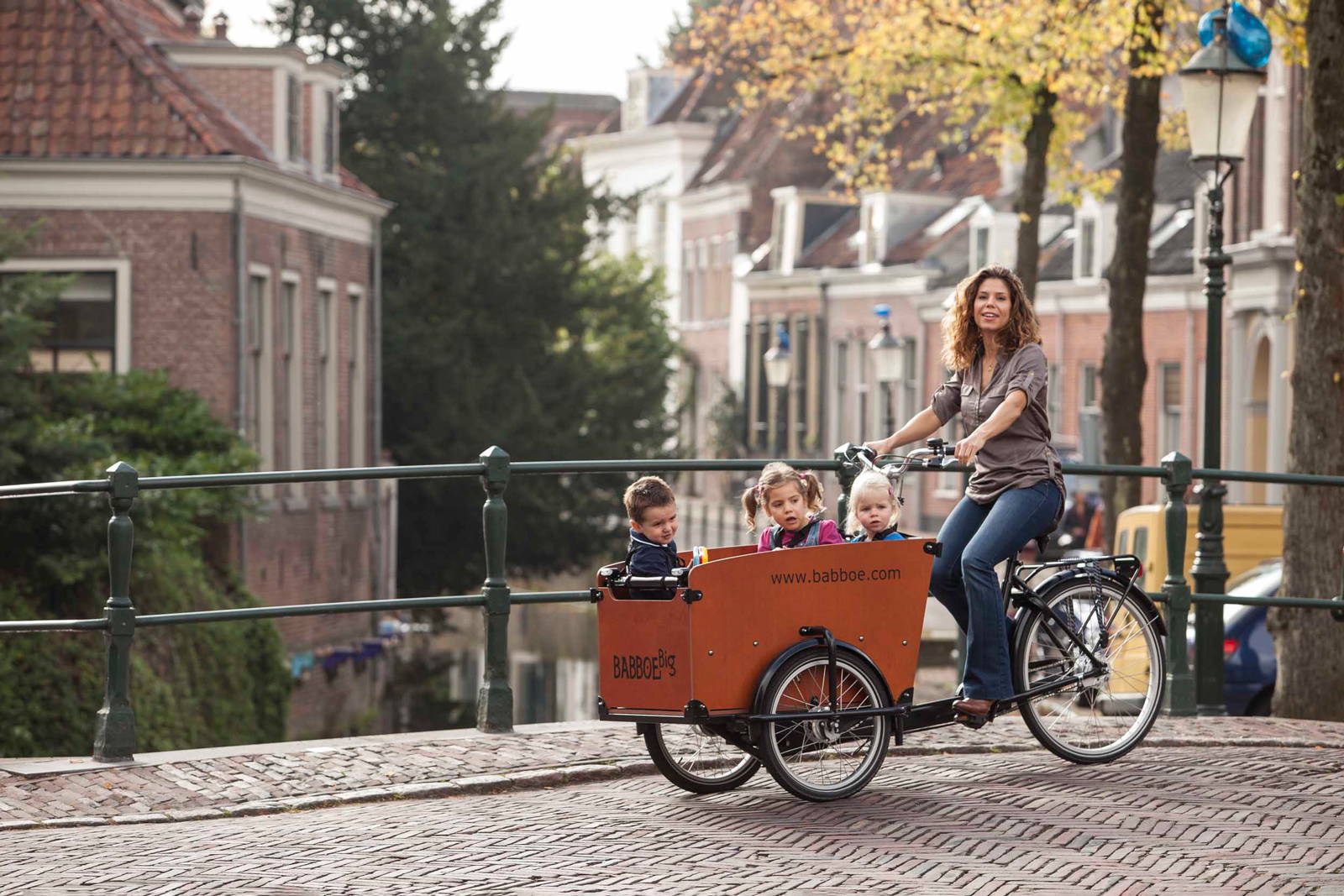 SEE AND BE SEEN - One very strange thing about bikes sold in North America is that they all seem to hunch the rider over the handlebars, which is super uncomfortable. The Dutch don't understand this at all. In Holland they like to say that the Dutch riding position is "sit up and beg" - which we suppose is the Dutch making fun of themselves. But, it's true! On a Babboe cargo bike the position is gloriously upright. Your back is straight up. You can see and be seen. You're not reaching at all for the handlebars -your shoulders are squared. It may not be sporty, but why should dropping off the kids at daycare be a sport?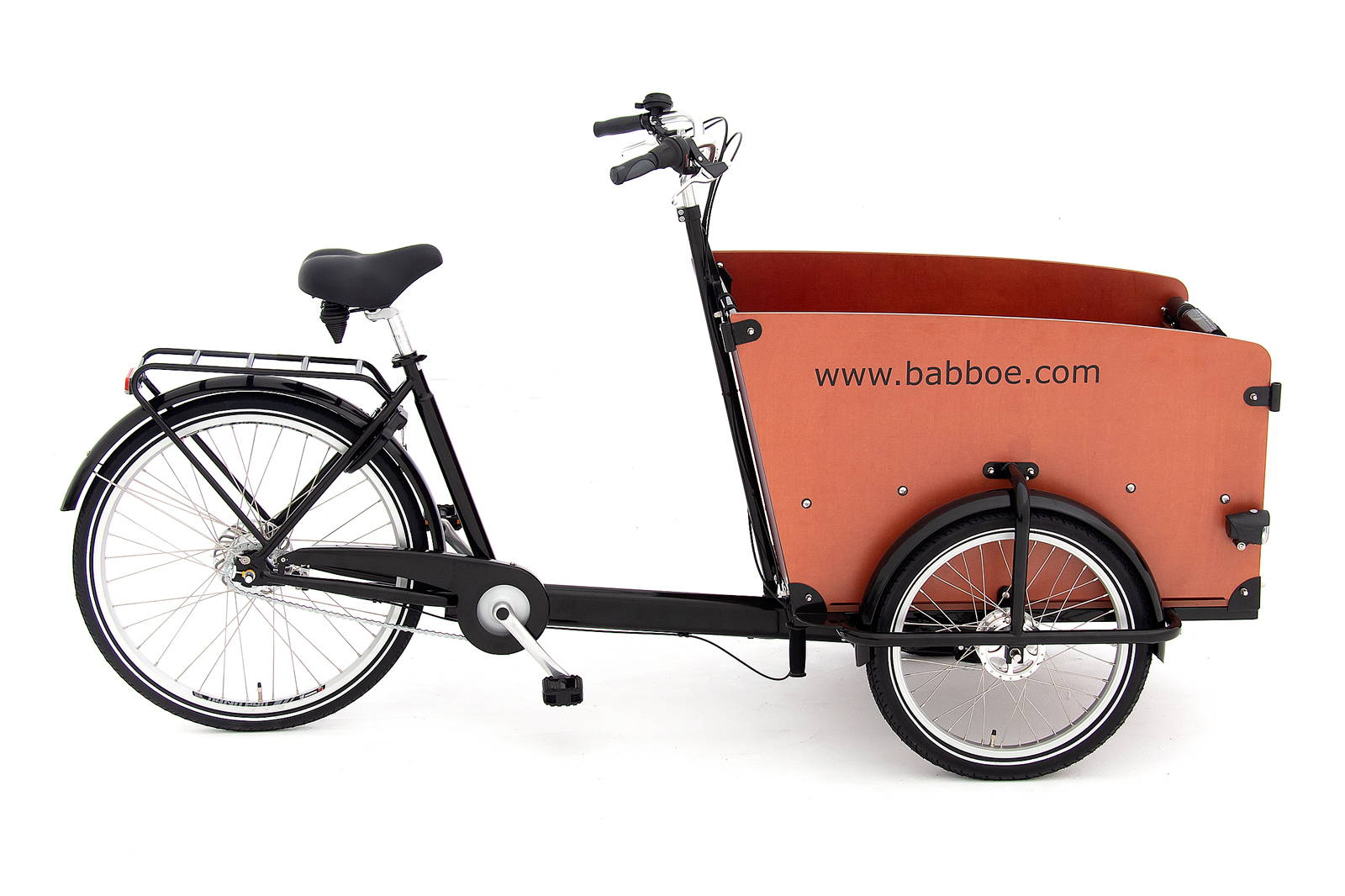 EVERYTHING YOU NEED - The cool thing about buying a Babboe is that it pretty much comes with everything already. There are fenders to keep you dry, the wheels are bolted down to prevent theft, all bikes already come with high quality lights, and there is even a bell! But look a bit closer and you'll see some other cool stuff. For instance, the tires all have a layer of puncture-resistant lining inside of them, because no one likes flats! And, if you look at the rear wheel you might notice a built-in lock that is terrific when you're dropping kids off (so you can ensure the bike won't ride away on its own). Finally, all Babboe bikes come with a chainguard. In North America you always have to change into lycra to ride a bike. But, in Holland people dress up to ride their bikes! The chainguard keeps grease and grime away from clothing. That means white dresses and picnics in the park!