WINTER CYCLING ESSENTIALS
---
Posted on 22 October 2020
---
THINKING OF RIDING THIS WINTER? IT'S NOT HARD!
While you might believe that riding all winter has more to do with your clothing than your bike, really it's quite the opposite. You probably already have warm clothes, so it's really just a matter of making sure your bike is safe (in case you hit an icy patch) and working a-ok when things start to freeze. Below are some of the things we recommend.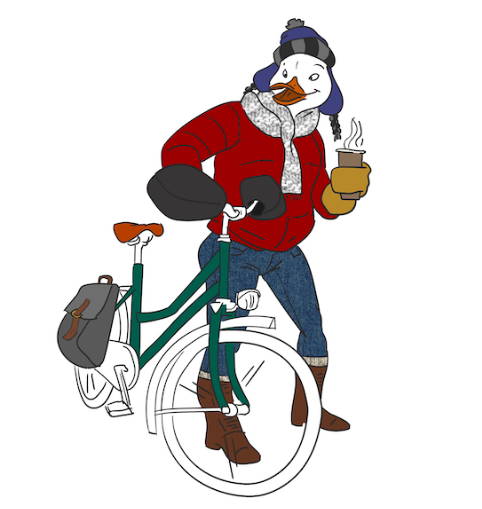 BUT WAIT... WHAT KIND OF WINTER CYCLIST ARE YOU?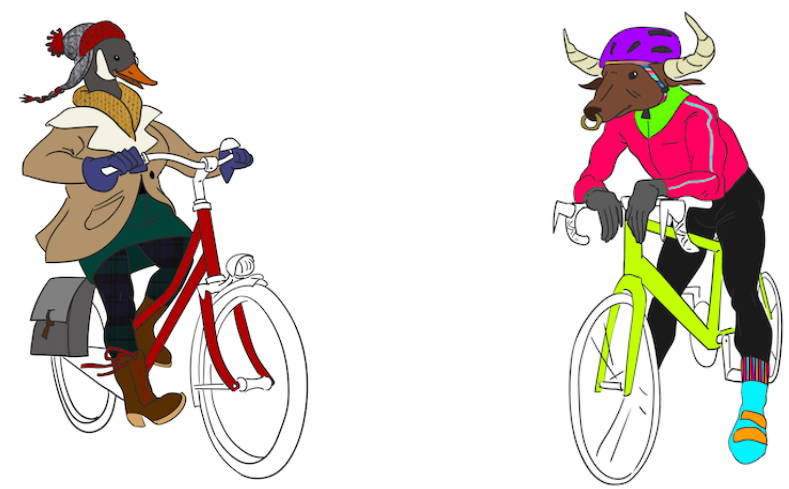 Before we begin with winter essentials, it's good to ask - what kind of winter cyclist are you (or will you be)? It's an important question, you see, because it's a loaded question - and the bicycle industry hasn't helped by loading it with all sorts of adrenaline-soaked archetypes.
No offence intended if you ride through ice, snow, and sleet - but if you do you know you constitute a minority. Despite this, this type of rider gets the majority of press. But there are other winter cyclists too!
We need only think of the millions of Danes who make winter cycling look like a fashion catwalk. But different riders require different essentials. So, what kind of winter cyclist are you (or will you be)?
---
While the bike industry focusses on the snow and ice winter rider - the kind who views winter commuting as a performance sport, we are here to encourage a saner approach.
Winter cycling - so long as you avoid snowstorms - is really the same as summer cycling, just bundled up. That said, your bike needs a change of footwear much like you switch footwear in winter. And your bike needs to be as toasty as possible, much like yourself. The rest is crisp mornings, big scarves and rosy cheeks. Enjoy!
CONTINENTAL TOP CONTACT WINTER TIRES
These are a game-changer. Until now you rode on your regular tires (which freeze up and get slippy) or you rode spiked tires. But, spiked tires are noisy and expensive, and only work if you're purposely riding on snow and ice. The Contact tires are for the more sane among us: softer for more grip and using a micro-siped tread, which means millions of little treads that suction to ice like glue (if you hit a patch). Sorels for your bike!
Interested in the difference between studded tires and the Continental Winter Contact? Read more here. 
45N BAR MITTS (AKA "POGIES")

Ok, these are awesome - seriously! While they keep your hands warm and dry (the fabric is windproof and waterproof) the real reason we love these is that they keep water from entering your gear and brake cables - which means your cables won't freeze up. Plus, they bolt onto the bike, making them theft-resistant (for more theft resistance check out these). Best of all, you don't need super expensive gloves!
Interested to know more about the difference between bar mitts and gloves? Read more here!
Need those winter tires and bar mitts installed? Our winter tune-up does that and more too! Besides the usual preventative maintenance (checking each spoke, etc) and performative maintenance (gears, brakes), we clean out each cable and coat the insides with -50 Lubricant. Your chain gets a dash too!
Do you store your bike outside? Nothing keeps your bike cozier than a cover. It keeps your seat and handlebars dry, water out of your cables (so they don't freeze up), and your mechanical parts safe from snow. Pictured here is the Bike Parka Urban cover (you can see other models here). It's waterproof, seam-sealed and even has an opening so you can lock your bike!
Where most bike stores would include a flurry of specialized bike clothes, we offer just one suggestion - and it's optional. If you prefer to dress like the cyclists of Copenhagen in a woolen toque with a pom-pom, we say go for it (and that helmets really are a really good idea). To those who do wear helmets, you'll know its near impossible to find something that fits underneath - and is warm! Here's one example (we have more here), a Merino beanie that could be - arguably - cool on its own. We'll let you decide!
---
"Winter is a glorious spectacle of glittering fractals complete with a soundscape and atmosphere entirely its own. Some of us have forgotten the bright side of winter: the simplicity, the efficiency, the pragmatism. In transportation terms, winter is all smooth, clean lines and quiet sounds. Bikes fit right in. Perhaps sitting in cars has dulled our senses."
Anders Swanson - The Guardian
12 FEB, 2016