---
Posted on 22 October 2020
We're here to demythologize winter cycling. That's because we feel that winter cycling has become the last domain of the 'hardcore cyclist,' who feel they are the "real cyclist" - the archetype, the exemplar.
We think that's silly!

Winter cycling is actually pretty easy, and yes, you can do it! The first thing to recognize is that there is a diversity of winter cyclists - and you might be one of them! The second thing to remember that it's ok if somedays you don't ride!

To be a winter cyclist isn't some sort of thing-in-itself that crushes all diversity with its ice-spiked tires. You can be a winter cyclist and walk, take transit, or even drive a car on the days that are icy or wet.
It's easy!
Winter cycling is rosy-cheeked health and also rather stylish. Best of all, it's much easier than you might think.

Read on, and let us tell you more!

WHICH WINTER CYCLIST ARE YOU?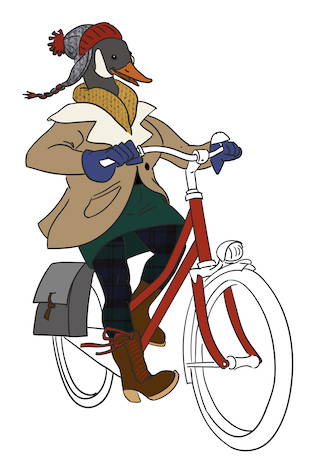 You probably live downtown, play downtown and work downtown - or some of the above. Chances are good you live a majority of your life within 7km of home, and riding a bike links all those distances that are too far to walk or too far to drive. Your riding style: efficient and non-aggressive, no need to get a sweat on. You don't have time to arrive at your destination and do a complete outfit change ... that's crazy! You want to ride in what you're wearing - as you would all summer - and arrive safely. This is how you get around - and you make it look goooood.
Not unless you're crazy! You know that some days those bike lanes won't be cleared in time, or the streets are wet with potential black ice. Your rule is simple:
Are the streets clear or not?
And, if they are, you ride! The only difference between walking and riding? Same clothes, you're just on two wheels!
Chances are good you ride a bike that was designed with winter in mind. For instance, your bike might already have:
A chain case to keep your clothing clean

Internal gears that work in snow and ice

Upright position to keep you safe

Fenders to keep you dry
Now all you need to consider is some winter tires and handlebar mitts to keep your cables dry and your hands warm. Cheap as chips and you're set to go! Rosy cheeks and a good warm scarf ... winter perfection!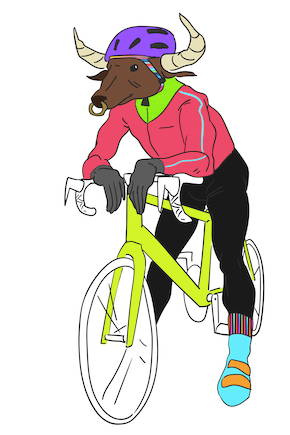 You probably live outside of downtown and commute, or ride well over 10km and view each ride as a chance to skip the gym and get your sweat on. You're most likely a-ok with packing a change of clothes and aren't at all deterred by having to take a shower at your destination or deal with other hygiene logistics. Your riding style? Performance and speed! You're like a conquistador, like a climber ascending Everest, you ride winter because it's there! As for gear? You're out to be 'that guy' in the office who rolls in looking like an ad for Gore-Tex. This is your identity.
Without fail! Every day is an opportunity to find that red-cheeked vitality that only winter can provide! Chances are good you have excellent bike handling - you may be a mountain biker - and winter is another form of handling and control.
And you have all the gear, tons of it. For your bike and your body. This isn't just transportation, this is your sport!
Chances are good you own a dedicated, distance oriented winter hybrid bike, maybe with a belt drive or internal gear hub. Chances are also good you find joy in cleaning; scrubbing things down and oiling things up. You definitely ride studded tires.
As for clothing, you probably own a lot of merino layers, fancy USB heated gloves, knee and arm warmers, neoprene booties and lots of hi-viz Gore-Tex neon. But, to be fair, you aren't riding just to go to work. You might still be riding on weekends for fun!
(Fun being relative, of course)
WINTER CYCLING IS GLORIOUS!
THREE ELEMENTS (TO BRAVE THE ELEMENTS)
1. Clothing (You Already Own)

---
What you already have in your closet will probably do the trick! There's no need to buy all sorts of silly bike gear. Dress for the weather, not your bike. Make the bike lane your winter catwalk!
(Image: Nano Calvo/Corbis)
---
Some bike gear is a good idea, but it's pretty minimal. Winter tires for grip, handlebar mitts to keep cables from freezing (and your hands warm), and that's about it!
(Image: Mikeal Colville-Anderson, Copenhagen Cycle Chic)
---
Good city infrastructure is key, and luckily we've seen vast implementation of bike lanes to keep you safely riding all year. The time has come!
(Image: Mikeal Colville-Anderson, Copenhagen Cycle Chic)
CLOTHING - YOU ALREADY OWN IT!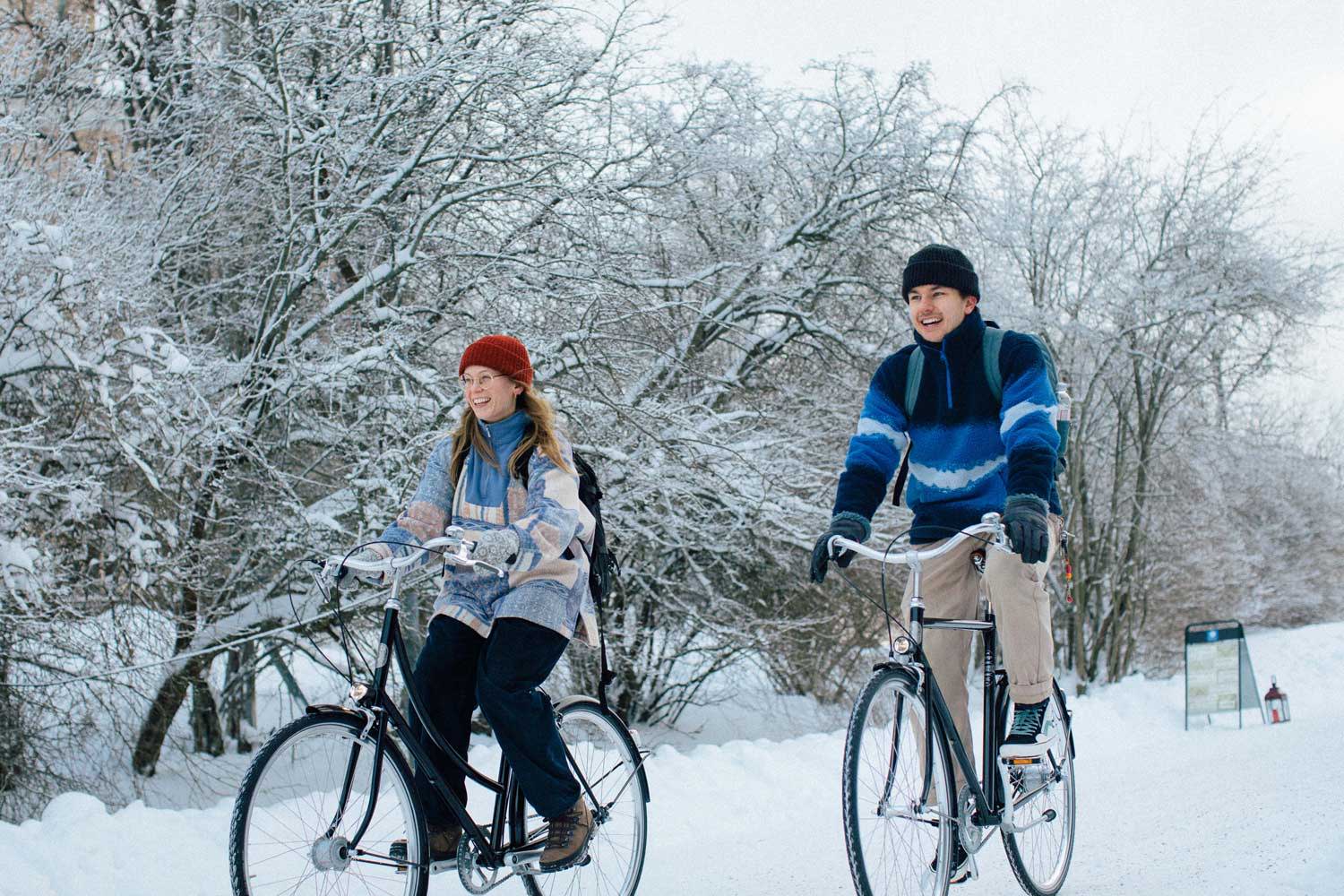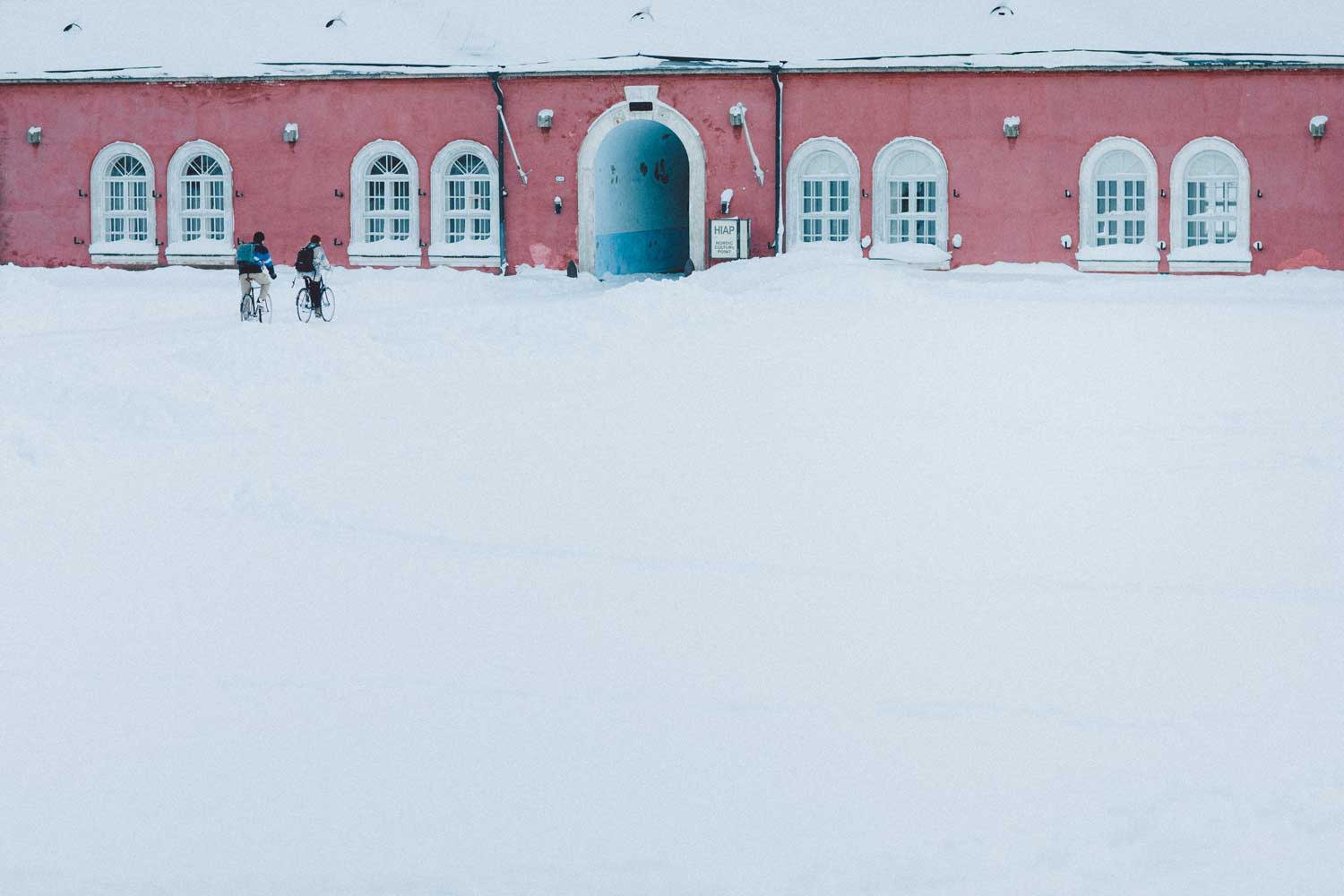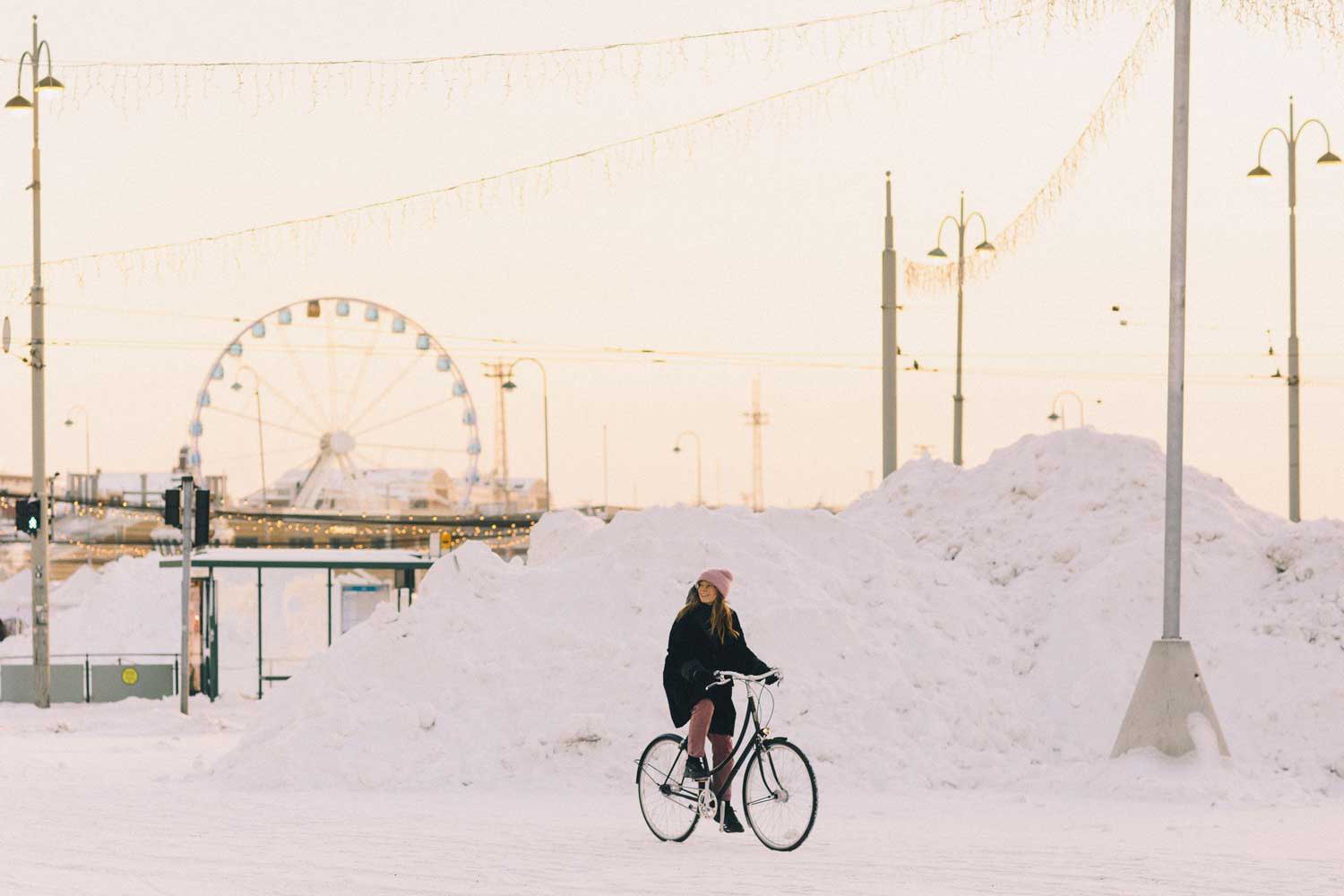 Nope, we're not here to sell you all sorts of superhero spandex to convince you that winter cycling is awesome. Instead, we take our cues from the cyclists of Amsterdam or Copenhagen; all who look dashing in their regular winter street-wear. In short, you don't need special clip-in shoes, thermal spandex tights, or bright neon jackets. Winter cycling is not a sport, it's a mode of transportation! You walk into work in the outfit you rode in on - no need to book extra time for a shower and a change of clothes. For too long, this 'image' of the superhero spandex cyclist has dominated our perceptions. It makes winter cycling seem extreme, when really it is the furthest thing from extreme. In short, you probably already own lots of warm clothing. So, cozy up and put some winter rose into those cheeks!
Super Warm Cycling Gloves
While your wooly mitts might do the trick, the truth about winter riding is that the first part of your body to hit the cold air is your hands. Keep those hands warm!
The Blivet Lobsters are kind of funny, we admit, but they are built on the maxim that there is strength in numbers. In this case, warmth in numbers! Fingers pair up to circulate warmth and the windproof shell makes a big difference.
A Toque That Fits Under Your Helmet
Of course the big difference between Danish and Toronto cyclists is that no one in Denmark appears to wear a helmet.
If you are a responsible helmet wearing citizen then you probably already know that your wooly toque won't fit under it. Sure, you could buy a fancy winter helmet, or you could just buy this thin Blivet toque! It has a wind resistant outer layer and brushed microfleece inner layer. It's a necessity!
"Captain Spandex and his merry band of Avid Cyclists might like to get their gear on to ride a bike... But guess what? People who live in winter climates already know how to do so. The 99% know that whatever you can walk in, you can bike in. And, after one day of doing so, if they discover they got cold, they'll put a couple extra layers on the next day."
Mikeal Colville-Andersen - Copenhagenize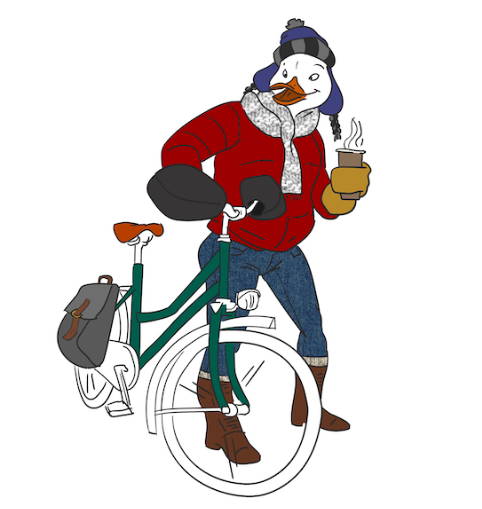 While you might believe that riding all winter has more to do with your clothing than your bike, really it's quite the opposite. You probably already have warm clothes, so it's really just a matter of making sure your bike is safe and working a-ok when things start to freeze. Here are some of the things we recommend.
What are "pogies"? Pogies are a game-changer! Pogies mount onto your handlebars (they bolt-on, so yes, they are theft-resistant) and perform two miraculous tasks.
First, Pogies keep your brake and shifter cables from freezing. That's critical, because water can easily enter the cables otherwise.
Second, Pogies keep your hands warm! And, they also mean you can use your woolly mitts! No need for fancy cycling gloves (except for really cold days).
Another game-changer! If Pogies are like mitts for your bike, these are your Sorels. Winter riding means you might hit the odd patch of ice, and it's important to have a tire made for sure-footed traction.
The Contact Winter Tires are softer compound than a regular bike tire and have kabillions of teensy treads that suction to cold, slippery ice. Riding one of these tires in winter feels like your bike is strangely glued to the ground. They really work!
Here's a real simple one. Your regular bike lubricant tends to get a bit frozen in temperatures below -10C. That means it can actually slow you down!
Muc-Off designed their -50C lubricant for climates like Canada, and what a difference it makes! It's not too 'glucky' and stays pretty clean - which is important, because winter throws a lot of gunk at your bike!
INFRASTRUCTURE - NOW'S THE TIME!!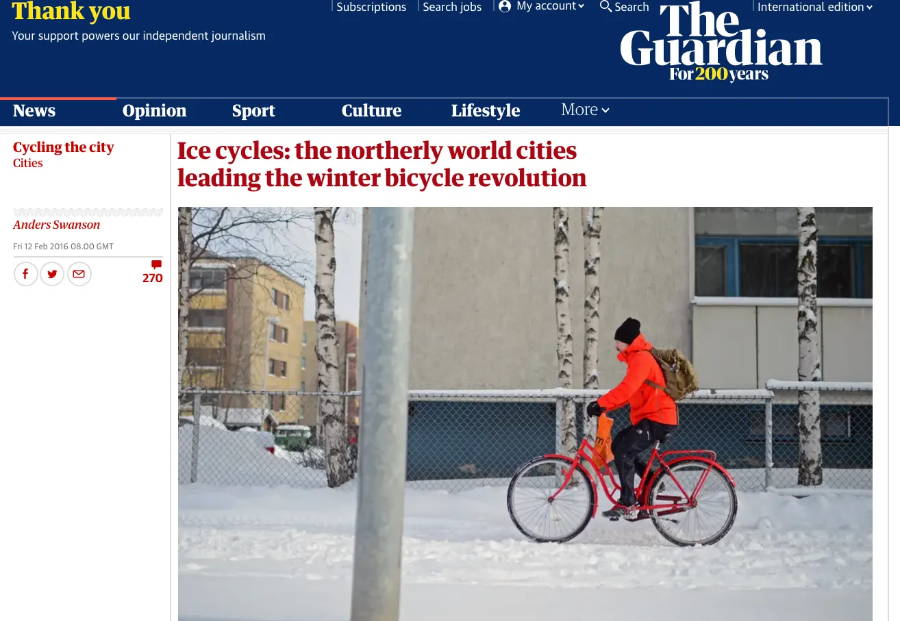 Nothing makes city cycling more concrete, literally, than bicycle infrastructure itself. Each bike lane written into concrete is a testament to visionary legislators, hard working activists, and conscious citizenry. Bike stores also help too. For 30+ years, we've made it our job to provide the proper bike for city cycling, encouraging a groundswell of new cyclists with its aspirational design.
This groundswell, combined with infrastructure, reached a real tipping point when Covid unfortunately hit. More and more people will be riding in the winter to keep safe, and more and more people will find cycling all year is pretty easy (and kind of fun!). Now is the time. With the new infrastructure in place, we encourage you to keep riding, because what is concrete we hope to keep concrete, and what is growing we hope to keep growing.
Want a great story on winter cycling? Look to Oolu in Finland, a city colder than Winnipeg where people cycle year round. (This is one of our favourite articles ever!).
"Those cities that will make the shift most quickly will be the ones that figure out that the ideal design vehicle for their cycling network is an elderly couple wearing regular clothing, riding regular bikes having a quiet kindly conversation, regardless of the weather, anywhere in the city. They will likely be wearing woolly hats, not helmets, and they will be riding upright, enjoying the view, basking in the beauty of winter."
Anders Swanson - The Guardian
16 FEB, 2016