---
Posted on 17 March 2022
7 Reasons Why We Love The Biomega NYC
H.G. Wells once said "every time I see an adult on a bicycle, I no longer despair for the future of the human race." And, it's true. The beauty of being so efficiently self-propelled is coupled with a self-balanced grace that honestly borders on the miraculous. But, there's also something beautiful about the image of a bike without a rider. A bicycle has a beautiful form, with crisp skeletal lines whose form is innately functional, from its thin spokes to its frame tubing. But, so few bike companies design with such admiration in mind. Bikes today are sold as a commodified spectacle: garish paint, horrifying typography, and corny decals everywhere.

Perhaps unsurprisingly, it took a Danish philosopher and bicycle designer to re-romance the wheel. What's unique about Biomega is that they didn't start their company to compete with other bike companies. They wanted to compete with cars. They aimed to dignify the bicycle as upscale transportation, something that feels more important than a car and deconstructs the car as object-of-desire. The Biomega NYC captures this ethos beautifully. Designed by Jens-Martin Skibsted (who we have talked philosophy and bikes with well into the night), the Biomega NYC begins with the frame as the principle essence of the bike, and asks new questions as it builds up.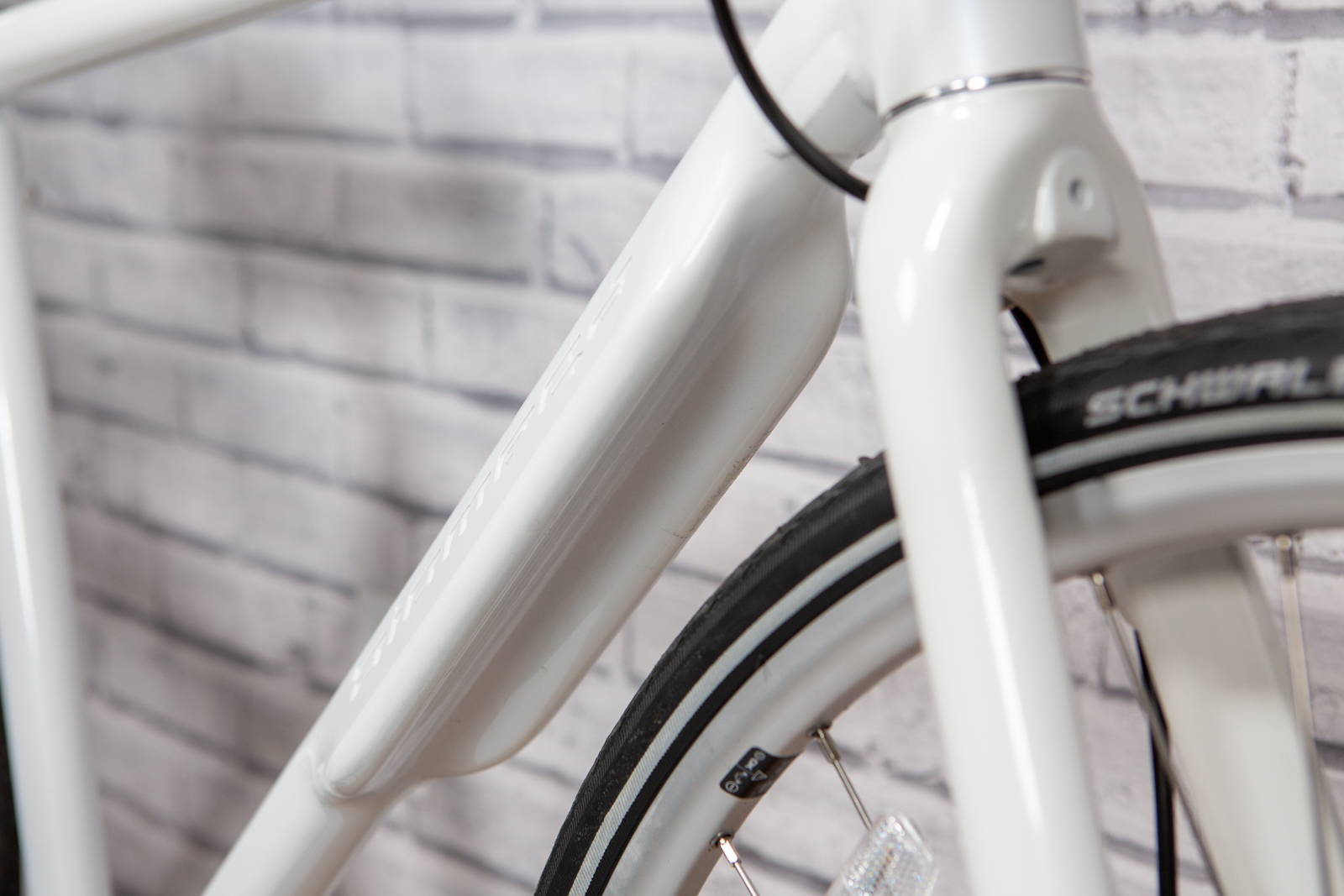 The bicycle frame has remained unchanged for over a century; a skeleton of diamond shapes that connects rider with drivetrain and drivetrain with wheels. Biomega doesn't question this first principle, but they did push it's design forward a notch, even if it's just a notch. The Biomega NYC is explicitly a city bike, and which is why there's a hydroformed fender carved into the down tube of the frame. It may not keep all the mud off, but it certainly helps and looks damn cool.
At its core, a bike isn't the materials used but the blueprint of the bike itself: the invisible mathematics that unify the whole. The Biomega NYC is no slouchers bike. It is a spirited machine that positions the body for acceleration and handling while maintaining a semi-upright, heads-up design. Design cues are taken from early 90's mountain bikes which employed some elements of road bike design. The Biomega NYC pays homage to this respected design with its short wheelbase, steep head and seat tube angles, and a tight rear triangle to boost climbing.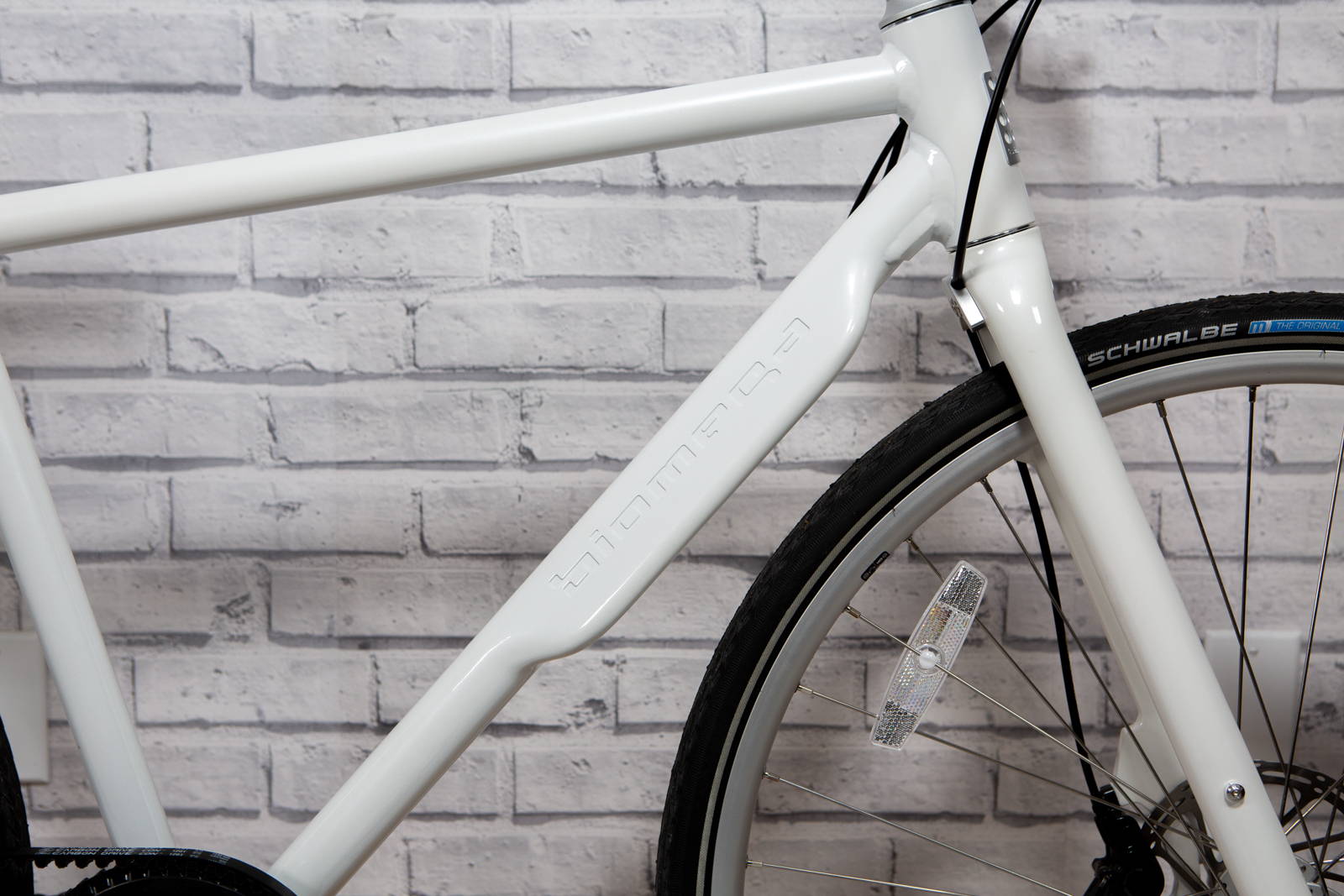 Today's bike brands love to splash their logos everywhere. This begs the question: if they were so proud of their name, why would they use decals that age the bike as they peel and fade? Biomega doesn't play such games; their bikes are classics that have been featured in countless design magazines and they are even a permanent exhibit at many museums (including the SF MoMA). The logo on the Biomega is literally carved into the frame - we've never seen anything quite like it - but isn't too flashy. It's an elegant white-on-white that makes a strong statement on the NYC's durability and permanence.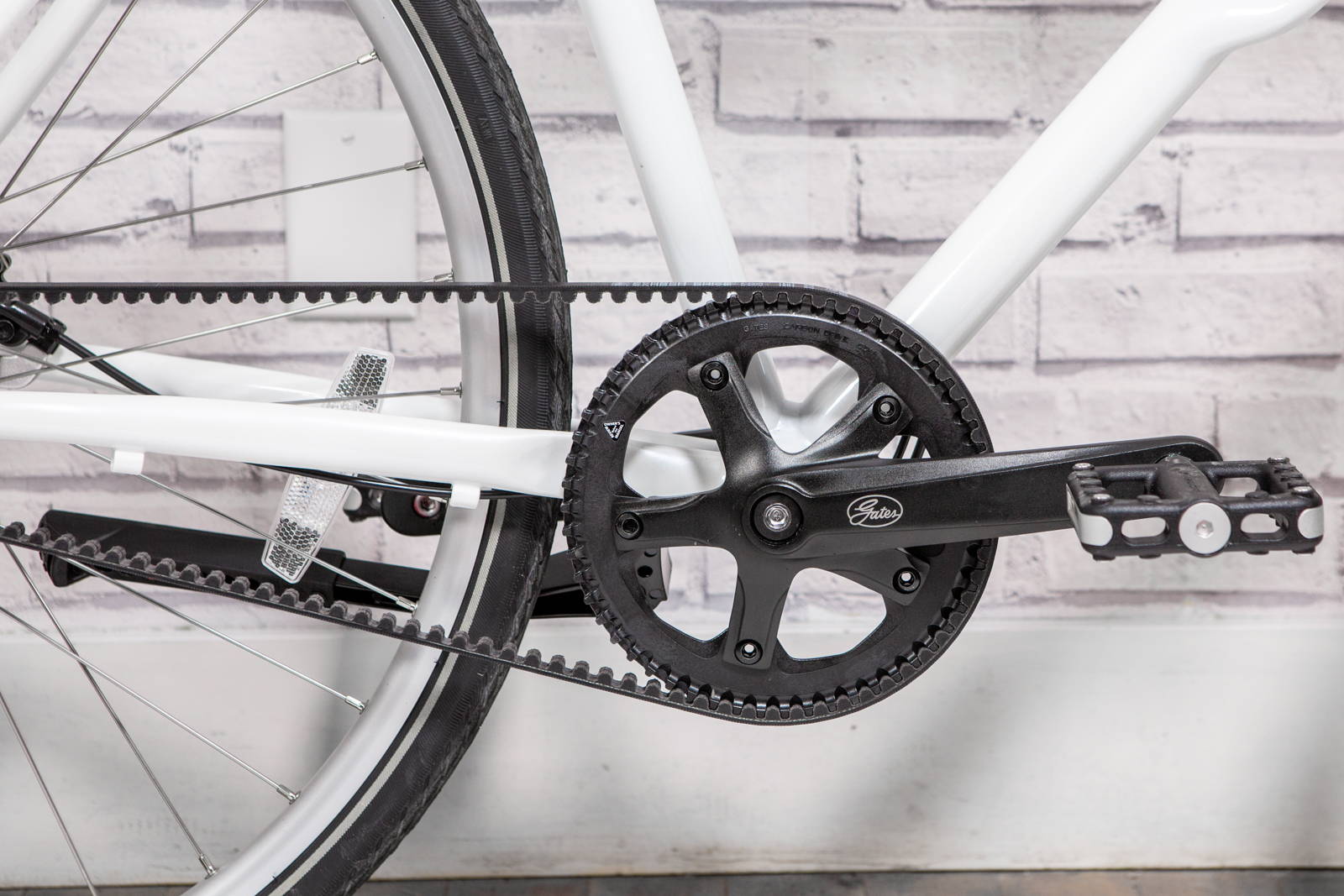 We've carried Biomega for years and will never forget their first shaft-drive bikes, which took the design world by storm. Shaft-drives were a great first attempt at clean drivetrain technology, but they were mechanically inefficient compared to chains. The evolved answer came much later in the form of the Gates Belt Drive. These carbon belts are tried and tested in Nordic winters. They require no oil, run completely clean, and have a lifespan of up to 60,000km.
The essence of the drivetrain is actually not the chain but the gears themselves. The Biomega NYC employs the Japanese-made Shimano Alfine-8 hub, a sealed system contained in a lightweight alloy shell that provides a large gear range, perfect for all grades and topographies. Loved by mechanics all over the world, the Alfine-8 hub is legendary for it's low maintenance and crisp shifting.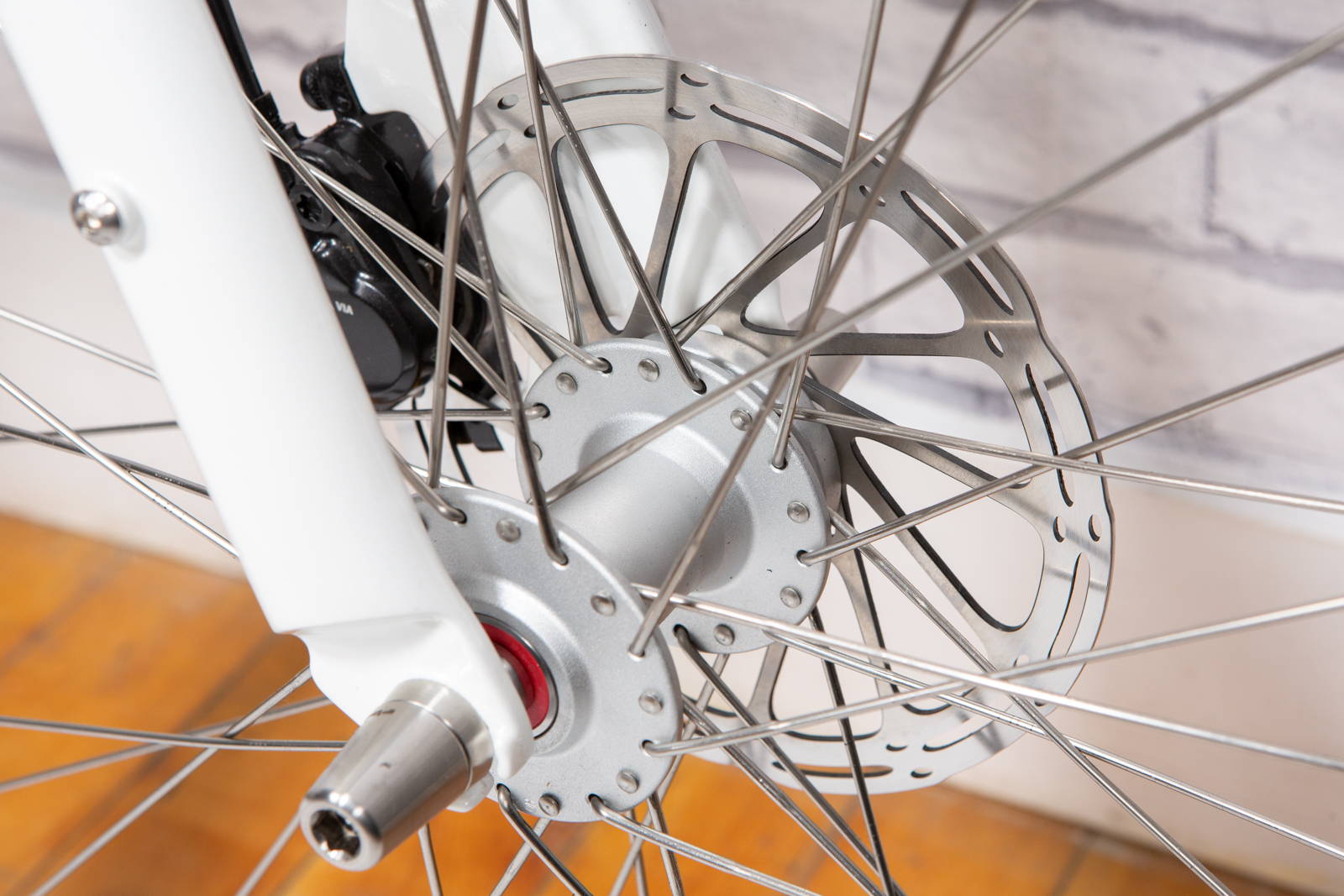 From a purely engineering perspective, rim brakes make no sense. The braking surface on a rim brake is located on the edge of the wheel; the same outside edge that drives through rainwater, snow, and mud. A disc brake design moves the braking unit closer to the center of the wheel and away from environmental interference, providing much more power as well as consistency. The disc brakes on the Biomega NYC are Japanese-made Shimano brakes that employ hydraulic fluid for activation. These brakes are highly intuitive, light to the touch, and have high reactivity; whether you're taking a corner or emergency braking.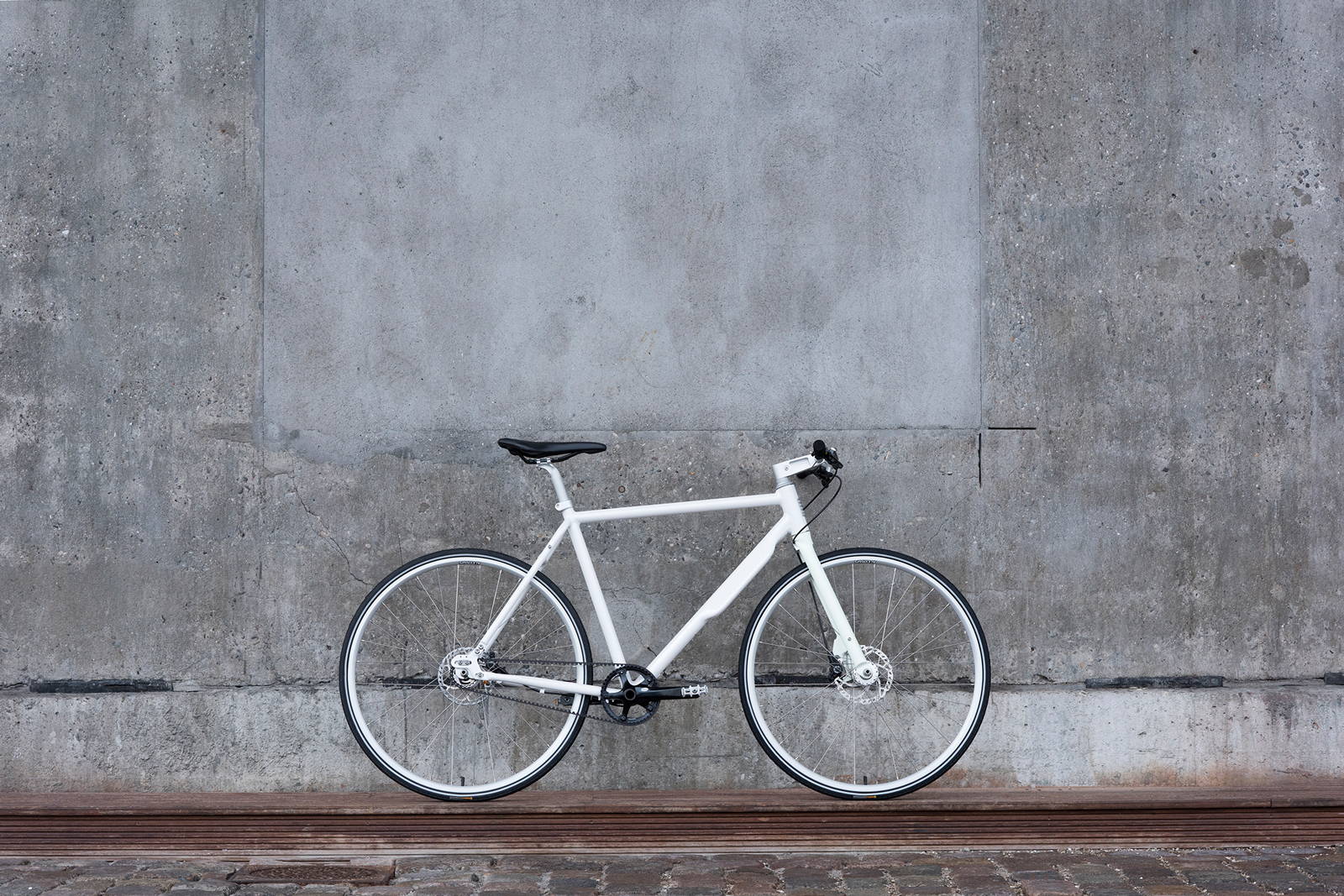 As one of Denmark's leading designers, Jens-Martin Skibsted is owed a debt of gratitude for getting other world-leading designers to engage with the bicycle as design object. While the Biomega NYC is Jens-Martin Skibsted's creation, it reveals projects from previous designs with Lars Holme Larsen, Bjarke Ingels, Marc Newson and more. The gorgeous I-beam stem on the Biomega NYC is designed by Marc Newson and the pedals are a collaboration with design house KiBiSi.