GLOBAL BIKE SHORTAGE
---
Posted on 07 March 2021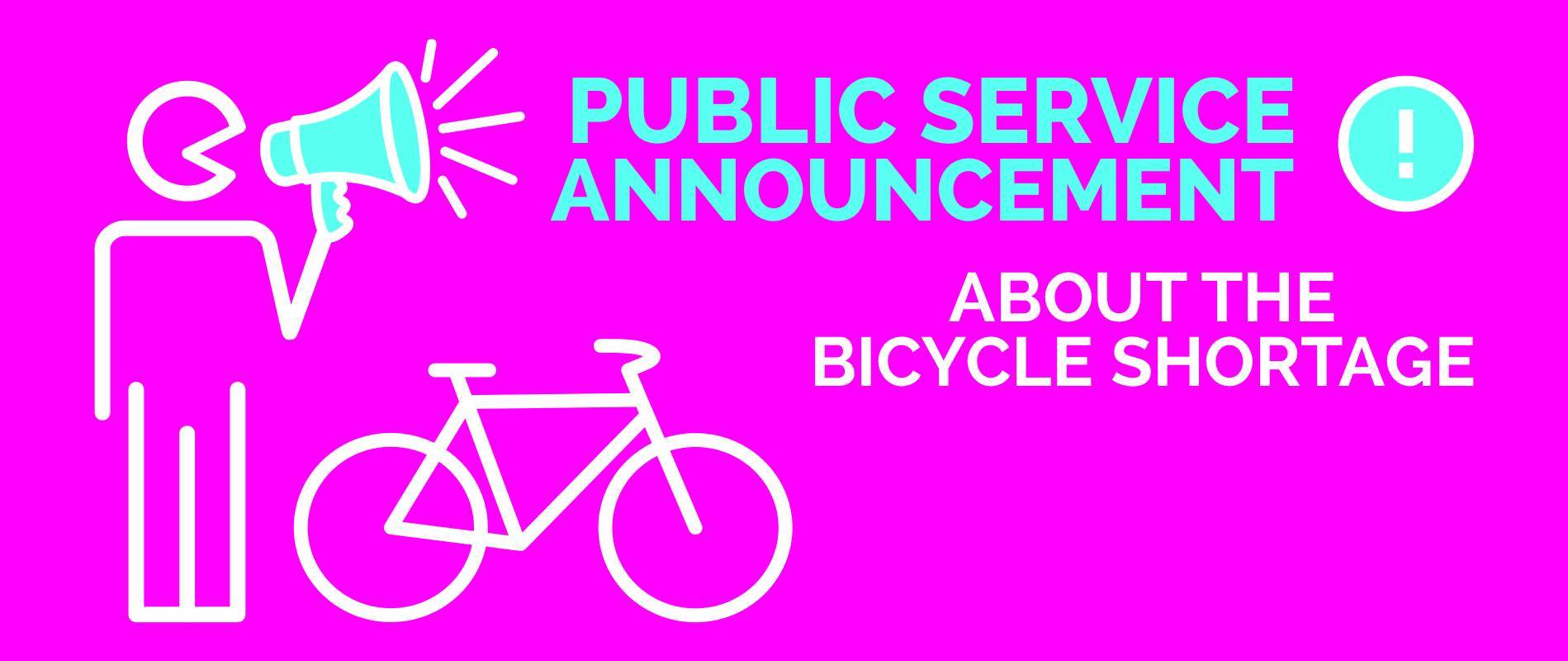 Reduced Supply, Crazy Demand
While we live to put people on bikes and to make our cities healthier places, we just can't seem to keep up at this moment!
Due to Covid, bicycle demand has surged all over the world. And, we are not just selling to recreational cyclists with Covid-related cabin-fever, but to many people who have come to realize that a bike makes the best form of urban transportation. We've seen the increase in bicycle sales match an increase in bicycle infrastructure, and we believe this trend will only continue, post-Covid. That's the good news.
But, the bad news is that supply chains are strained. The bicycle industry has actually been a slowly shrinking industry for the past decade, and belt-tightening factories simply don't have the tooling or human assets to deal with this kind of surging demand. To make matters worse, social distancing on factory floors has meant a necessarily decrease in labour force. And, this labour disruption is happening everywhere. From the production of raw materials to shipping companies, a bicycle is a truly globalized object, with thousands of parts from all over the world delivered to a factory. That this network operates relatively smoothly in normal times is something like a fine-tuned miracle. Now, the miracle is getting a bike.
Want to know how bad this is? It's bad. Friendly competitors like Gears have published on their website that they will likely only receive 20% of their stock before October, 2021. For many shops, 2021 is a lost year. Some have speculated that this is because many USA companies are putting American customers first. That may well be the case. Luckily, we don't have this problem, but that doesn't mean that we aren't faced with our difficulties too.
---
So what does that mean for Curbside and our customers?
Well, because we deal with European supply chains we will get our bikes. And, while delayed, we have good reason to believe the majority will be delivered in Q3 and early Q4, 2021. The companies we work with in Europe actually own their own factories, and because they produce throughout the year, they can deal with delays much better than the contract factories of the Far East; where different brands are produced in perfectly synchronized batches of intense, highly calibrated production. That calibration is exactly what isn't working right now.
That said, we do also get some of our bikes from the Far East too. Many Devinci bikes are made in Vietnam. But, because Devinci is a Canadian company, Canadian customers are first in line. Another good reason to support a Canadian company! So, unlike many other stores, we can say with confidence that you will get a bike. 
But, there will be delays. And, that means if you're buying a bike from us, we need your patience. The supply chain is so out of whack that no vendor can reliably forecast when their products are ready for shipping. A handlebar might show up early, a seat-post might show up weeks late. The complete bike can only ship once all parts are gathered and assembled. It's really a day-by-day affair, and the added stress of global customers like us calling or vendors for constant updates grinds the whole thing down.
That means that if you are expecting a hard deadline from us when ordering a bike, we simply can't do that and nor can you expect this. This is not a year like normal years where things tend to run smoothly. Already, added to the mess of parts and labour shortage, there is a global shipping container shortage and a Port of Montreal strike on March 21st that has caused ripple-effect delays we are still dealing with today. This adds chaos to chaos. (We might also add Brexit and the container ship that got stuck in the Suez canal - more variables with ripple effects).
Yet through this, all of us are pushing, hard. Our vendors are busting their butts to get bikes out in time. Everyone is losing sleep. Too much coffee is being consumed. No one is riding as much as they normally would be. We're doing everything we can, as a global industry, to get your butt on a bike!
---
I Already Ordered A Bike...
So, what does that mean if you already ordered a bike? First, it means that everything has been delayed. All of our orders are running anywhere between one to two months late right now. 
Second, it means that you have a place in line, and you will get your bike before others later in line. We will continue to update your order status as we receive communication. The biggest waiting game right now is waiting for our supplier to have the goods ready. From there it less of a guessing game as items are loaded onto shipping containers and sailed over to Toronto. Meanwhile, we will continue to talk with each vendor once a week to get their best guess on delivery time, and we will update your status with this information. But, understand that the "estimated" in ETA is really better understood as a best guess. If your status hasn't been updated in a while, that simply means that we haven't gotten a better guess on updates. Please refrain from calling! Our only answer is that we don't know.
Finally, if for whatever reason you decide things are running too late, you always have full option of a refund on your deposit - no questions asked! The only exception to this is custom bikes.
If you want to refund your deposit, we ask that you email aaron@curbsidecycle.com
---
OK Curbside, I Need A Bike!
If you haven't bought a bike, we suggest you place a deposit now! Like, now! Hurry! Now that the sun is starting to come out a bit and you can hear birds singing, bike sales have started to explode!

As of this writing we've sold 70% of all 2021 bikes and we're constantly on the hunt for more (when we get more they are usually late Q3 or early Q4). But, there are still many bikes left, so it's not too late. After you've read this, order a bike!
How? Well, we've done our best to show you what's available and when we expect our bikes to arrive (keep in mind, these are best guesses). You can see the list of bikes available here. Please remember that this is first-come, first-serve. We've shown how many bikes are sold in the furthest column, so it's just a matter of subtracting total bikes from sold bikes, and then finding the next available month of delivery.
If you want to order a bike but have questions, of course we would love to help! The best way to do this is to book a sales consultation, which can you either in-store, or remotely by telephone or video chat. You are also welcome to email us at info@curbsidecycle.com, or you can chat with us (during opening hours) on our website.
Please note that we're also running on reduced staff due to social distancing and workplace safety, so we apologize if we aren't always at our promptest. We're doing our best!
---
And Finally, A Thank You!
It was June last year when we realized that 2021 could be an even more difficult year than 2020. Already back then - in the midst of a year where each new day brought entirely new challenges - we took the time to place our 2021 orders - nearly a year in advance. Usually, a bike store will place orders in October for March delivery, and we thought we were being particularly proactive. And, our suppliers also felt confident too!
Many brazen companies like to say that they do things and ask for forgiveness later. What this attitude doesn't take into account is that the capacity to forgive was already present at the beginning. Perhaps to do anything is to forgive in advance for all the things that could go wrong. As a store, we take our commitments, and our communication seriously. And now, with our commitments changing day-to-day and our communication strained, we can only ask that you accept our apologies, and we will do our best to get you on a bike as soon as humanly possible!
- With love from the Curbside staff