---
Posted on 24 March 2022
Brompton Electric vs. Riese & Muller Tinker: Which One Is Best For You?
When you live in a city as expensive as Toronto, space is at a premium on the streets and in our homes. It is for this exact reason that urban riders are turning their interest to folding bikes.
Here at Curbside Cycle we sell two of the world's best e-folding bikes - the Brompton Electric and the Riese & Muller Tinker. It's time to see how they stack up against each other with a straight-up showdown!
Weight is less of an issue for e-bikes when it comes to riding (because the motor helps move you and the bike along), but it is a concern when you are bringing your bike indoors or up and down subway stairs. The lithium-ion batteries on both the Brompton Electric and the Tinker weigh about 6 lbs each, but the total bike weights do differ. The Tinker is a hefty 55 lbs with the battery, whereas the Brompton weighs in at 38 lbs with the battery.
A significant advantage for the Brompton is that the battery is designed to be easily removed and ultra portable – thanks to its quick-release mount and Essentials Bag with shoulder strap. If you're hopping on the subway or simply navigating a stairway, you can pop the battery off and have a bike that's instantly 6 lbs lighter! The battery can be removed on the Tinker as well, but it involves using a key and then storing the battery in a backpack (which means you have to be carrying a backpack already…). Overall it's just a more complex operation, and after all that it only shaves the bike down to 49 lbs.
ROUND WINNER: Brompton Electric!
Under ideal conditions, the Brompton Electric can travel 40-80 km on a single charge with its 418W battery. Due mostly to the increased 500W capacity, the Tinker can travel 45-95 km on a fully-charged battery. Not a huge difference, but if you're really keen on squeezing every last drop of e-assist out of your battery, the Tinker just barely wins this round!
ROUND WINNER: Riese & Muller Tinker!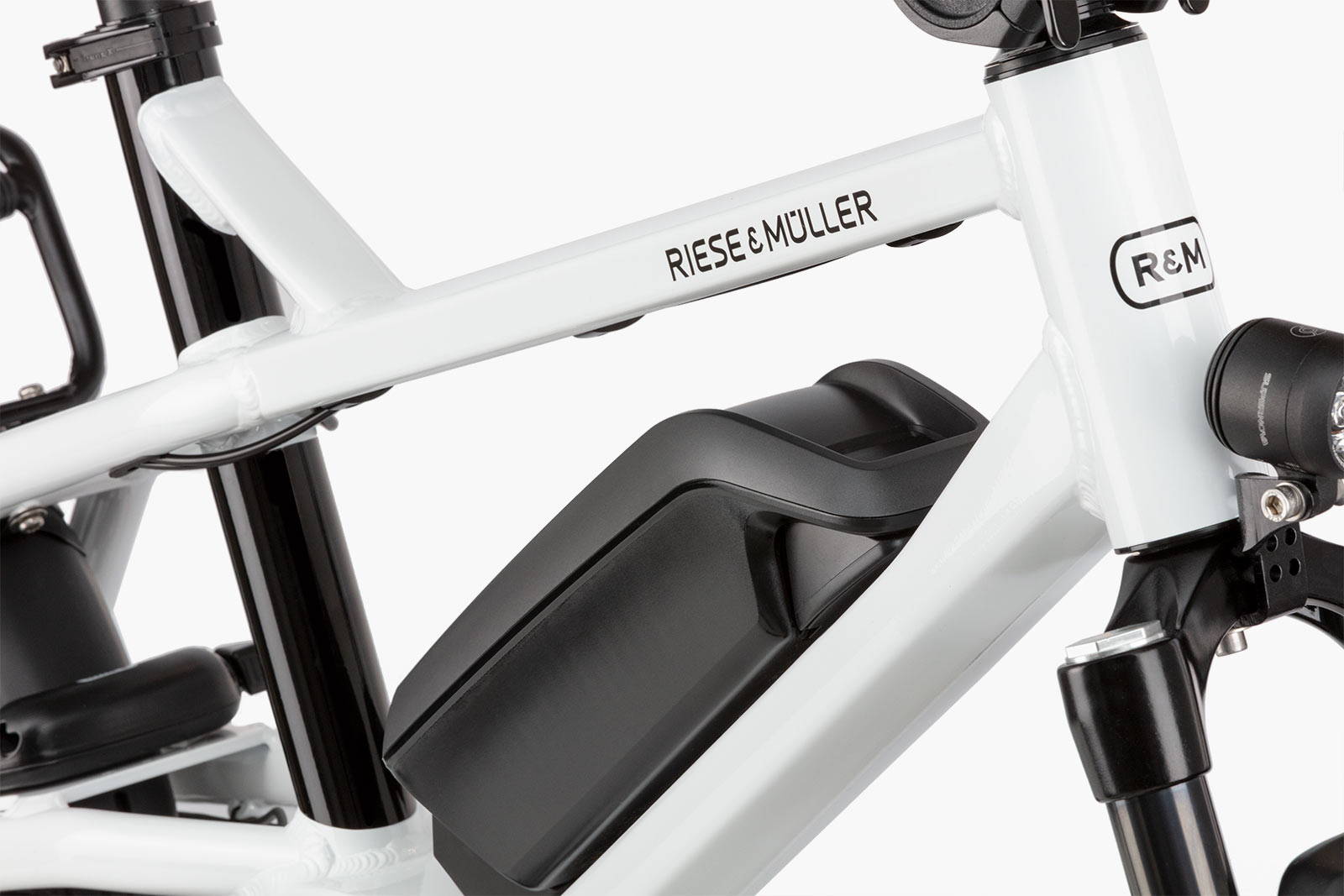 The Tinker is a folding bike by definition - the stem folds down to sit alongside the front wheel, and the seatpost collapses into the frame - but Brompton is famous for having literally perfected the folding bike. Its genius is that it folds in thirds, not halves like most other folding bikes - meaning it's nearly 12" shorter than others in its "folded" position, for a total dimension of 12" x 24" x 24". Whether you're storing your bike indoors or riding a crowded train, the Brompton Electric takes the cake.
ROUND WINNER: Brompton Electric!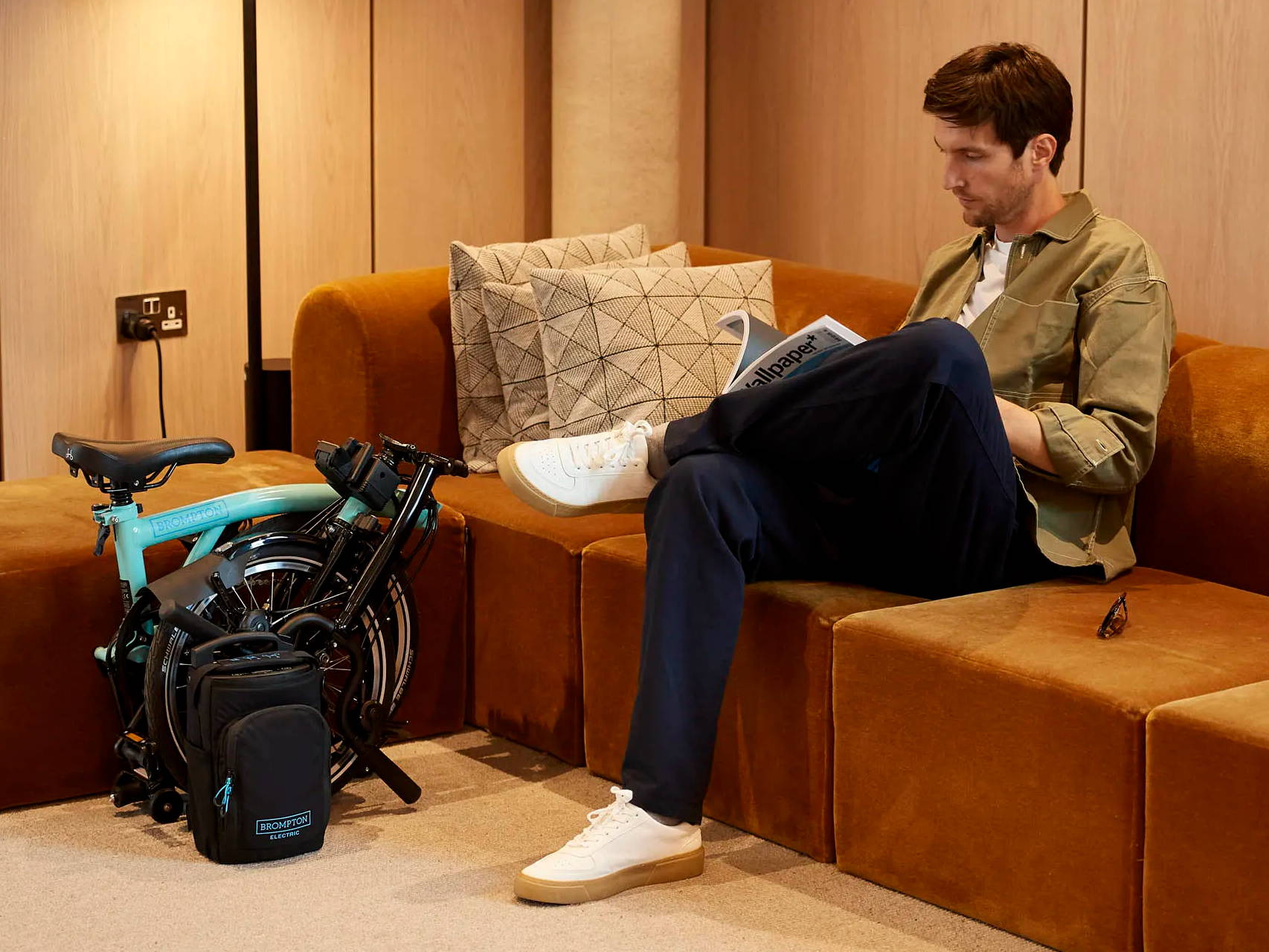 The comfort of a bike can be fine-tuned by changing out the saddle, seatpost, and grips, but the foundation of comfort is built on the frame materials and spec choices made by the manufacturer. A Riese & Muller uses rust-proof aluminum as its frame material, which is not as comfortable to ride for long distances as it is with a steel frame like those used for Brompton Electrics. However, the tires on a Tinker are much wider and run at a much lower average PSI than those on a Brompton (45 vs. 80 PSI, respectively), which makes the ride feel way more plush. Add in the front fork suspension and optional Thudbuster seatpost, and the Tinker wins by a mile for comfort on rough urban roads. This isn't to say the Brompton's comfort is terrible (the suspension block and steel frame makes it far from it!) but side by side, the Tinker is going to feel like a softer ride if you're on anything other than fresh tarmac.
ROUND WINNER: Riese & Muller Tinker!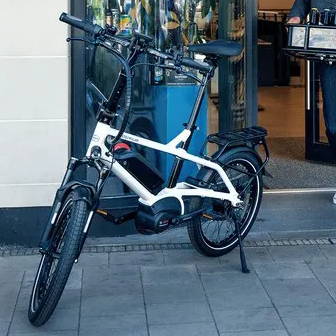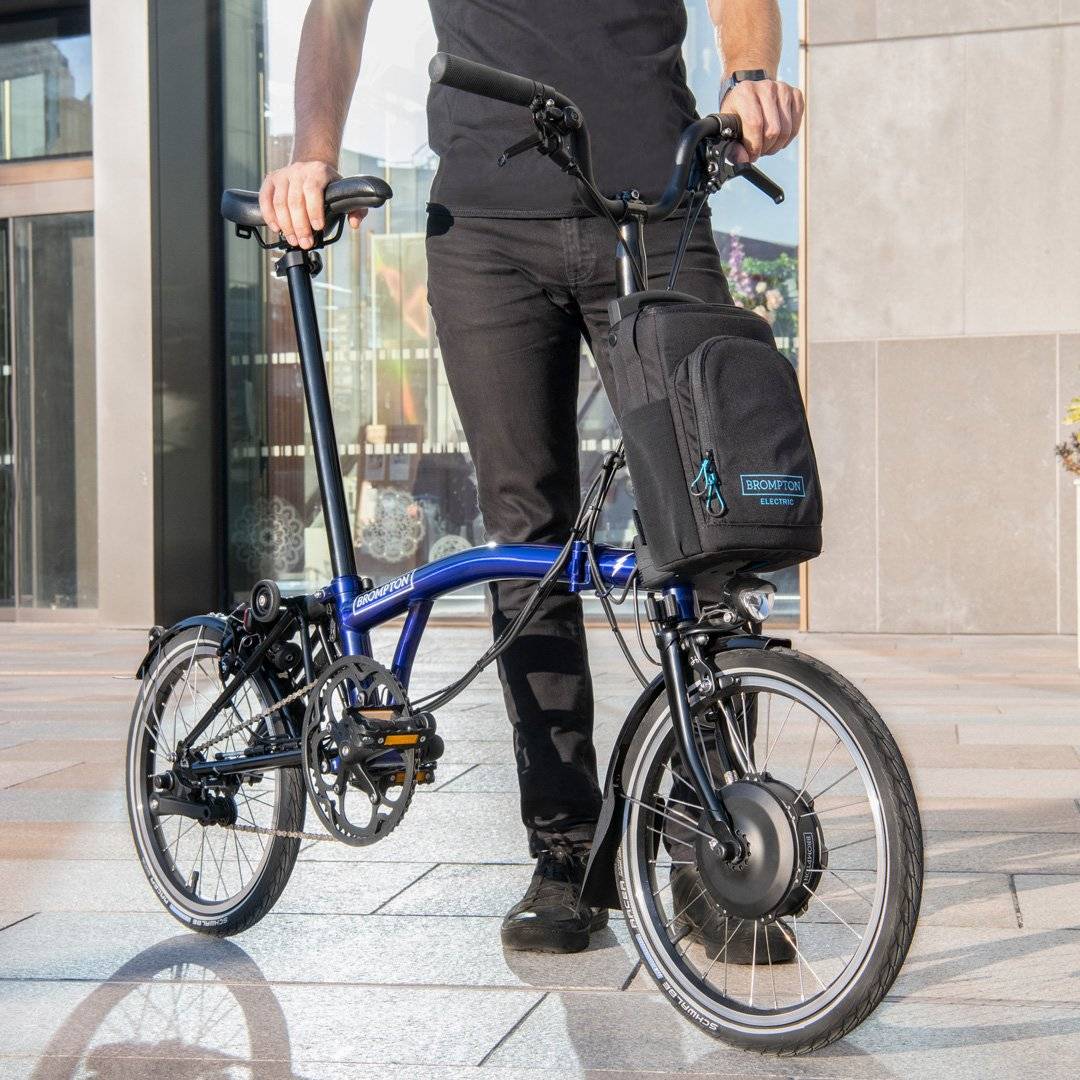 ROUND FIVE: CARRYING CAPACITY
Both the Brompton Electric and the Tinker are able to haul some serious loads! If you favour the Tinker, you can opt to add a Cargo Platform to the rear rack, which includes an 18L plastic crate within a metal skeleton that keeps all your accessories contained. As a bonus, the crate can be removed to act as your own personal shopping basket at the grocery store.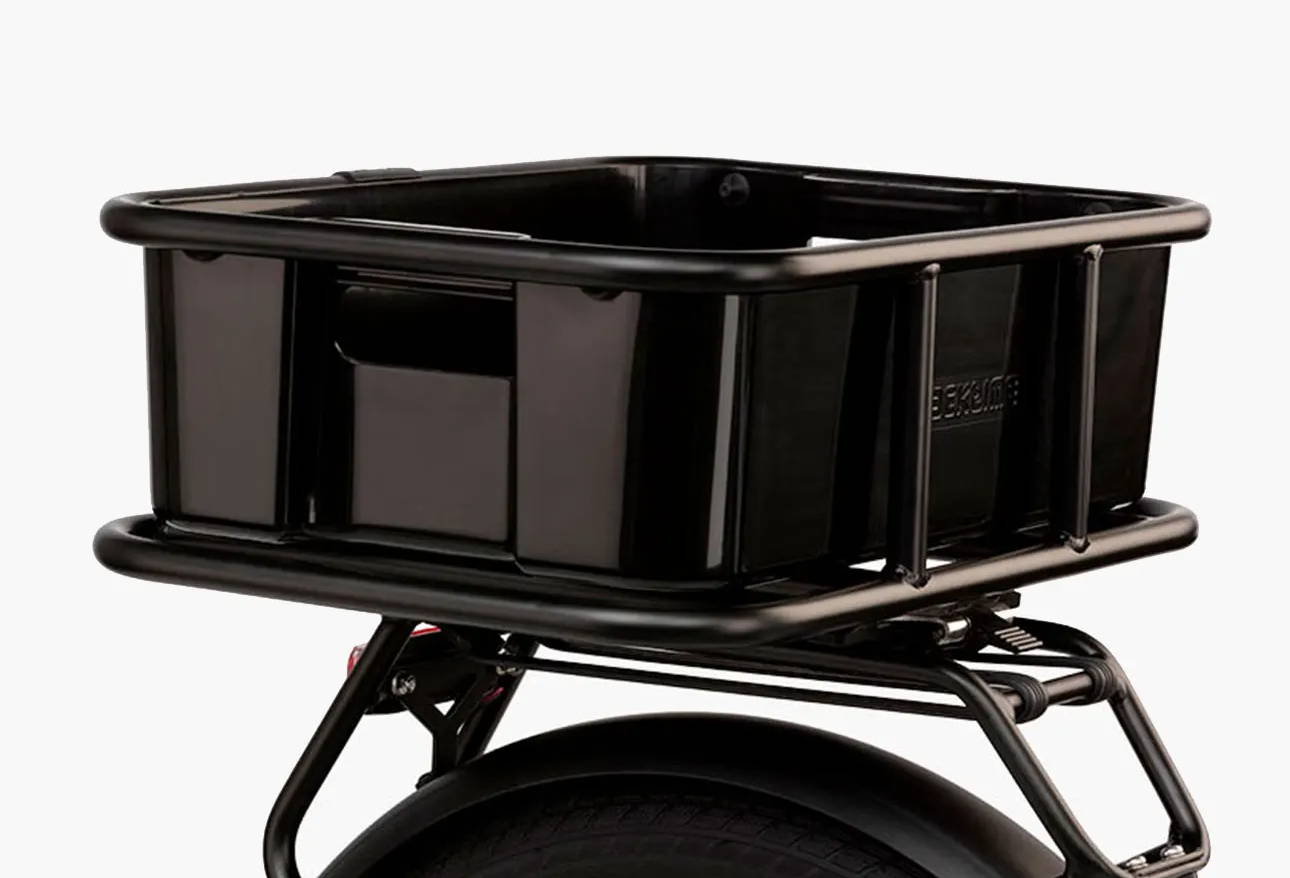 The Brompton Electric Essentials bag has a sizable 1L front pocket, but if you're looking to bring more along for the ride you can upgrade to a City Bag Large or Rear Rack.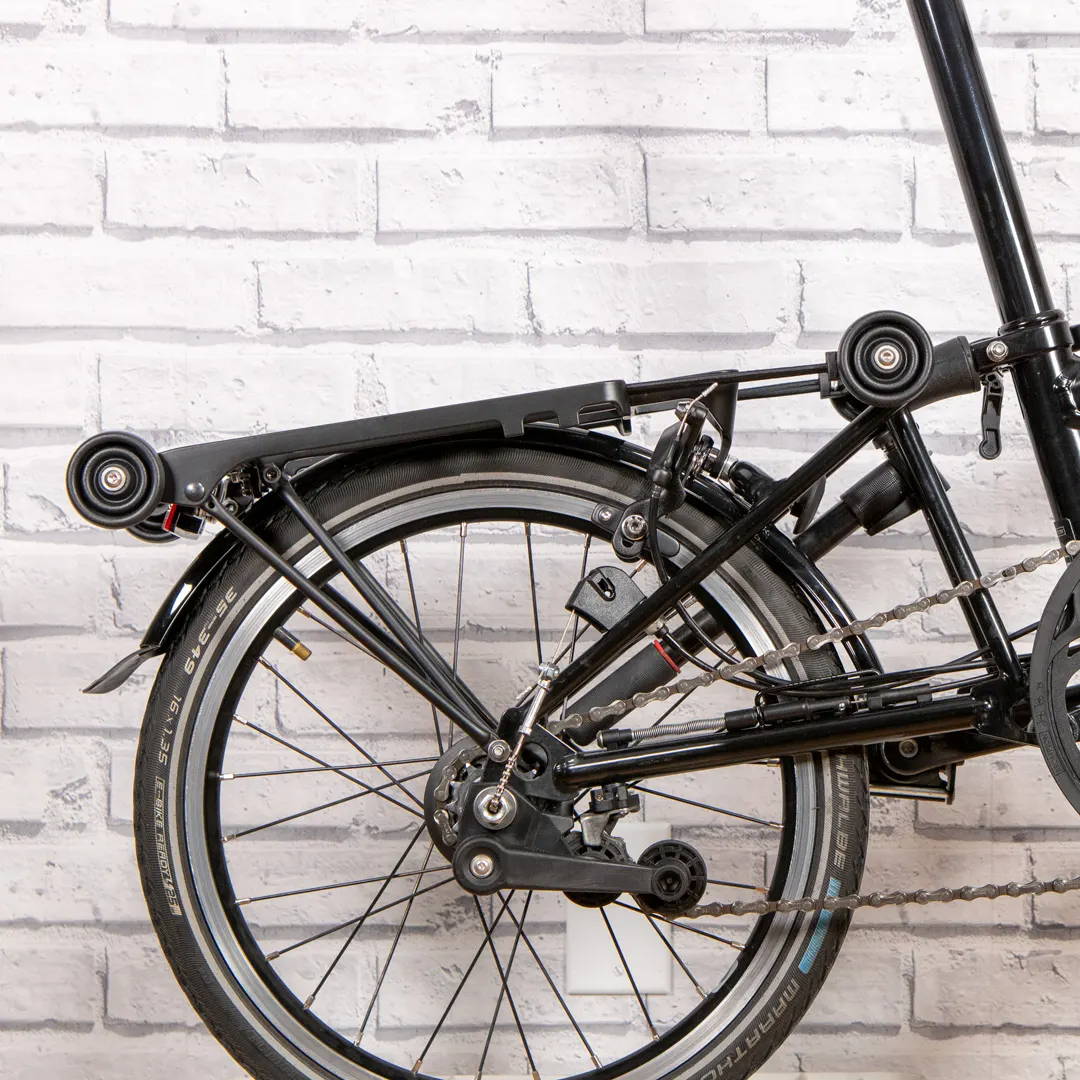 The City Bag adds a total of 20L of storage space surrounding the battery, which is integrated into the bag's design. However, be sure not to overload it, as the Front Carrier Block that supports the battery and bag can only sustain loads up to 22 lbs. For anything heavier or bulkier, a rear rack adds an additional 22 lbs carrying capacity - ideal for dog food pickup runs, or even long-distance touring with the help of a backpack rig! This range of storage means the Brompton edges out the Tinker to claim this round.
ROUND WINNER: Brompton Electric!
For the bike purists out there who ride to get away from noisy motors, an e-bike might seem like an abomination. Thankfully with time and evolution, e-bike motors have developed to be quieter than ever.
The Brompton Electric motor has a low-volume "whirr" that is more pronounced in the higher assist settings when the motor is more engaged, but the volume doesn't change with higher levels of exertion (eg. going up a hill) unlike on cheaper e-bikes. The Tinker on the other hand is built using the incredibly quiet Bosch Active Line Plus motor. You have to seriously strain to hear it, even on the quietest rides.
ROUND WINNER: Riese & Muller Tinker!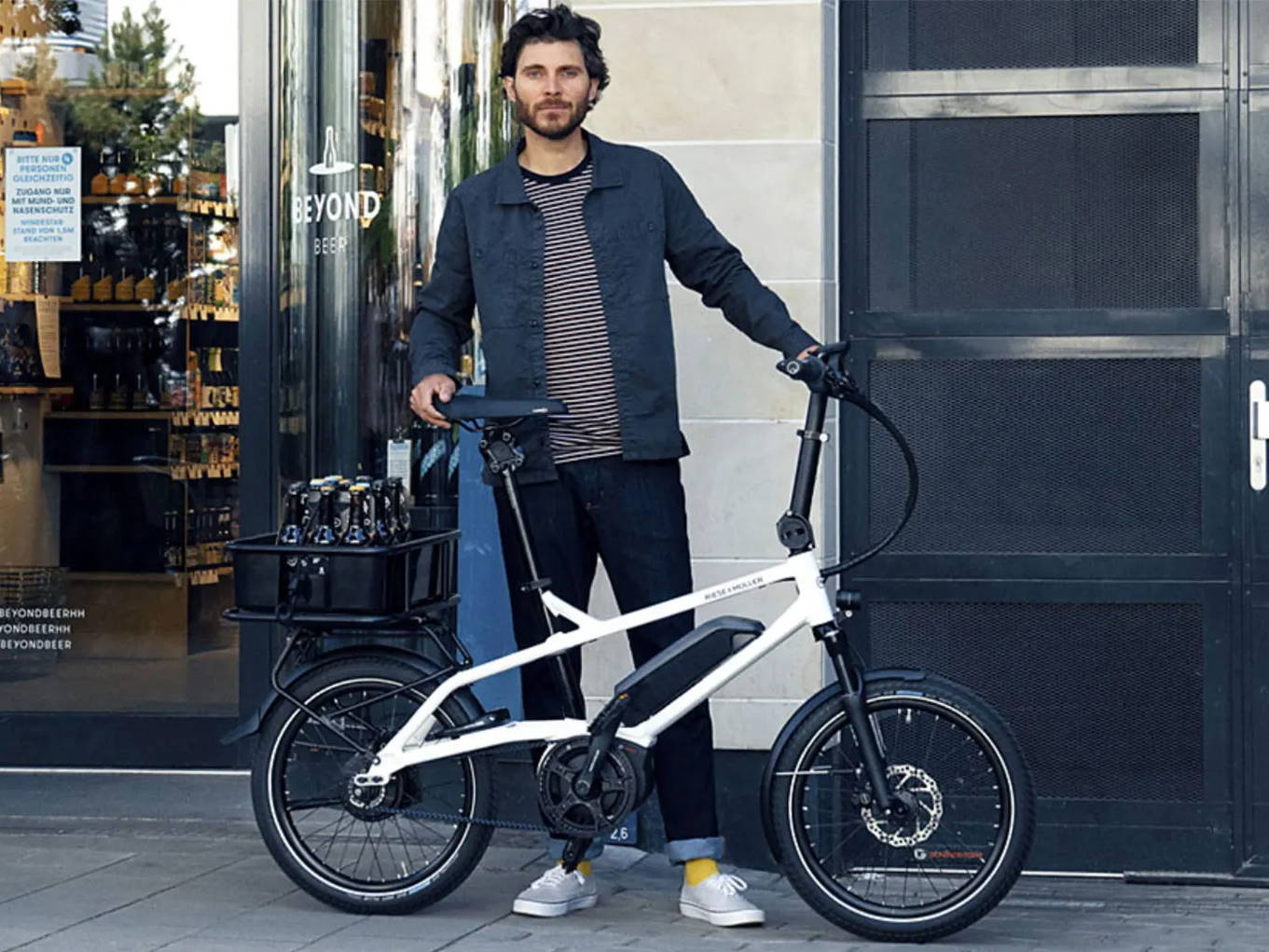 ROUND SEVEN: CUSTOMIZATION

When you buy the bike of your dreams, you want it to really feel like yours. The best way to do that is by customizing! If you go with the Brompton Electric, you have your pick of the litter between several stellar colours! As well, Brompton has a slew of companies following their every move that offer aftermarket upgrades to make the bike more functional (and just look really, really cool).
With the Riese & Muller Tinker, you can swap out things like the handlebar, grips, and tires, but other than sticker decals that's about all you can add. If you're someone who likes fine-tuning things to your taste, the Electric Brompton may be the one for you.
ROUND WINNER: Brompton Electric!
---
And now, to total up the points! Not surprisingly, it's an even tie between both bikes - it ultimately depends on your uses and purposes for buying a folding e-bike.
If you're searching for a city bike that is super compact, nimble and easy to transport, the Brompton Electric is your pick. It will serve you well in many applications, but it is not well suited to the roughest road conditions like loose gravel.
If, on the other hand, you want a bike that is super-plush, that can take you on further rides, and that you don't plan on lifting or carrying often, the Riese & Muller Tinker is the bike for you.