---
Posted on 17 February 2022
IT'S GOT YOUR BACK:
THE BLACK IRON HORSE CARGO BIKE CAN HANDLE EVERYTHING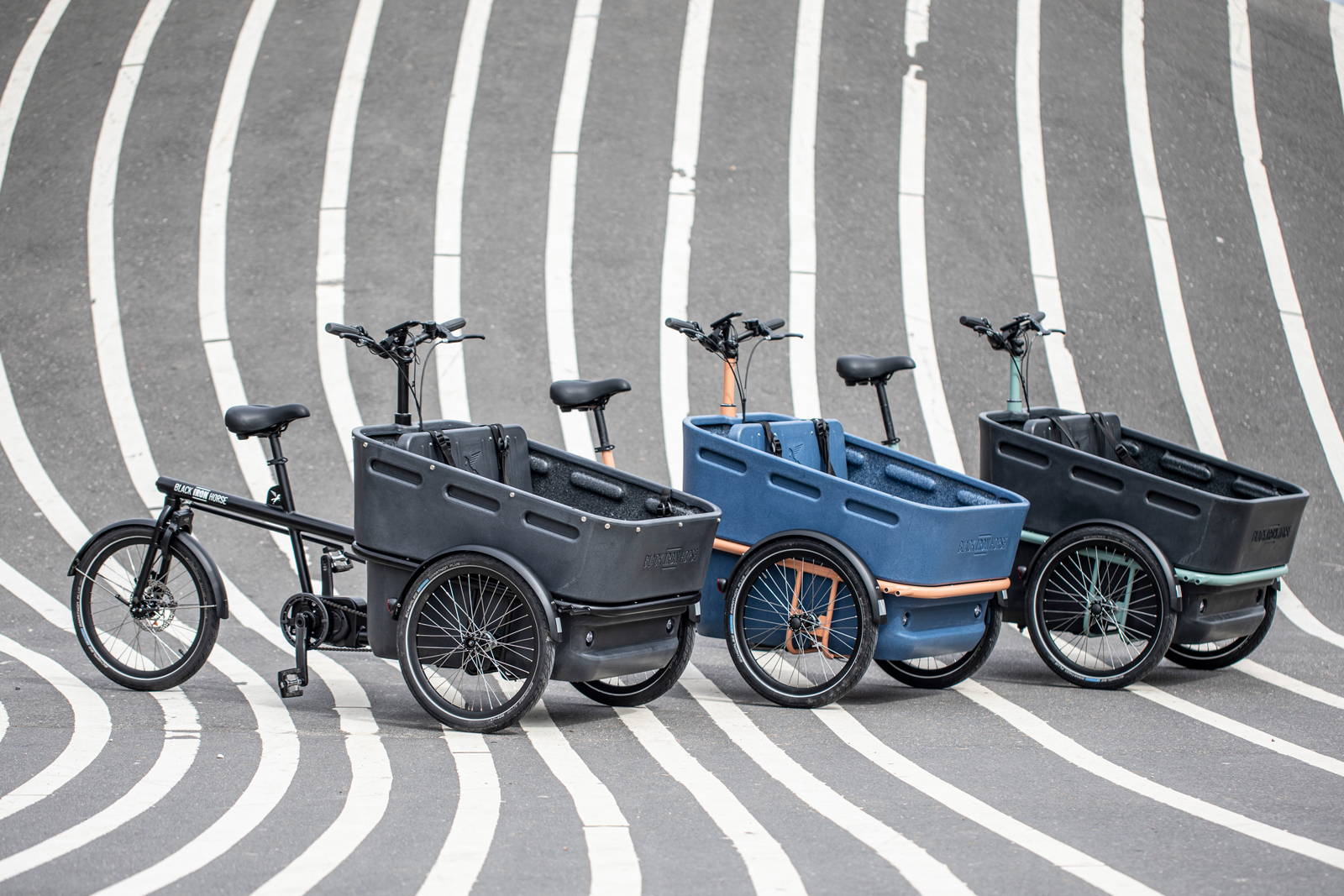 About ten years ago, we were in Copenhagen shopping for cargo bikes when we saw a real head-turner ride by. It was called the Sorte Jenhorst (apparently named after a local pub) and it had very unique rear wheel steering. Rear wheel steering? So strange and so cool! We made a mental note and continued to marvel at the Danish cargo bike market and its eternal inventiveness. So, if we were so impressed then, why is it we've only just imported it now? Well, back then, importing even the most basic cargo bikes into Canada was already pretty risky, and we figured rear wheel steering combined with a difficult-to-pronounce name put this bike ahead of its time.

Well, the times are a changin' and rear-wheel steering is a genuine problem solver. Rear-wheel steering is used on forklifts and even sports cars because it is so precise. Precision steering often torments the majority of three wheeled cargo bikes because most cargo trikes out there employ "box steering", where the whole box moves to steer rather than just the wheels. And so: the more stuff you put in the box, the less accident-free your handling is because the extra weight makes it harder to steer. Brands like Nihola successfully solved this problem with independent front wheel steering, but those front wheels require quite a bit of turnign radius, meaning the cargo box must shrink in width. If you're sensing an evolution here, you're right; that's where Black Iron Horse comes in. Their bikes have generous sized boxes with incredibly precise handling that betters the breed.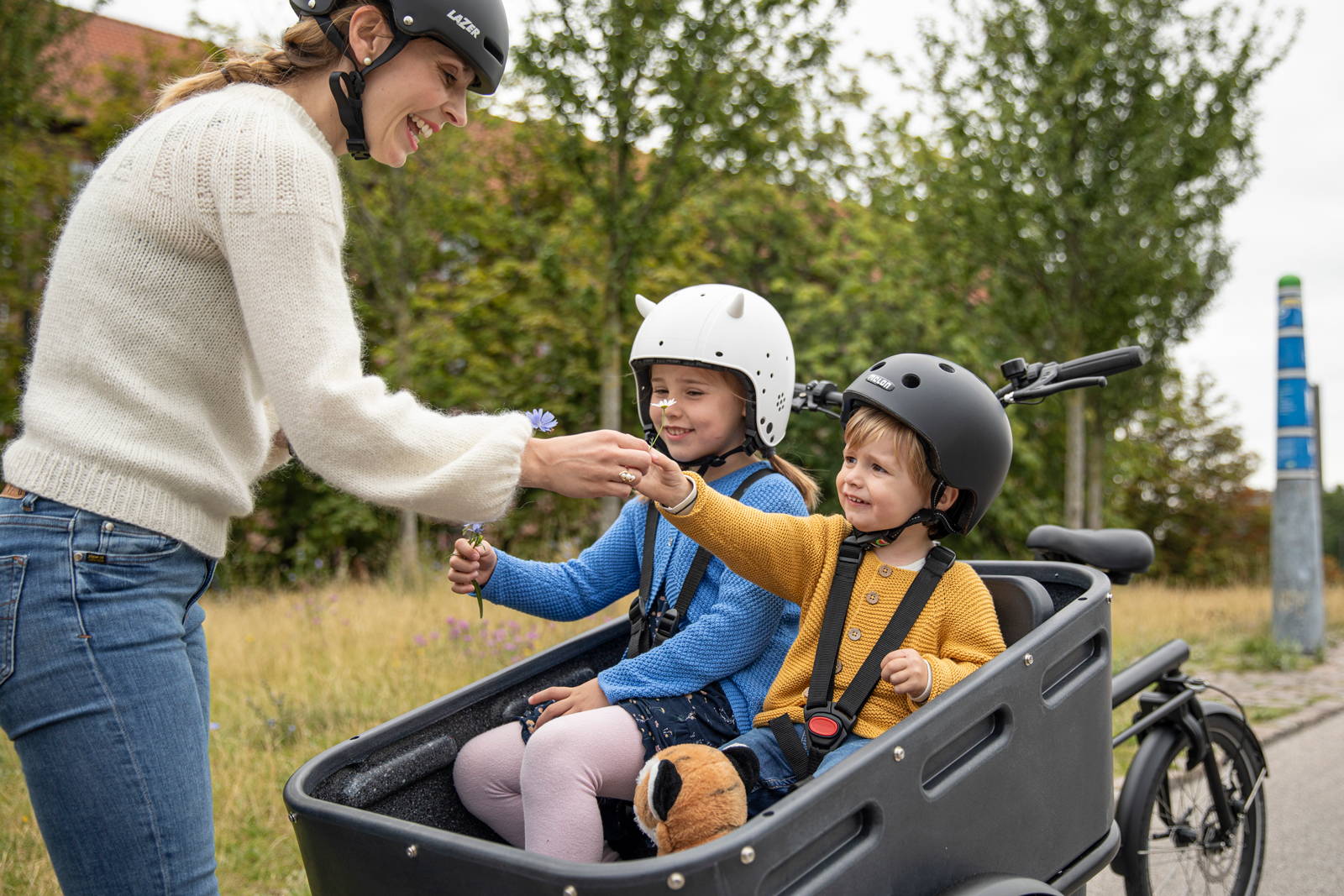 One of the most beautiful things about watching people use their Black Iron Horse is seeing how parents can talk to their kids and enjoy the ride together. The whole ride becomes a great conversation! Take it out on the weekend and let the conversation steer with the bike. Go exploring!
If you're buying a cargo trike versus a cargo bike it's probably because you prefer the stability of three wheels. But, if you're riding in any North American bike lanes where the separation between cars and bikes is painted rather than a physical barrier, you also need accident-free handling - a bike with quick reaction times for left hooks, open car doors and cars changing lanes without signalling. Most cargo bikes have "box steeringg," meaning the whole box steers on a pivot, and the more stuff you put in the box, the heavier your handling gets. Brands like Nihola have front-wheel steering (or 'independent steering') but this steering takes up a lot of box space, which is why their box width is so narrow. Black Iron Horse solved the problem with rear wheel steering. Rear wheel steering is even more intuitive than front-wheel steering, and means the box has tons of room for kids, dogs and groceries.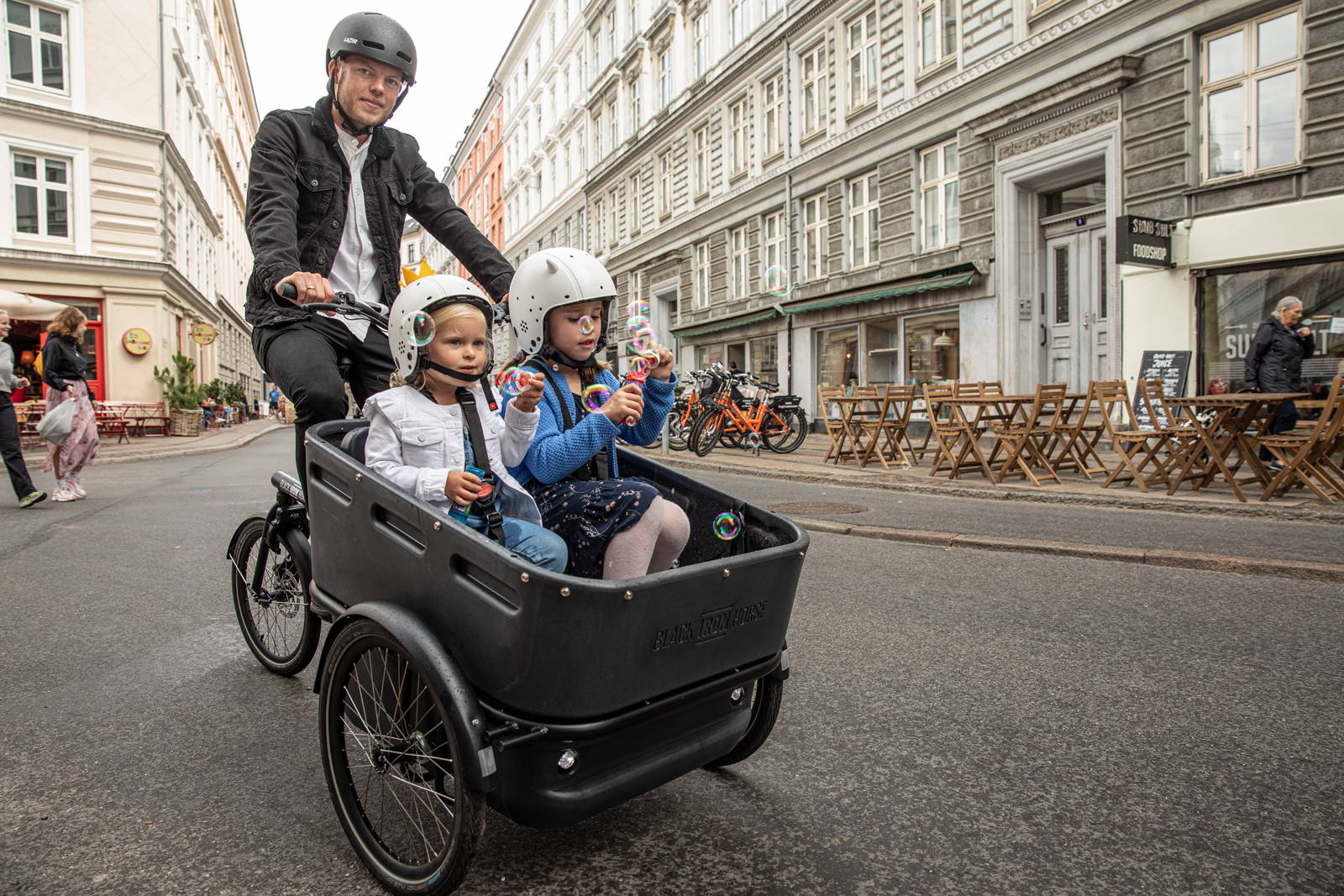 With great handling and no restrictions on box size, Black Iron Horse makes cargo bikes for small families and big families. The two basic models are the Pony (two kids) or the Pegasus (3-6 kids). Both can be outfitted with baby seats and toddler seats so your growing family has tons of room to grow! Interested in another model? Shoot us an email and we'd be glad to help. Lead time on special orders is typically 8-10 weeks.
4. YOUR PRIMARY CAR (OR SECOND CAR)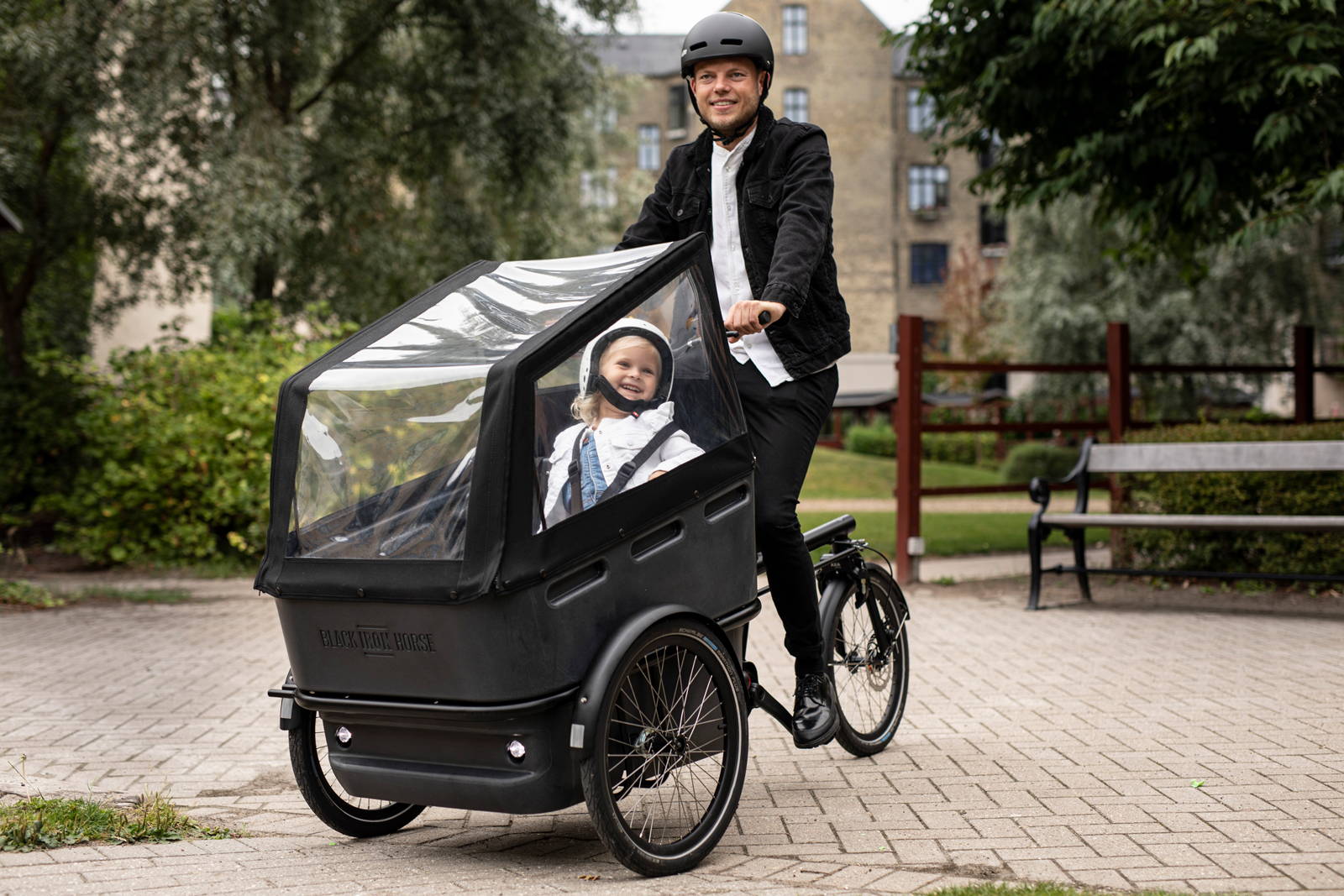 Like the Dutch, the Danes tend to be very sensible. This is especially true when it comes to transportation. The way the Danes look at things is like this: if you are living downtown, you probably live most of your life within biking distance - say, 7.5km - so you bike almost everywhere. It saves money and it makes you happier. If you are going further, maybe 15km, you still bike, but maybe now you use an e-bike. Now, consider this: since the large majority of a person's life is lived in a 0-15km radius, it makes sense that the bike is the principle transportation tool. As a primary mode of transportation it saves you tons of money. In Denmark, this money saved from biking often goes towards a car. Why? Because a car is perfect for the minority of trips where you generally go over 15km, like on a holiday. Ah, you say, but in North America it is different. But it really isn't. It is well documented that the majority of car trips in North America are under 7.5km. Replace that with a bike and you are much richer in money and happiness.
5. IMPACT RESISTANT SAFETY
One of the best parts of owning a cargo bike is all the great conversations you get into with it. Cargo bikes really do build a community! You might even say they are high impact in this way. But, a good cargo bike is actually designed to be impact resistant. That box you see in the front of all Black Iron Horse bikes is EU-tested to keep precious cargo safe, and can sustain impacts up to 40km/hr. When you're buying a cargo bike it makes sense that you are thinking of the box as storage, but remember it's crucial that this is safe storage.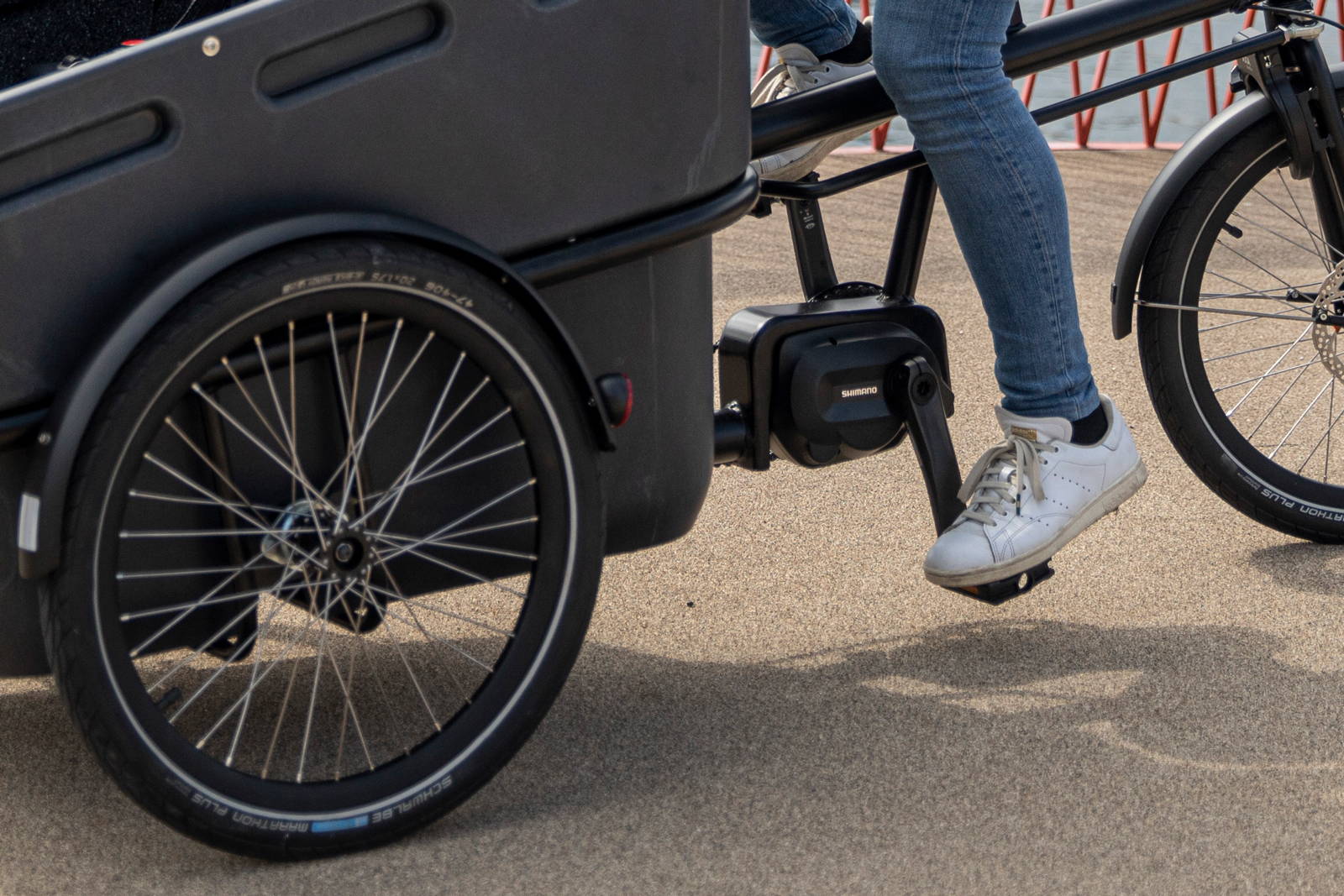 A cargo bike is very different from regular bikes because it carries cargo. This means the overall weight of the bike is constantly changing and the heavier the bike gets, the more you have to work! That's why electric assist is so popular on cargo bikes: it hwlpa you push and pull heavier weight, whether it's over long distances or up hills.
The three best electric assist brands for quality and service are Shimano, Bosch and Yamaha. Bosch and Yamaha tend to be focused on power, whereas Shimano has concentrated their efforts on how that power is tuned and distributed. That's why bikes that are famous for excellent handling (Larry vs. Harry's Bullitt, Black Iron Horse) choose Shimano motors over Bosch and Yamaha. Shimano might not get top points for big power (big power is only required on heavy cargo bikes and the Black Iron Horse is light), but it does do the best job at distributing power when and where you need it.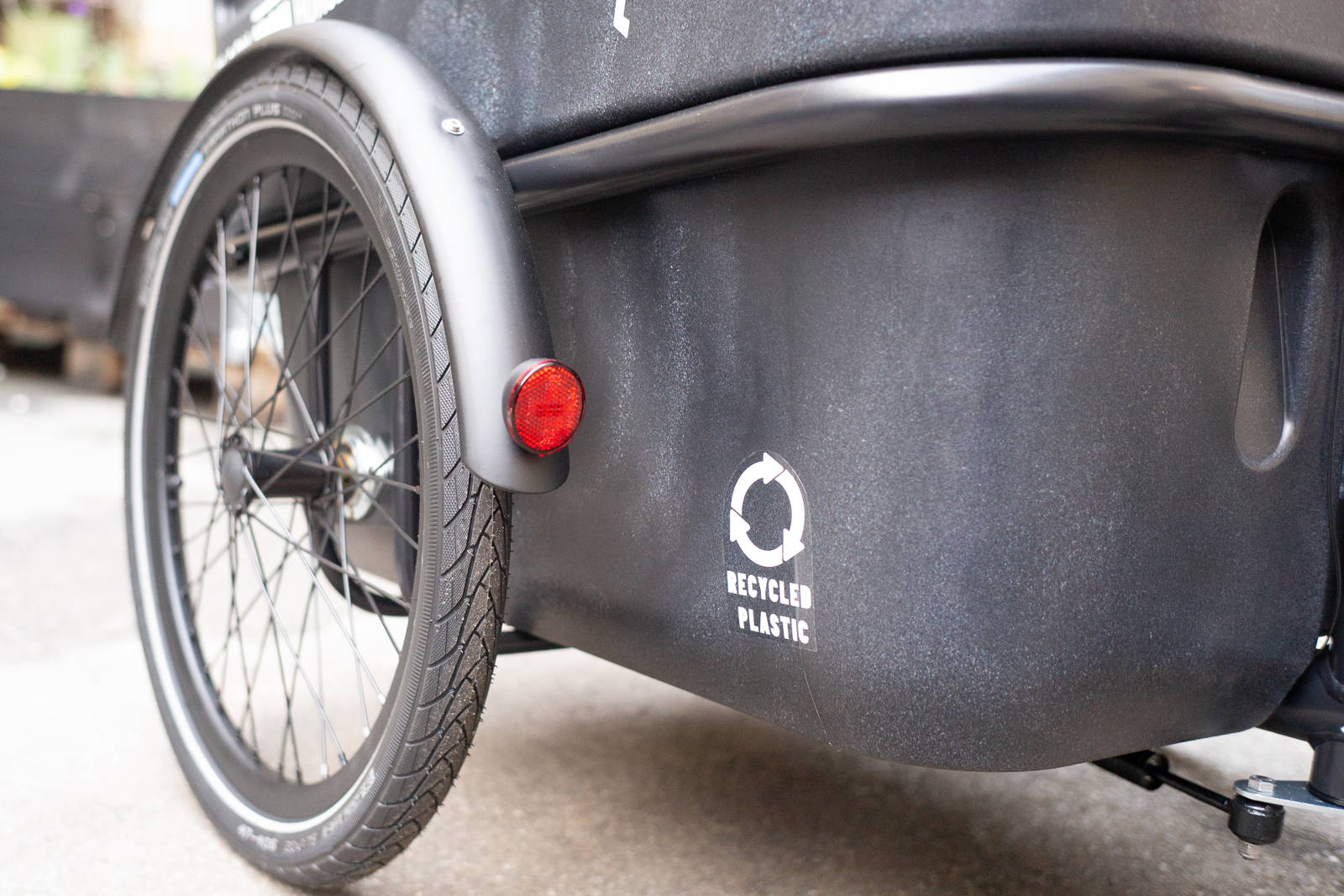 Cargo trikes tend to be pretty heavy, especially the Babboe steel + wood designs, or ancient all-steel bikes like Denmark's Christiania. How heavy is pretty heavy? Well, often around 130lb, sometimes even more! That's a lot of load to push even without cargo! A lighter bike means better handling, more range, and more battery life too. The cool thing about Black Iron Horse is that they've decreased the weight of their bikes while holding onto steel as their frame material. Steel frames might be a touch heavier than aluminum frames, but they are significantly tougher. Where Black Iron Horse sheds weight is with the box. Instead of using heavy wood or steel, they use equally impact-resistant ABS plastic. This reduces the Black Iron Horse Pony to a mere 62lb - eight pounds lighter than the Nihola Family (and with a much better motor too).
8. IT CAN WEATHER ANYTHING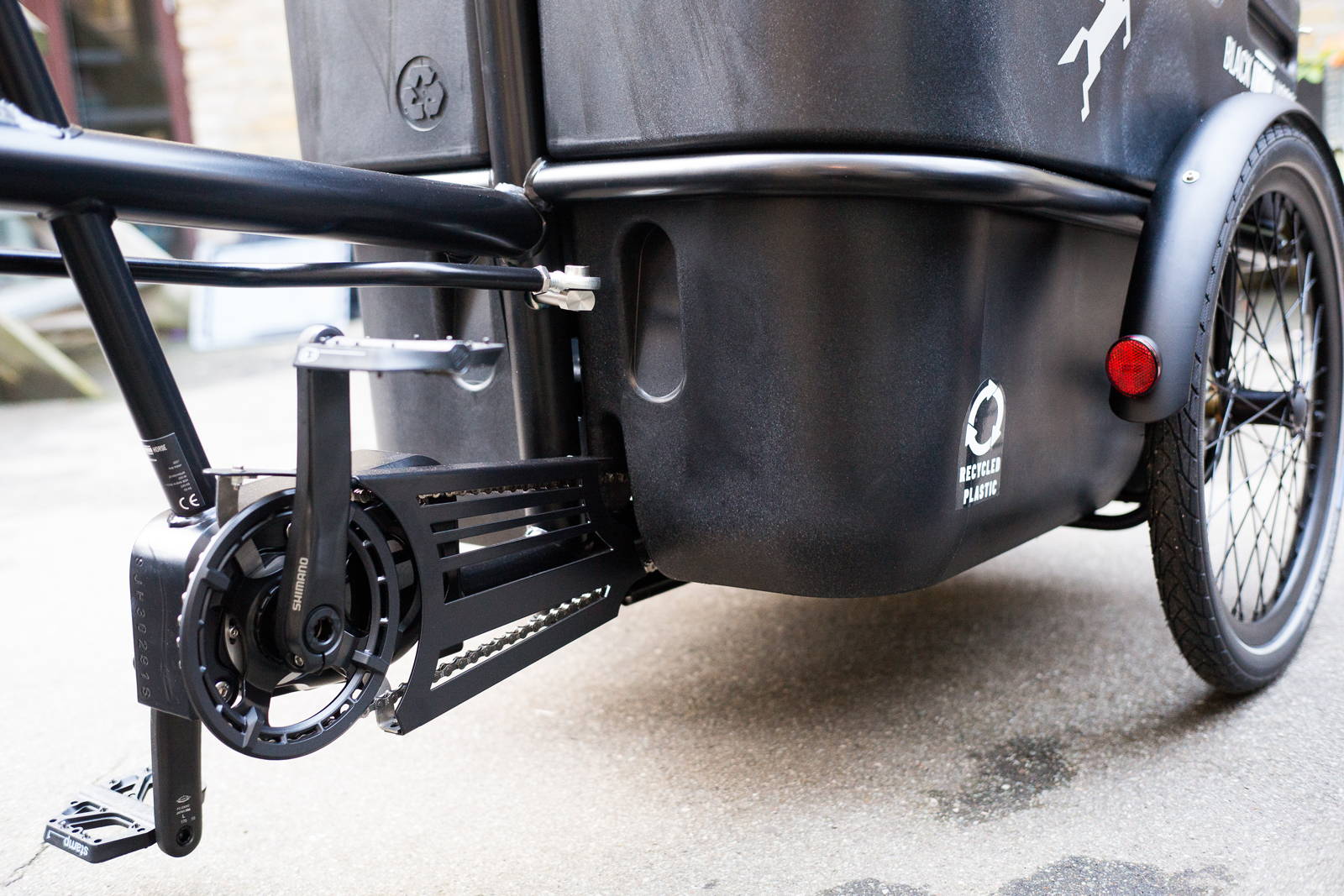 Perhaps the coolest thing about Denmark is that so many people choose to bike despite the constant rain and snow. Perhaps it's that fierce Danish spirit that prefers to be independent rather than taking a bus or tram. But, when you add this bitter weather to the fact that most people don't own a garage in Denmark, it becomes imperative that their bikes can weather year-round riding and year-round outdoor storage. The Black Iron Horse bikes embody this design philosophy perfectly. The frames are finished with a chip and rust-resistant powder coat and the gears are all sealed from the weather.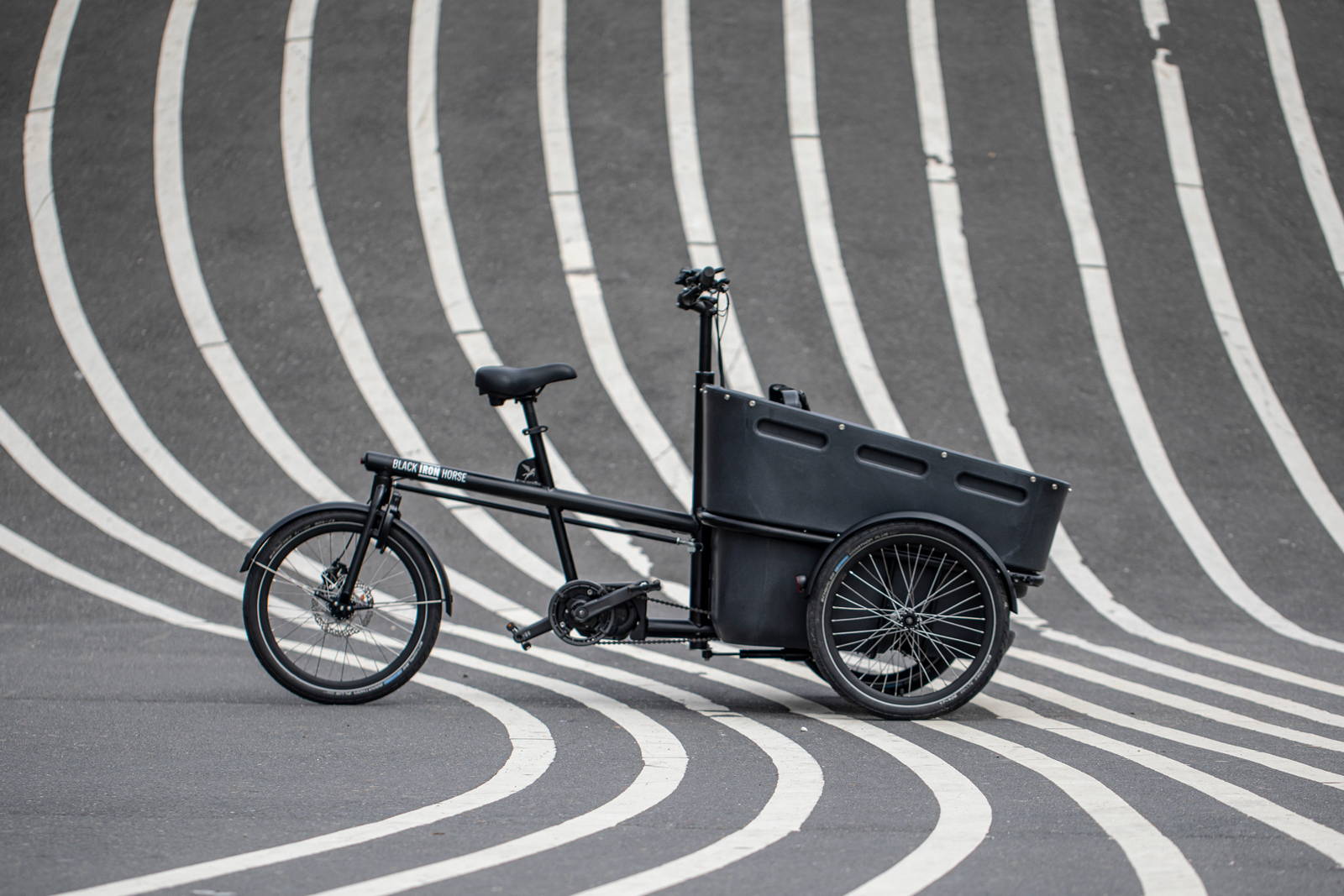 The great thing about sealed mechanisms on a bike is that they are designed for all-weather conditions and are super low-maintenance too! The Black Iron Horse uses a Shimano Nexus-5 internal gear hub, which is sealed from the weather and legendary for its low maintenance. But it's also one of the few hubs on the market that's actually designed to take the continual torque of an electric-assist motor. It's also worth mentioning the low maintenance braking system. The Black Iron Horse has three disc brakes, but not just any – it has hydraulic disc brakes. Hydraulic disc brakes provide all the power you need to stop a cargo bike, and won't freeze up in winter - another reason why the Black Iron Horse is the perfect all-season cargo bike.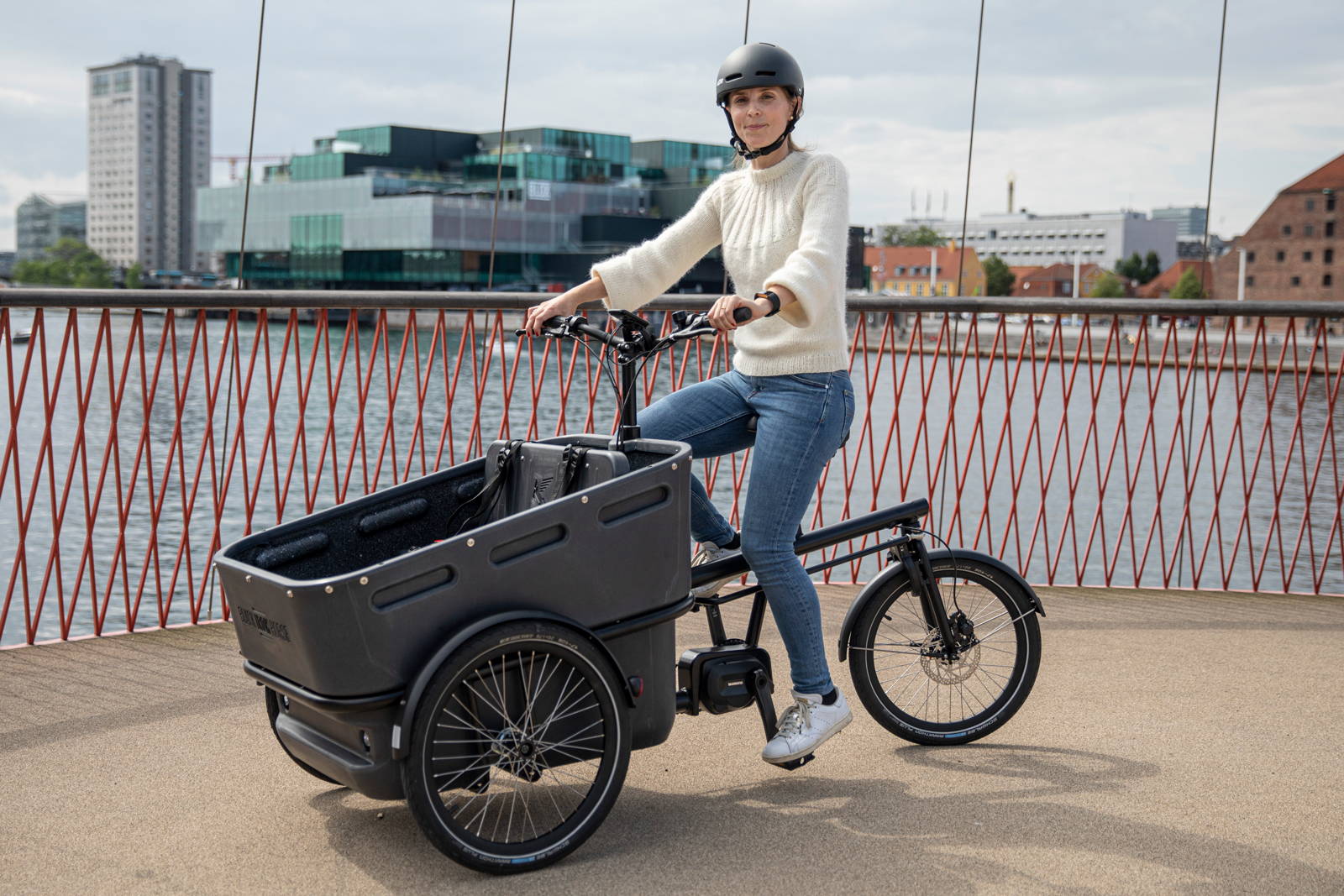 One critical aspect of safety is the way that you, the rider, sit on a bike. If you are hunched over - as on most North American bikes - then you probably can't see too far ahead of you, and you definitely can't carry on a nice conversation with your kids. That's why the Black Iron Horse puts the rider into a gloriously upright position. You can see and be seen, so sit back and enjoy the wind in your helmet!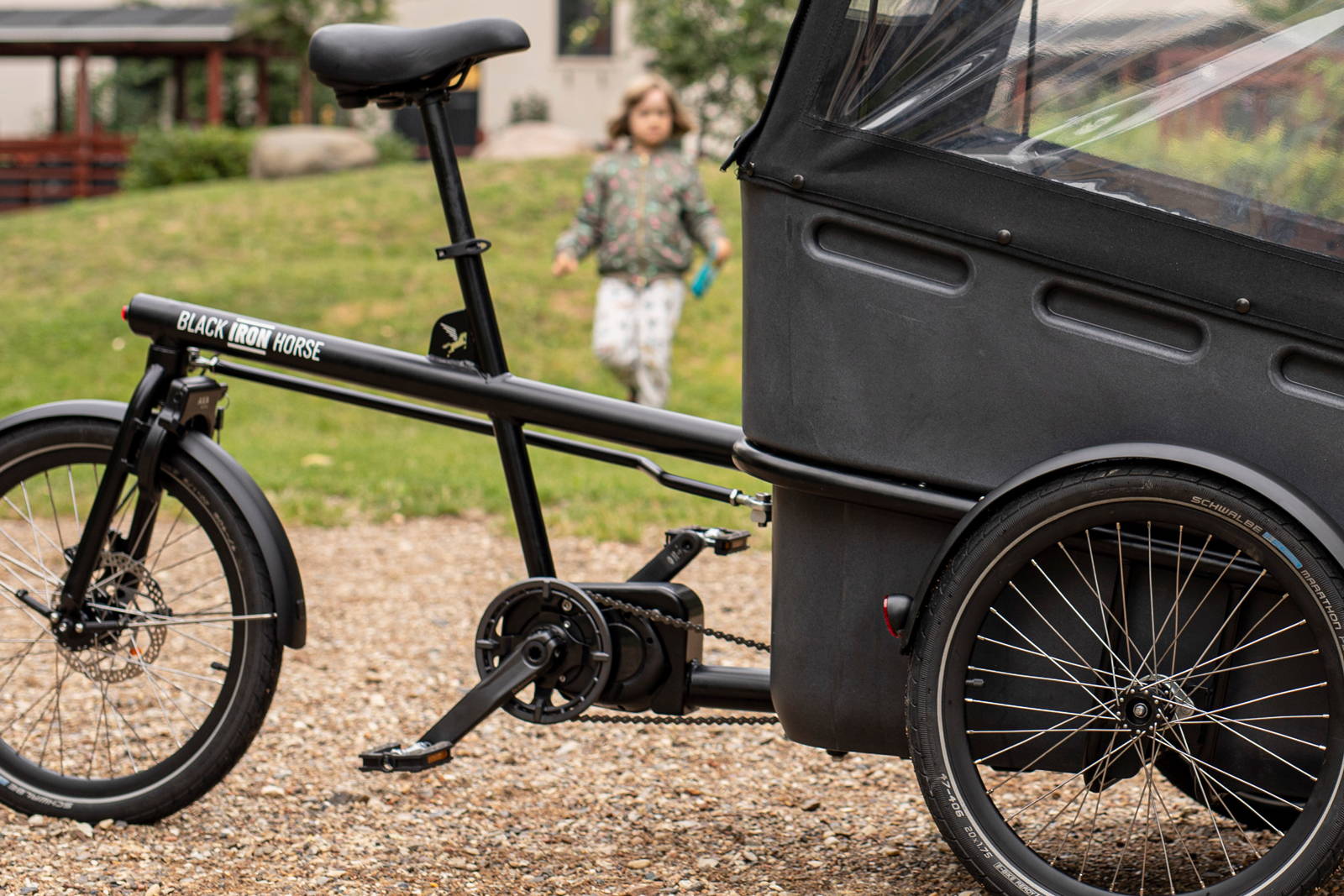 The awesome thing about buying a Black Iron Horse is that this bike comes with pretty much everything already on it. There are fenders to keep you dry, the wheels are already bolted down to prevent theft and there is a powerful German-made lightset to ensure night-time safety. Look a bit closer and you'll see even more great stuff. For instance, all tires have a layer of puncture-resistant lining inside of them, because no one likes flats! And, if you look at the rear wheel you might notice a built-in lock that is terrific when you're dropping kids off (so you can ensure the bike won't ride away on its own). Finally, all Black Iron Horse bikes come with a chain guard. In North America folks think you have to change into Lycra to ride a bike. But, in Denmark people actually dress up to ride their bikes! The chain guard keeps grease and grime away from clothing which means more white dresses and picnics in the park!