---
Posted on 01 February 2022
9 REASONS WHY A BULLITT BIKE IS THE ULTIMATE FAMILY VEHICLE
About ten years ago, most bike stores carried bikes designed for long distances, featuring hunched-over positions that hardly made sense in the city. Suddenly, cargo bikes and city bikes came around and showed people that they could ride bolt-upright. This converted thousands of non-cyclists to cyclists, but it also posed a problem: what if you want a cargo bike that feels like a performance bike? Well, for that customer there's Bullitt. Bullitt is built around all those adjectives that a performance cyclist loves: lightweight, responsive, stiff, bomb-proof, fast. At the same time, it's safe - probably one of the safest cargo bikes on the market.
So, let's say you're a performance cyclist and you just had a child. Chances are good that your life has changed. You're probably losing some sleep and you're probably not riding nearly as much. That's where Bullitt fits in. A Bullitt gives you the familiar feeling of riding a fun and fast performance bike, but it's also the way you drop kids off at the daycare, hit the grocery store, or go to work. Suddenly, you're riding again! And, the best part? You can do those after-work laps at the park too. Pack in some colouring books, an iPad, or let the conversation literally steer the journey - create some of the best memories your kid will ever have! The great thing about a Bullitt is that when the kids are all grown up, it has the perfect second-life as the ultimate grocery-getter and errands machine. After all, a Bullitt makes errands fun.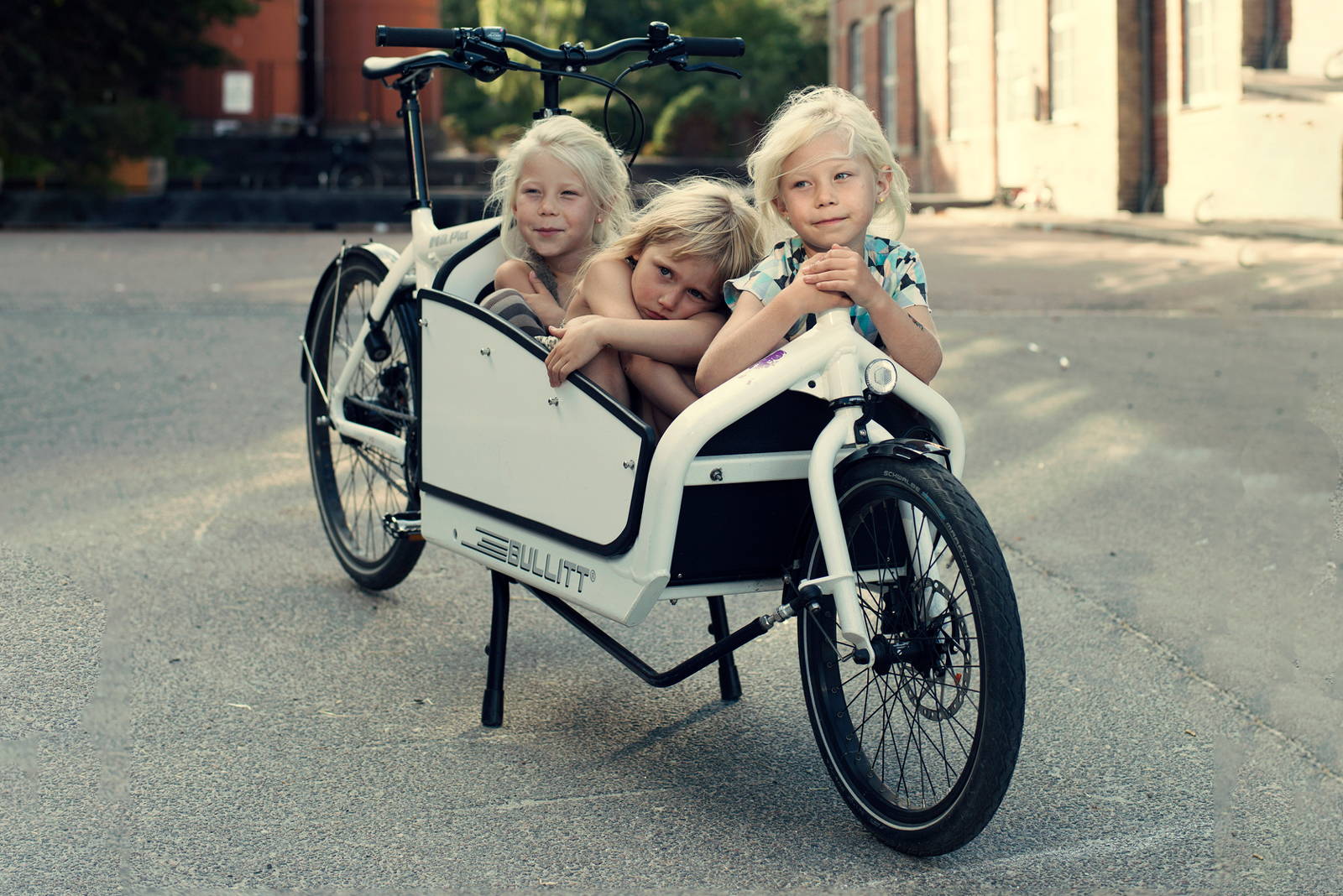 GREAT CONVERSATION! One of the best things about watching people use their Bullitt is seeing how parents can talk to their kids and enjoy the ride together. The whole ride becomes a great conversation! Take it out on the weekend and let the conversation steer with the bike. Hit the road or a gravel trail, go exploring!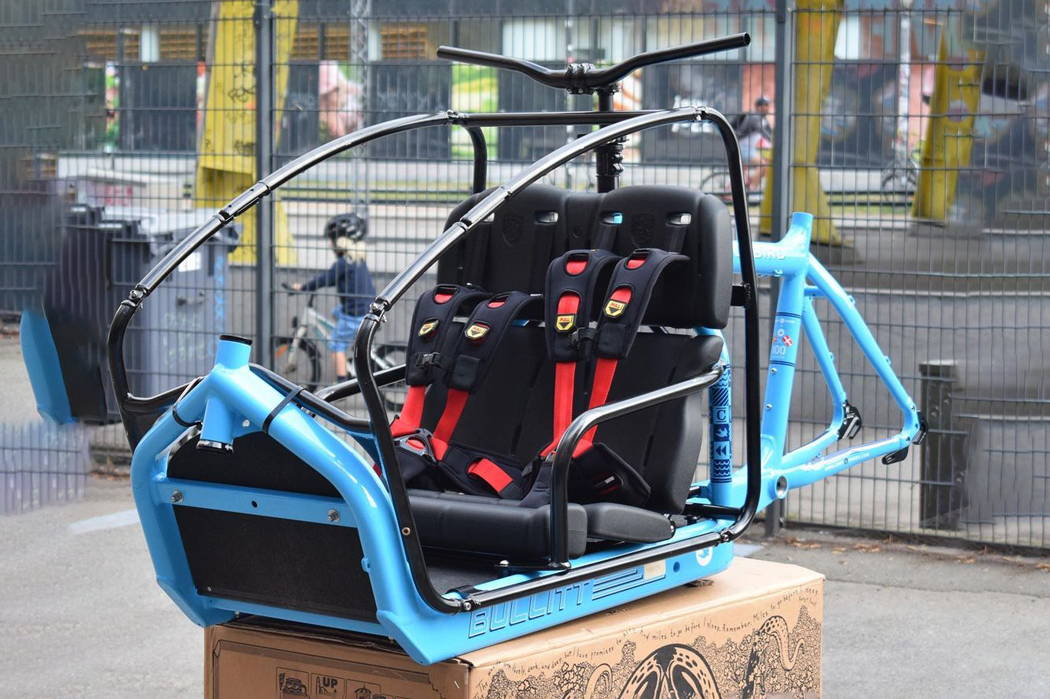 SAFETY BENCHMARK - Most great cargo bike companies pay as much attention to their accessories as they do to their bikes. Bullitt is no exception. If anything, Bullitt sets the benchmark by making accessories that are profoundly ergonomic while being remarkably light and precision fit. There are several ways to carry kids in a Bullitt. But first, we need to take care of impact resistance. Impact resistance means that your kids are protected from impacts with a test and proven shield. One option is the BBX Sidepanels. These are ridiculously light but are also incredibly impact resistant. They are made of a waffle-pattern aluminum lattice covered by an aluminum stress-skin; the same mechanics as an airplane wing. The other option is the canopy. This is essentially a high-impact aluminum rollbar that happens to offer weather resistance for rainy days and lots of openings for hot days. Inside you have two options, either the foldable seat for one kid (which folds to just 10cm, providing lots of space for groceries), or the twin seat for two kids. Other options are the German made Convoy Box which gets full marks of approval for being just a little wider and a touch more roomy.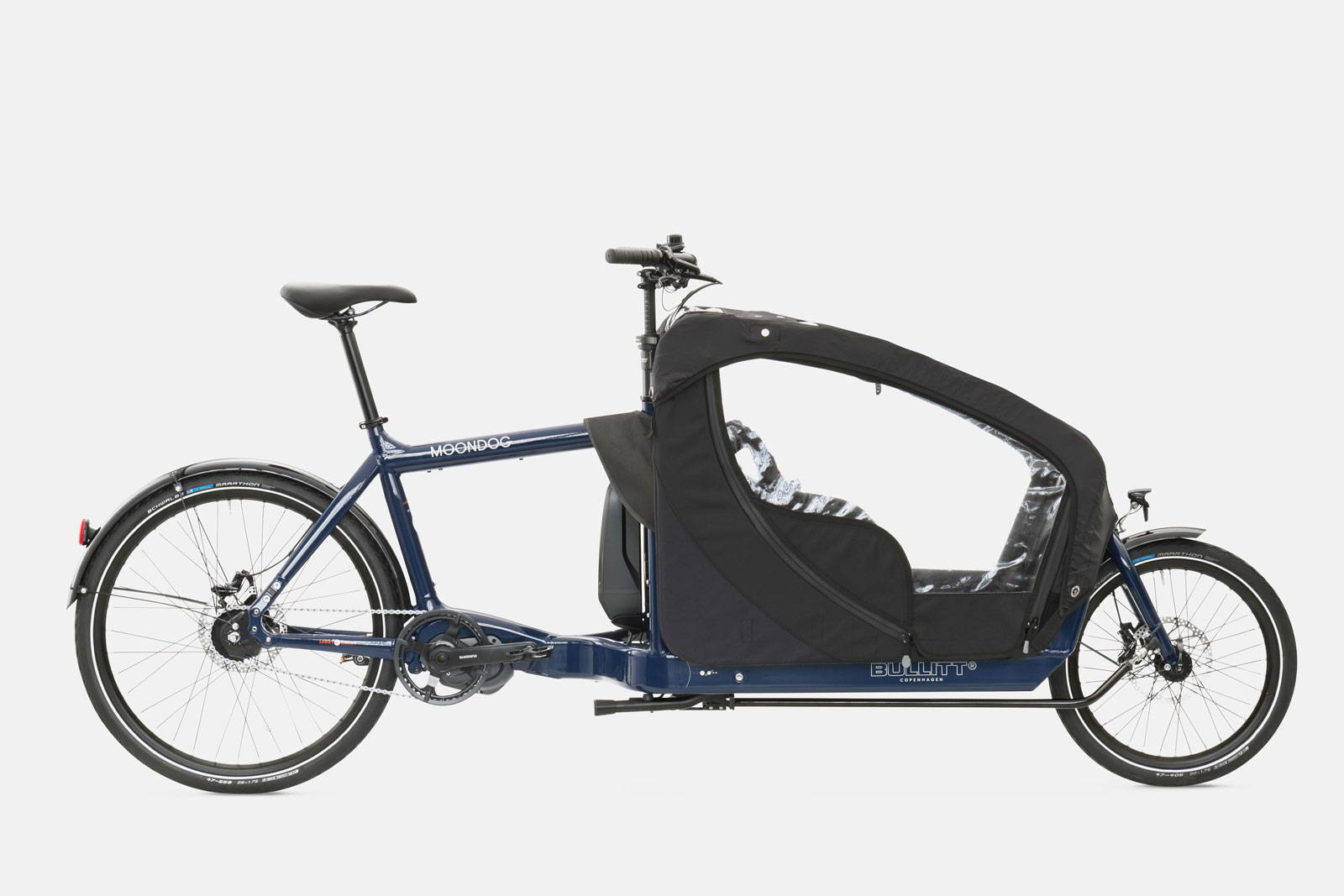 THE MAGIC OF BULLITT - If you're into cycling, chances are good that you enjoy a bike that feels light and stiff in the corners, has a geometry tuned for acceleration and handling, and has top-spec parts that adds tons of range and terrain capability with a super-dialled feel. And finally: tough as nails. Well, that would be a Bullitt. The crazy thing about a Bullitt is that it can weigh up to 50% less than most cargo bikes on the market, while maintaining a track record for extraordinary durability. How does Bullitt work this magic? We'll sum it up quickly. (1) The frame is one welded unit, not split and bolted into two like most cargo bikes. That makes it lighter, but also way stiffer than all other cargo bikes. (2) Whereas most cargo bikes use super slack seat-tube and head-tube angles that privilege comfort over performance, the Bullitt bike uses the kind of geometry you'd see on a 90's mountain bike: high-performance yet glued-to-the-ground stability. And finally there are the parts. Instead of heavy Bosch motors and Enviolo hubs, Bullitt sticks with Shimano - because they know bikes best.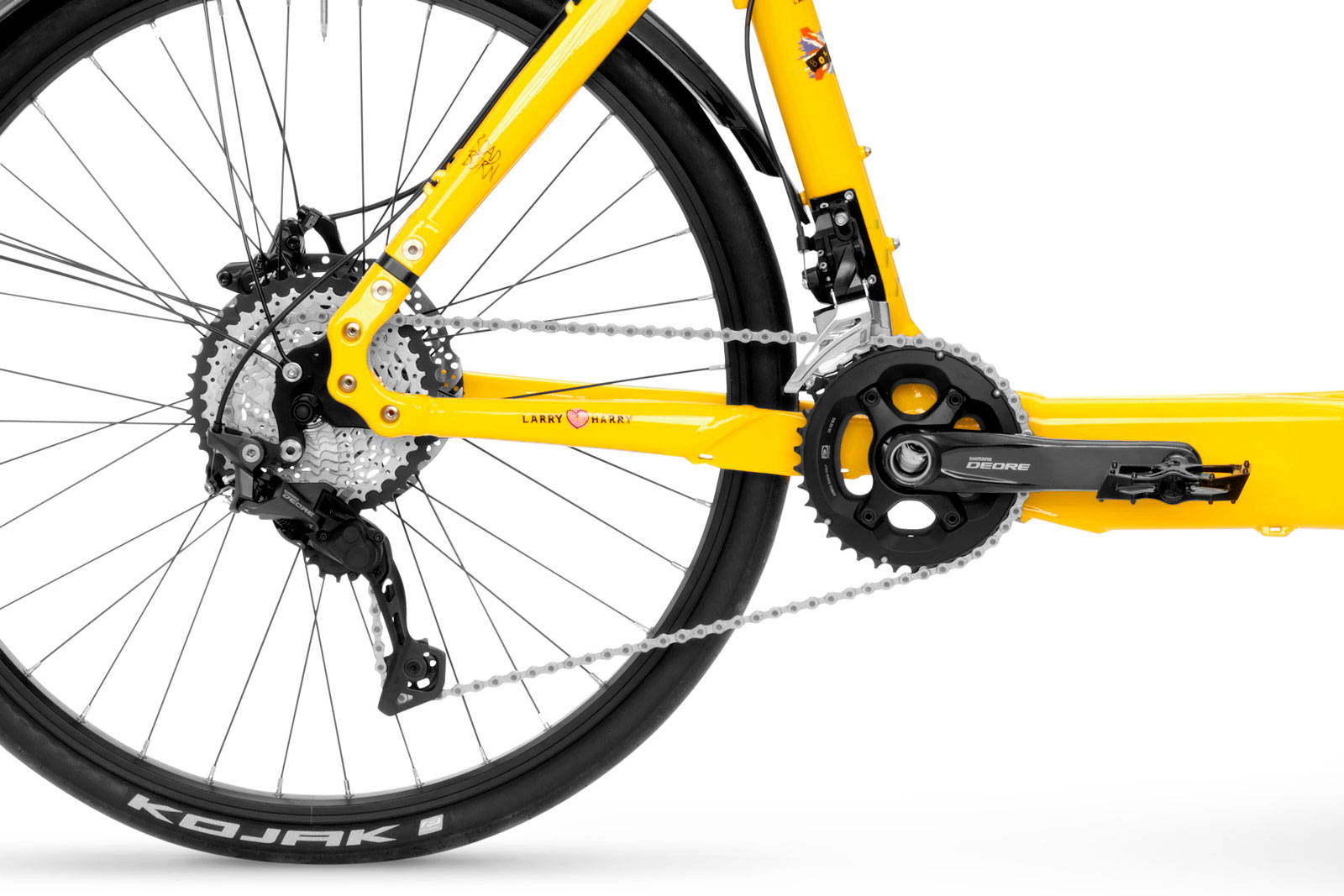 BIKES NOT FRIDGES - If you didn't already know, Shimano is a Japanese company that, unlike Bosch or Yamaha, doesn't make fridges or pianos. No, they make bike stuff, and they are experts in the Samurai art of tuning their parts to be the lightest, strongest, and best-feeling stuff out there. If you want a low-maintenance bike, choose the wide-range Alfine-8 gear hub with the Gates Belt drive. That belt-drive will run grease-free for 60,000km before you have to consider replacing it. Want tons of gear range with lots of fine-tuned choices? Look towards the wide-range Deore 20-speed or Deore XT 22-speed drivetrains. And, we haven't even talked about the motors yet.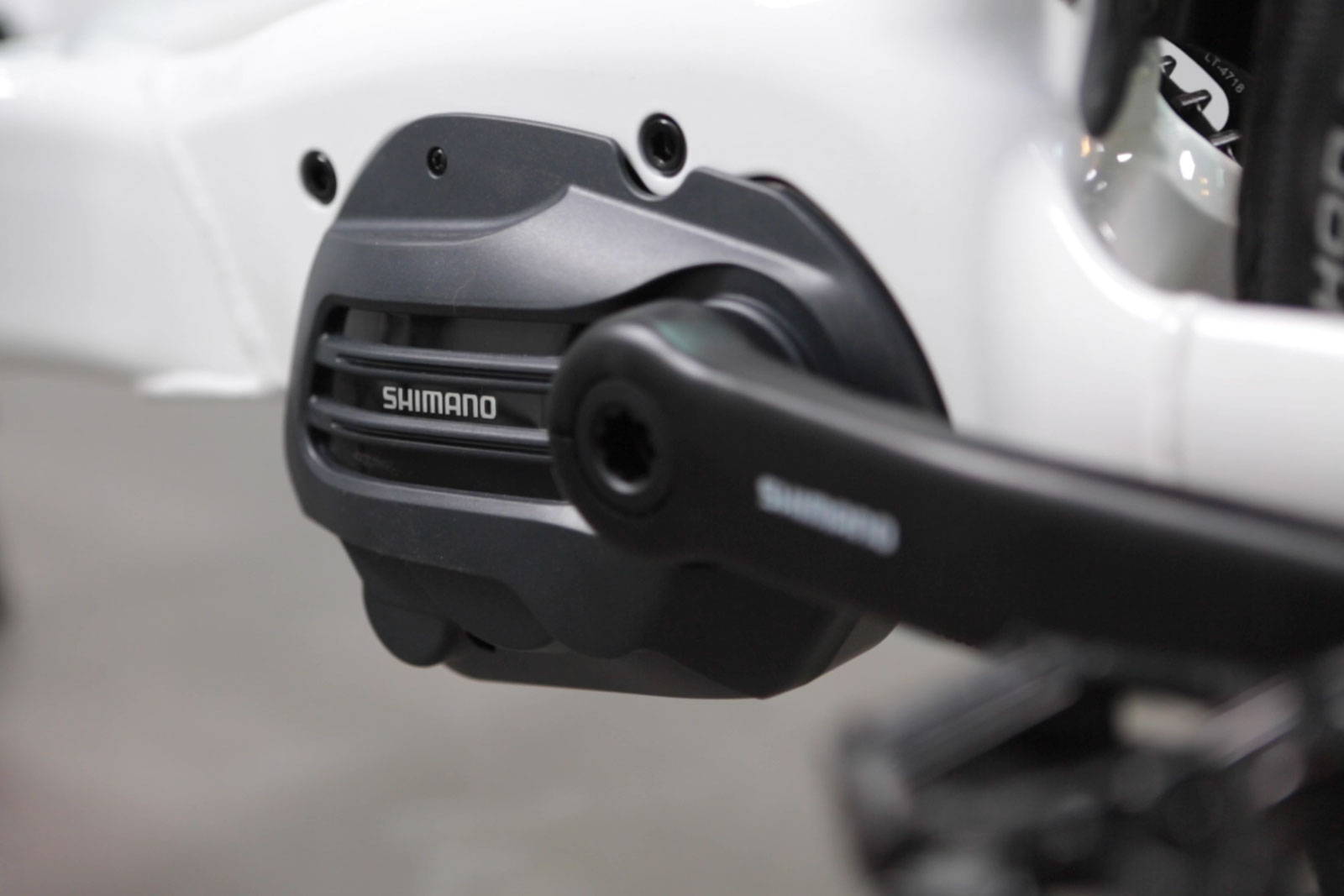 DANCING THROUGH TRAFFIC - There is little doubt that companies like Bosch and Yamaha make great motors with great after-sales service. So does Shimano, so why did Bullitt choose Shimano? The reason is simple. Shimano e-assist motors aren't just about big power, high torque or long battery life. Shimano has all of those things, but what a Shimano motor does is distribute this more intuitively. A Bullitt bike - unlike an Urban Arrow bike - is all about dancing through traffic - split-second decelerations and accelerations - and the Shimano motor is busy receiving torque, wheel movement and pedal movement into a fine-tuned assist that feels incredibly reactive, and safe. Add that to a lightweight bike like the Bullitt, and it's a synergy made in heaven. Bullitt offers two types of Shimano motors, which leads us to our next point.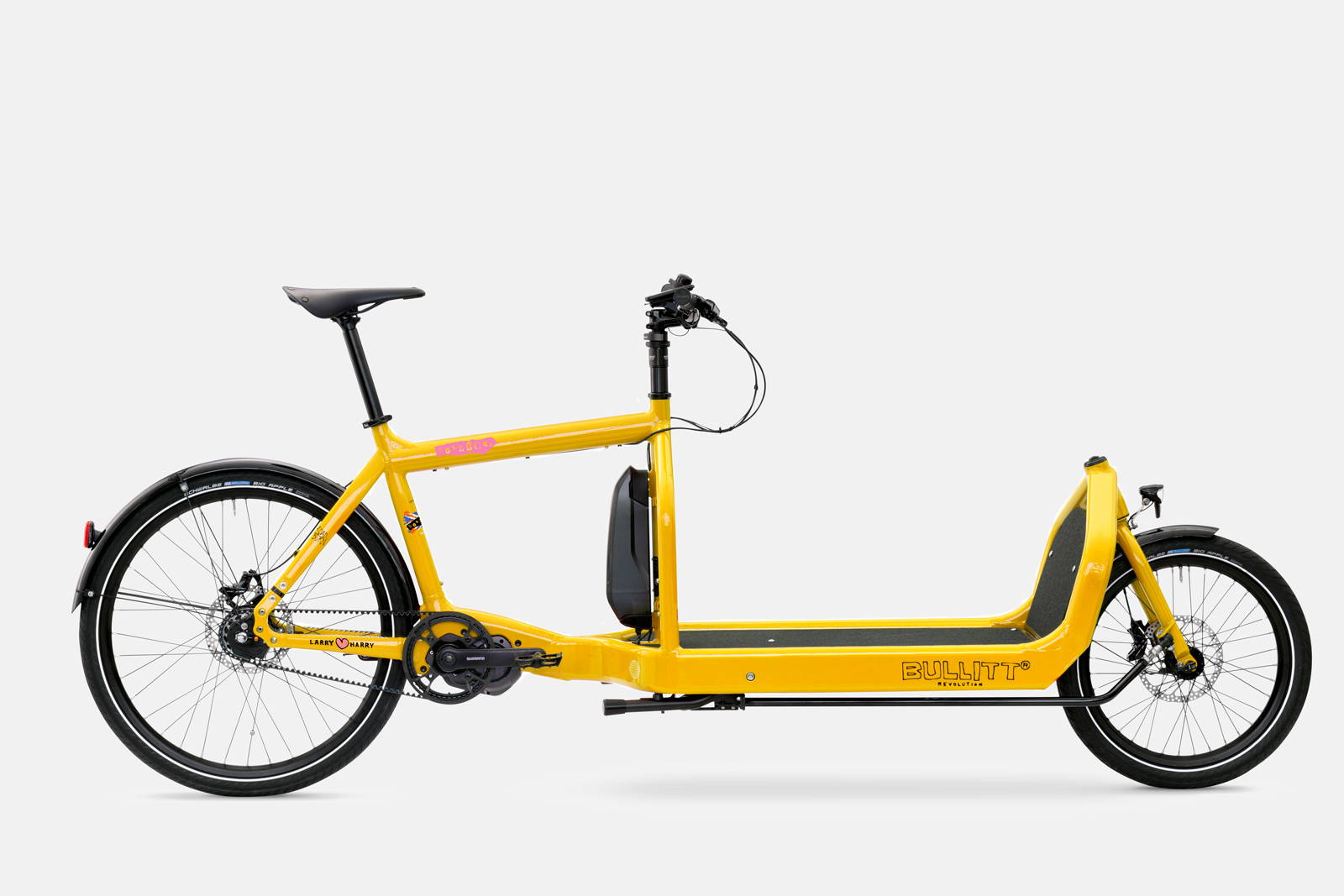 CHOOSE YOUR WEAPON - E-assist Bullitt's can be ordered with two different motors and two different drivetrain options: an internal geared system or a wide-range derailleur system. That means there are four kinds of Bullitt's on offer. We keep it simple with two. The first Bullitt is designed for the city cyclist. This bike has the lower torque Shimano E6100 motor and is designed for the shorter distance stop-and-go and left-and-right trips that make up a typical commute. It features the Shimano Nexus-5 hub - the only internal gear hub on the market actually made for the continual torque of an e-assist motor - electric shifting (which works all winter) and finally, the legendary greasefree and long-running Gates belt drive. It's fast, it's fun, it's low maintenance. The second bike we offer is for the commuter who might also be logging serious kilometers over all kinds of terrain and wants a bike with more power and range. This bike, called the EP8, is named after Shimano's EP8 motor which has a hungry amount of torque, 25% more battery juice, and a massive gear range so that you never need to use the motor power-settings as a gear shifter. It's perfect for taking the kids overnight camping, going on epic Saturday afternoon adventures, or commutes that involve really crazy hills.
7. IT'S NOT ACTUALLY EXPENSIVE
DRIVE LESS, SMILE MORE - Imagine you owned that luxury car of your dreams. Not really possible, is it? And, not really fun either, because you're stuck in gridlock 90% of the time. Well, consider this thought experiment: in North America, when we drive cars, we are usually driving no more than 7.5km for the majority of our trips. In Denmark, they must think we're crazy. Here we are, blowing tons of money on parking, fuel and heart medication so we can drive a distance that for a majority of the time is better to bike. Now those customers of ours who 'get it' like to joke that their cargo bike is their 'second car.' But really, they know that it is their primary car, since it can accomplish up to 90% of their daily transportation needs. Sure, you can still own a car, but because you only use it for a minority of trips you save lots of money and also smile more. There is no better misnomer than the concept of an 'economy car.' But, an economy cargo bike? That's inherent. So skip the luxury car and grab yourself the safest, fastest, and most fun cargo bike on the planet and learn a thing or two from the Danes. They are, after all, the happiest people on earth.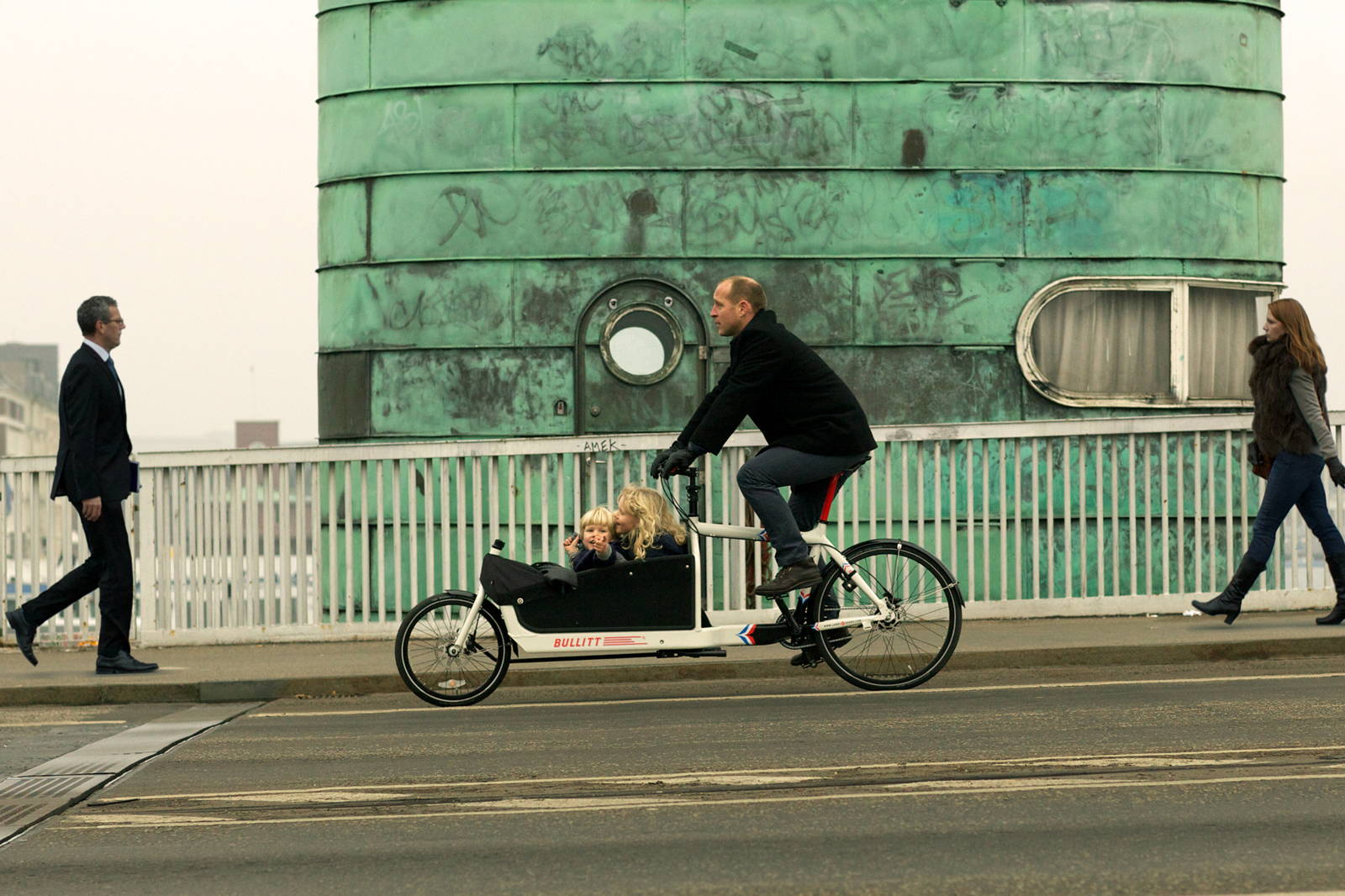 PROVEN LEADERS - As a bike store that has led the cargo bike market in North America, we look for leadership with the brands we carry. To us, leadership means that energy is spent solving problems or improving things rather than being a copycat brand with a good marketing team. Bullitt could have a lot of reasons to sit on their laurels, but they don't. In many ways, they remind us of Brompton, another engineering company who continues to surprise us with improvements where we thought no improvements could exist. Today, Bullitt is a proven leader. Their bikes are used by thousands of families and thousands of courier companies who have shown just how tough these lightweight bikes are. So, if you're about to forge new paths by buying a bike instead of a minivan, stick with the company that basically kickstarted the market for lightweight cargo bikes.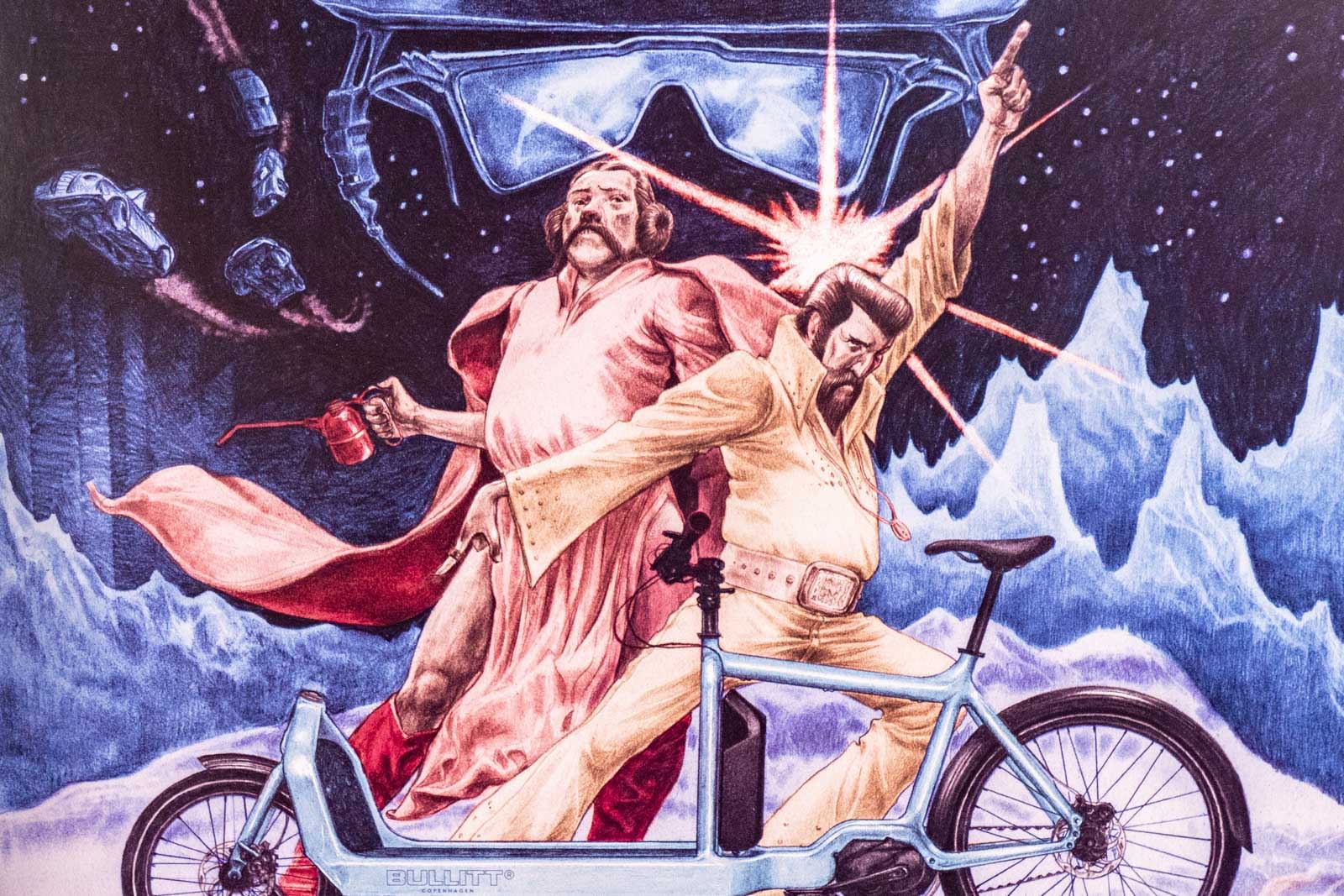 PROVEN LEADERS - The two masterminds behind Bullitt are Larry and Harry. And, while everyone calls their company Bullitt, it is really called Larry versus Harry. Bullitt isn't afraid to be a leader in cargo bikes or a little tongue in cheek at the same time. While their engineering lacks all humour they let their marketing be the humour release valve. They're a funny bunch. Larry is one of the world's most prestigious cargo bike engineers. Before he launched Bullitt with Harry, he was the head engineer at Winther bikes, another brand known for precision engineering and lightweight design. Harry was the guy who rode cargo bikes, in this case an old Danish two-wheeler that he used for his construction business. Harry knew that the two-wheeled cargo bike was a Danish invention and wanted to resurrect it, but first he had to convince Larry that it was much faster than the three wheelers he was designing. That turned out to be very easy to prove. Larry and Harry formed to save the world from cars and clunky cargo bikes. And, to that end, they have certainly succeeded.