---
Posted on 03 May 2022
THE BABBOE GO: THE PERFECT BIKE FOR GROCERIES, KIDS AND FIDO TOO!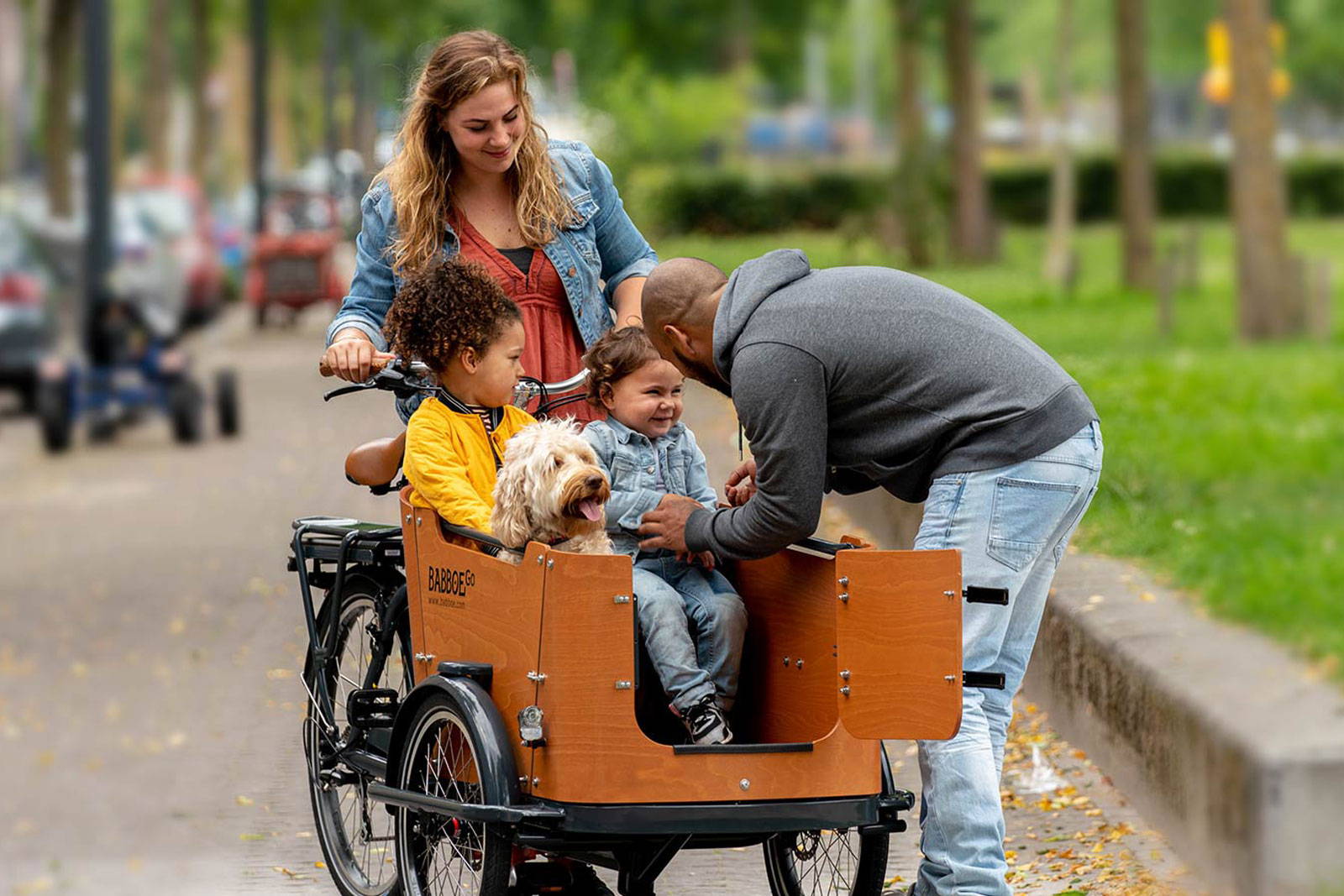 The Babboe Go is kind of like the Honda Odyssey of Holland. It may not have the sportiest handling but by gosh it can carry a ton of stuff. And it does it with total ease-of-use which is top of the priority list. Folks with a keen eye might observe that there is very little difference between this and the Babboe Curve, one of our best selling models – and that's true. The Curve has always functioned as Babboe's minivan model, but up until now it was lacking one major thing: a door. The solution was the Babboe Go: essentially Babboe's best-selling Curve with the useful addition of a door. This front door is great for kids, but especially helpful when loading in heavier dogs since they can easily hop inside. Like the Babboe Curve, the Babboe Go is made of beautiful steam-bent marine grade wood that is not only weather resistant, but lacks any sharp edges that can cause scratches or bruises. Babboe knows that loading and unloading can often be the longest part of your trip. The Go takes all the frustration out of that.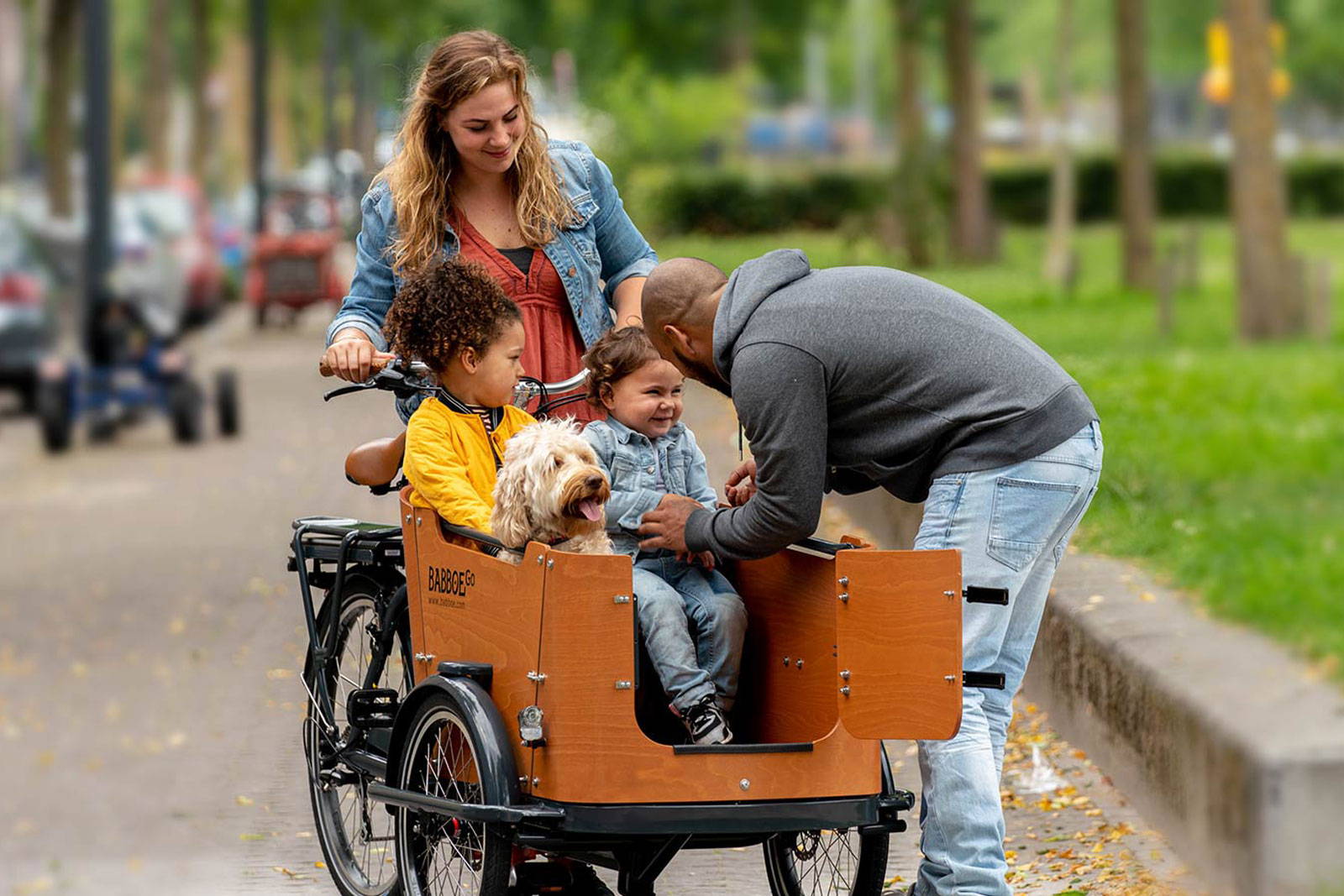 One of the most beautiful things about watching people use their Babboe Go is seeing how parents can talk to their kids. Children rest in the front cargo box in their parents line of sight meaning everyone gets to enjoy the ride together and the whole ride becomes a great conversation! Take it out on the weekend and let the conversation steer with the bike. Kids (or pets) will enjoy exploring so much more with the amazing view from the bow of this thrilling three-wheeled ship.
2. NOT JUST STORAGE, SAFETY
We're now seeing a bunch of newer, inexperienced cargo brands make bikes with lots of storage in the box, but little to no box safety. The Babboe Go takes safety seriously with a rigorously tested marine grade wooden box designed to sustain impacts up to 40km per hour. The Babboe Go is not just about how much the box can store, it's about how much safety the box can store. That's an important distinction, especially given how precious your cargo is.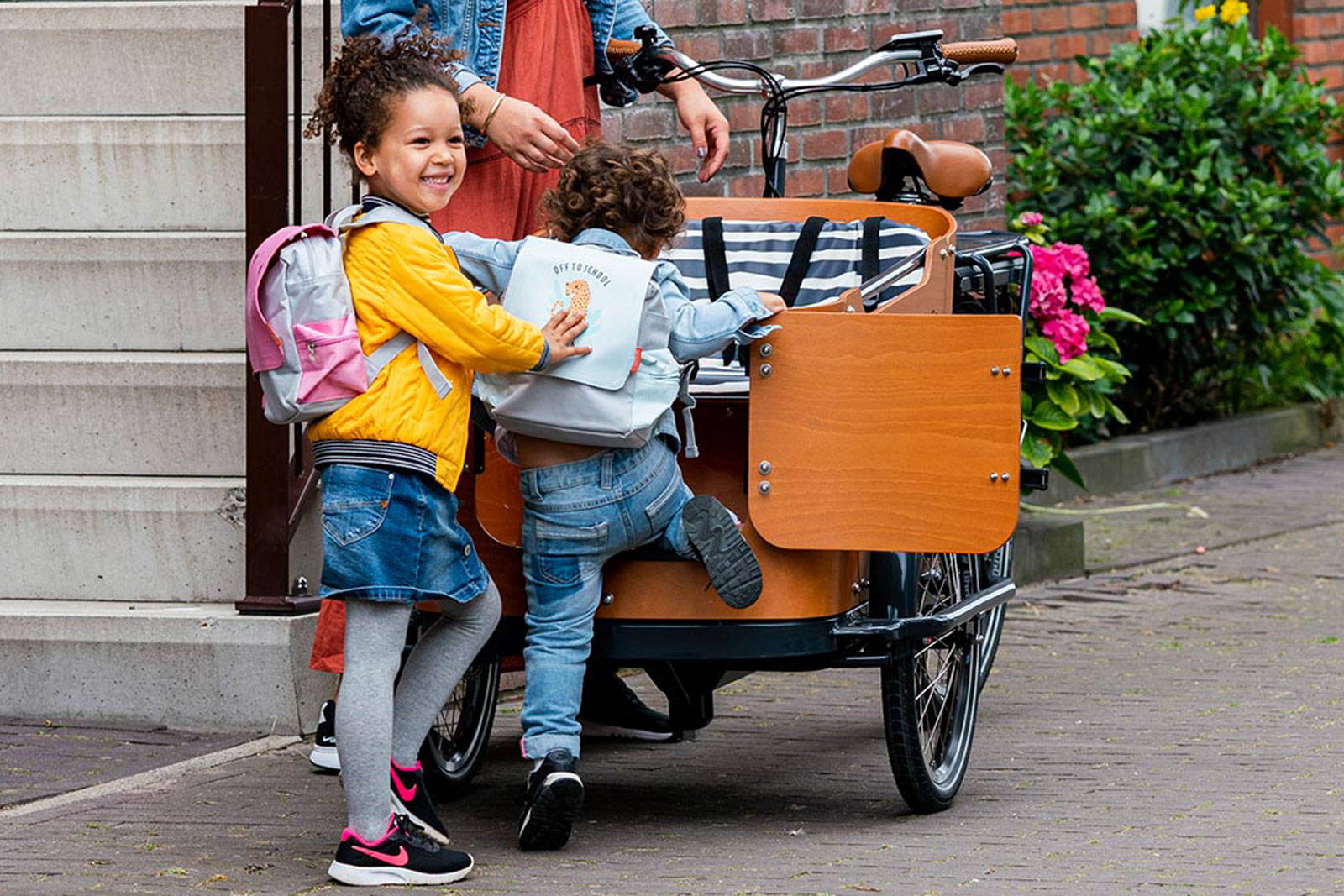 Looking for electric assist cargo bikes most models start at around $10K, but not the Babboe Go. The Babboe Go manages to pack in a ton of quality and a massive amount of storage, for significantly less cost. And, you get a top-of-the line motor too. Sure, the Babboe Go might not have the same fancy steering as the Babboe Flow or Carve, but if you're driving this bike like the minivan that it is (as opposed to a sports car), you get a phenomenally economical bike that's the very definition of workhorse.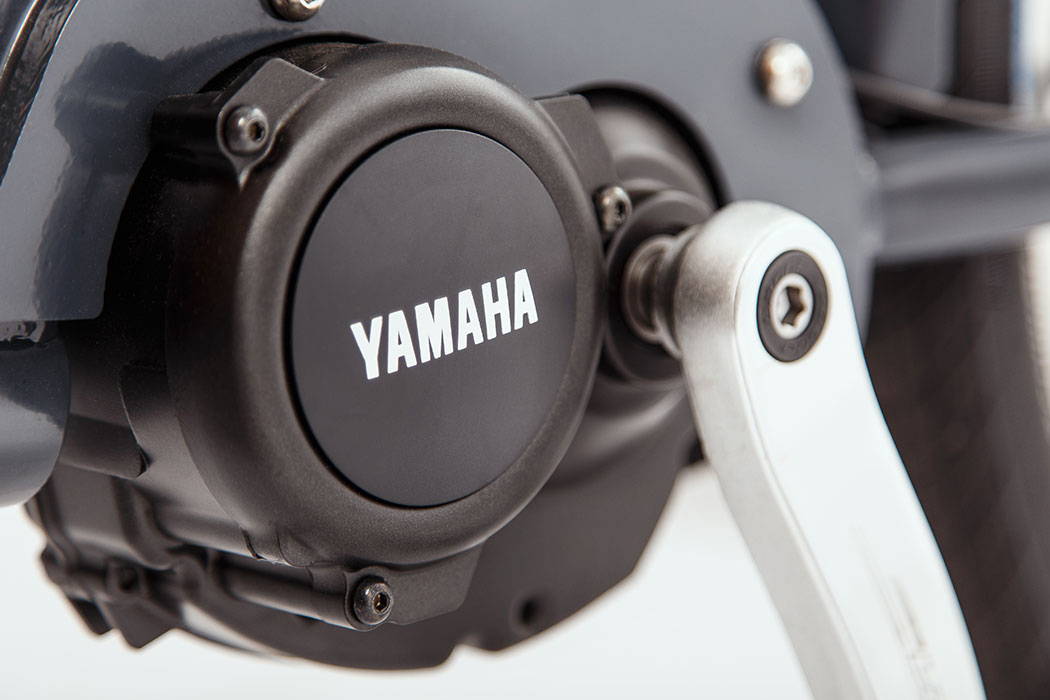 A cargo bike is very different from regular bikes because it has to carry cargo. This means the overall weight of the bike is constantly changing – and the heavier the bike gets, the more you have to work! The Babboe Go is such a popular bike because it takes care of all that. Featuring a Yamaha motor, the Babboe Go can assist with heavier weight whether it's over distance and up hills. Contrary to popular belief it's not cheating to get a little boost! The bike is still powered by your pedaling but you don't have to do it alone.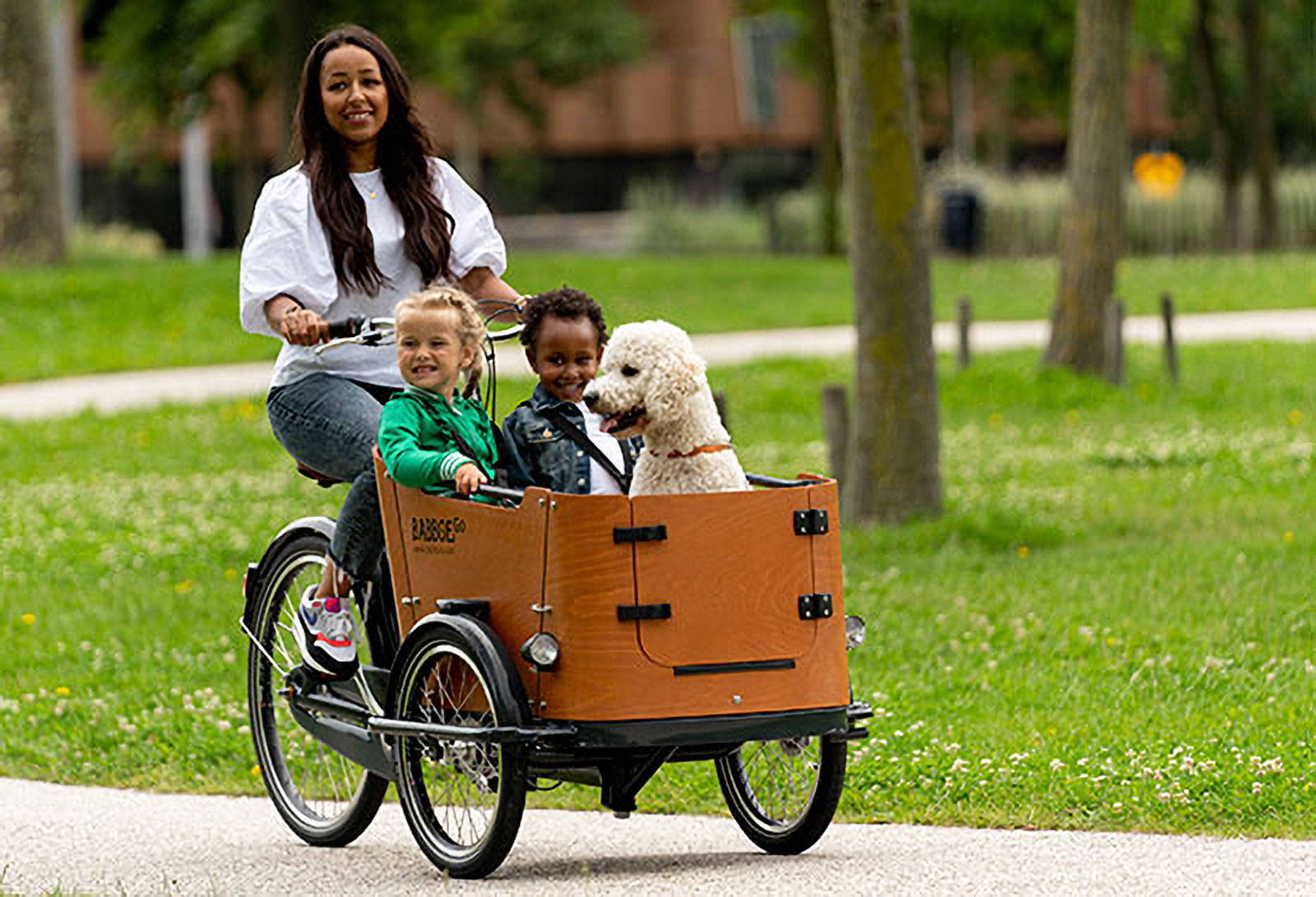 The box on the Babboe Go is huge, like huge! And, it can grow with your family too! If you have an infant we can install the Maxi Cosi adaptor in the front of the box so you can use your existing car seat. Plus, there's enough room left for two kids to sit on the bench! Or, if you prefer, we can install the Babboe baby seat on the bench and you can reserve the front of the box for different cargo like Fido or groceries. As those babies become toddlers, you can add the Babboe Toddler seat, which is made of shock absorbing material that helps smooth out the ride. Got an even bigger family? We can install a second bench, putting up to four kids in the box! It's like your minivan meets a bicycle, except better!
6. UPRIGHT SEATING POSITION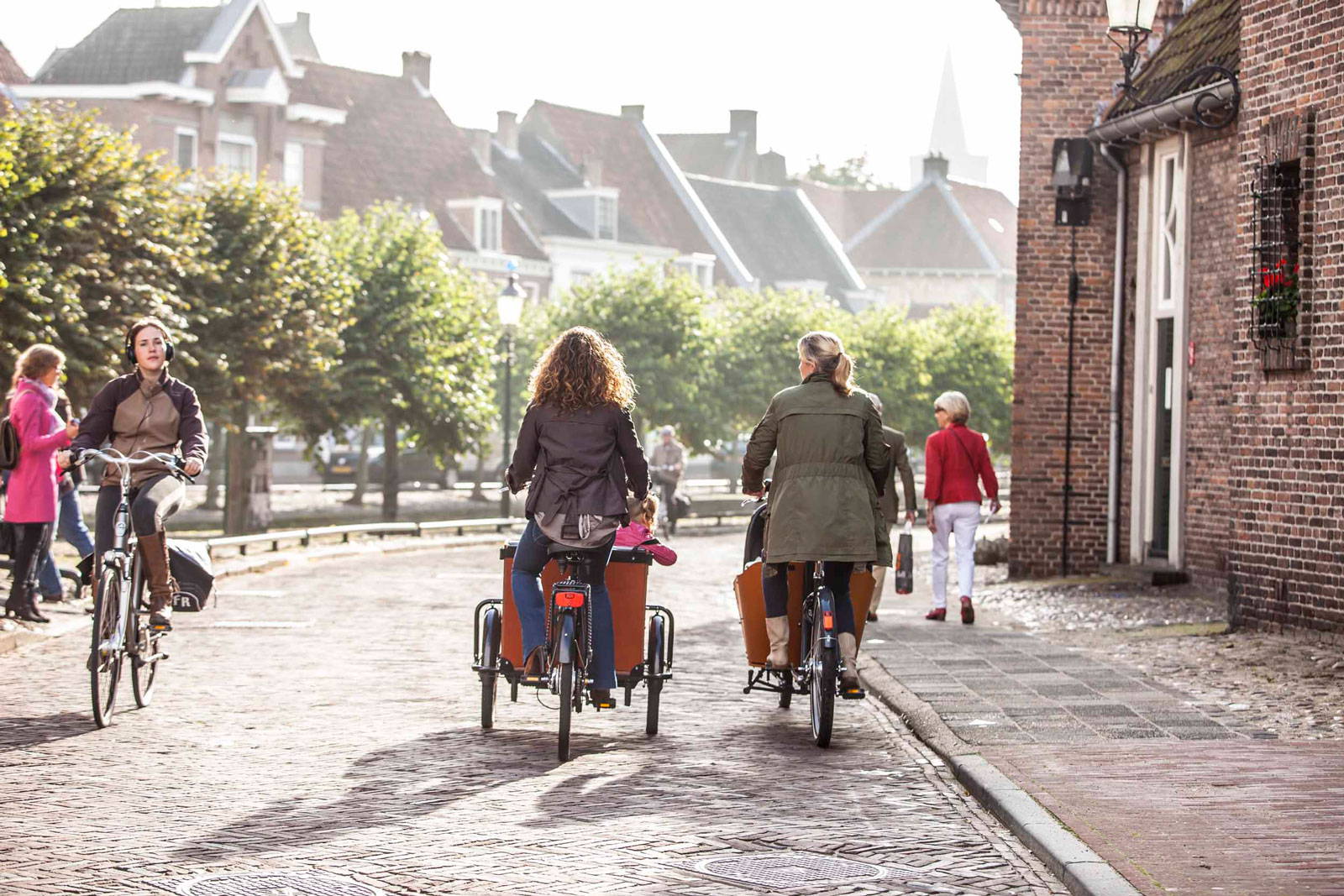 One very strange thing about bikes sold in North America is that they all seem to hunch the rider over the handlebars, which can be super uncomfortable. The Dutch don't understand this at all. In Holland they like to say that the Dutch riding position is "sit up and beg" - which we suppose is the Dutch making fun of themselves – But, it's true! On a Babboe cargo bike the position is gloriously upright. Your back is straight up. You can see and be seen. You're not reaching for the handlebars at all; your shoulders are squared. It may not be sporty, but why should dropping the kids off at daycare be a sport?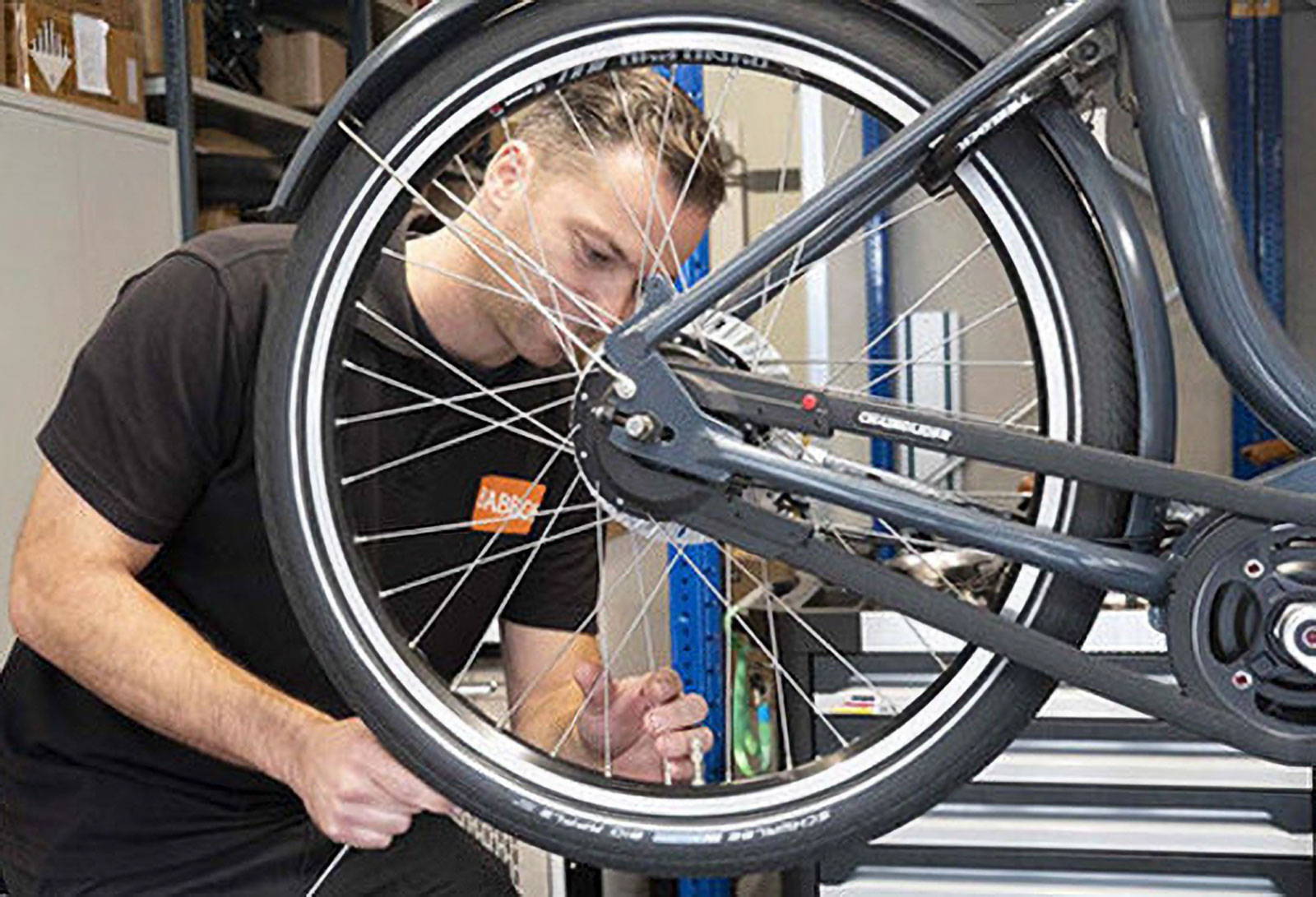 We started bringing Babboe into Canada back in 2009 meaning we've had lots of time to see how they handle a salty and snowy Northeast winter, and boy, do they ever stand up! Let's start with the frame. The Babboe Go is made of steel, which is stronger than aluminum, but requires a good finish in order not to rust. Each Babboe Carve is coated with a layer of a rust-resistant undercoat and then a tough-as-nails powder coat finish to ensure chip resistance. Ok, but how about the parts? The Babboe Carve uses an internal gear hub which means the gears are sealed from the weather inside the rear hub. This also makes them low maintenance meaning less trips to the bike shop! Finally, the Babboe Flow comes with three powerful hydraulic disc brakes that ensure safe stopping in all weather. Now, add that marine grade box and you have a bike to weather all weather!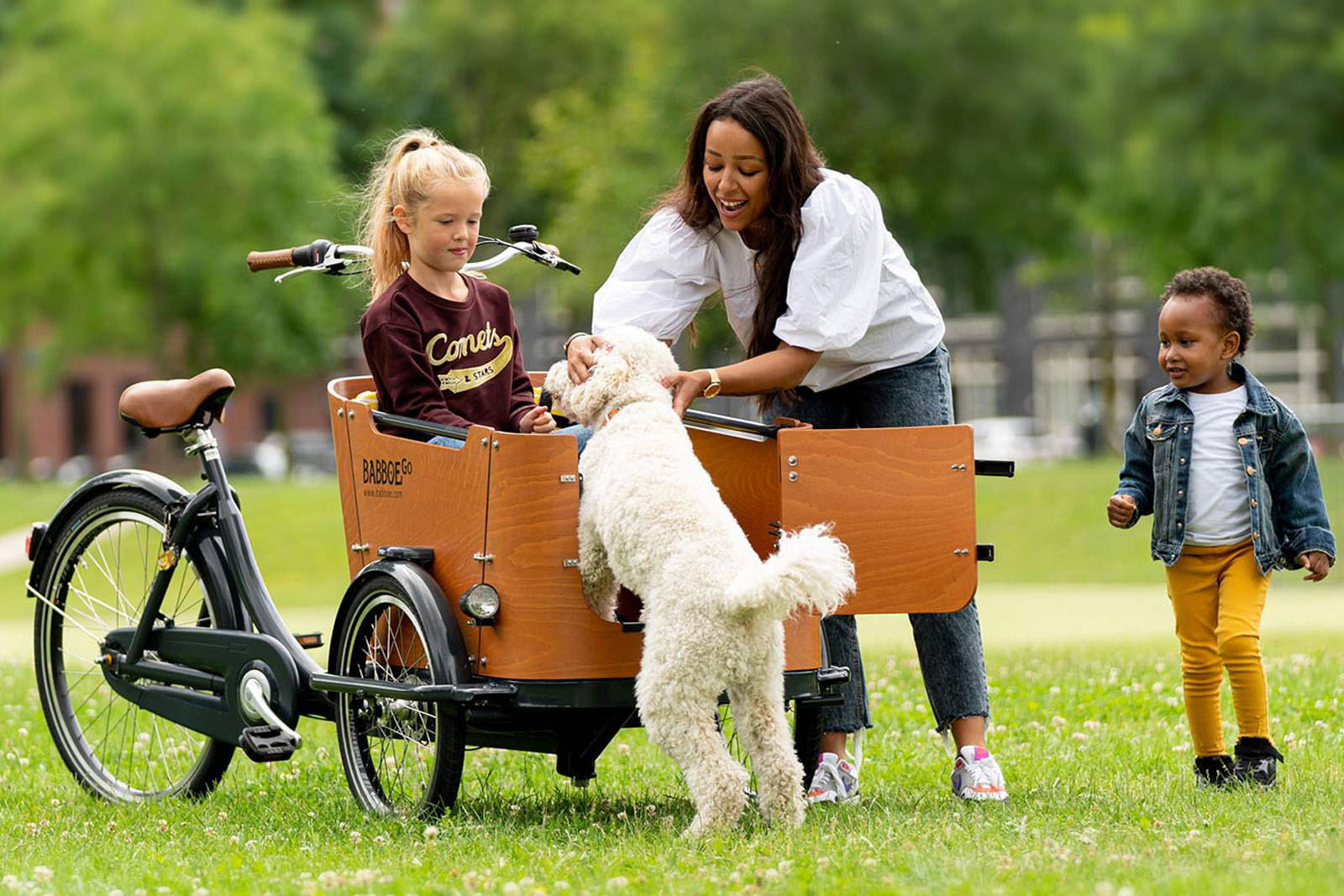 The cool thing about buying a Babboe is that it already comes with pretty much everything. There are fenders to keep you dry, wheels are bolted down to prevent theft, all bikes come with high quality lights already, and they even come with a bell! Look a bit closer and you'll see even more cool stuff. For instance, the tires all have a layer of puncture-resistant lining inside of them, because no one likes flats! And, if you look at the rear wheel you might notice a built-in lock that is terrific when you're dropping kids off (so you can ensure the bike won't ride away on its own). Finally, all Babboe bikes come with a chainguard. In North America you always have to change into lycra to ride a bike. But, in Holland people dress up to ride their bikes! The chainguard keeps grease and grime away from clothing. That means white dresses and picnics in the park!