---
Posted on 04 February 2022
DUTCH INNOVATION: 10 REASONS TO LOVE THE URBAN ARROW FAMILY CARGO BIKE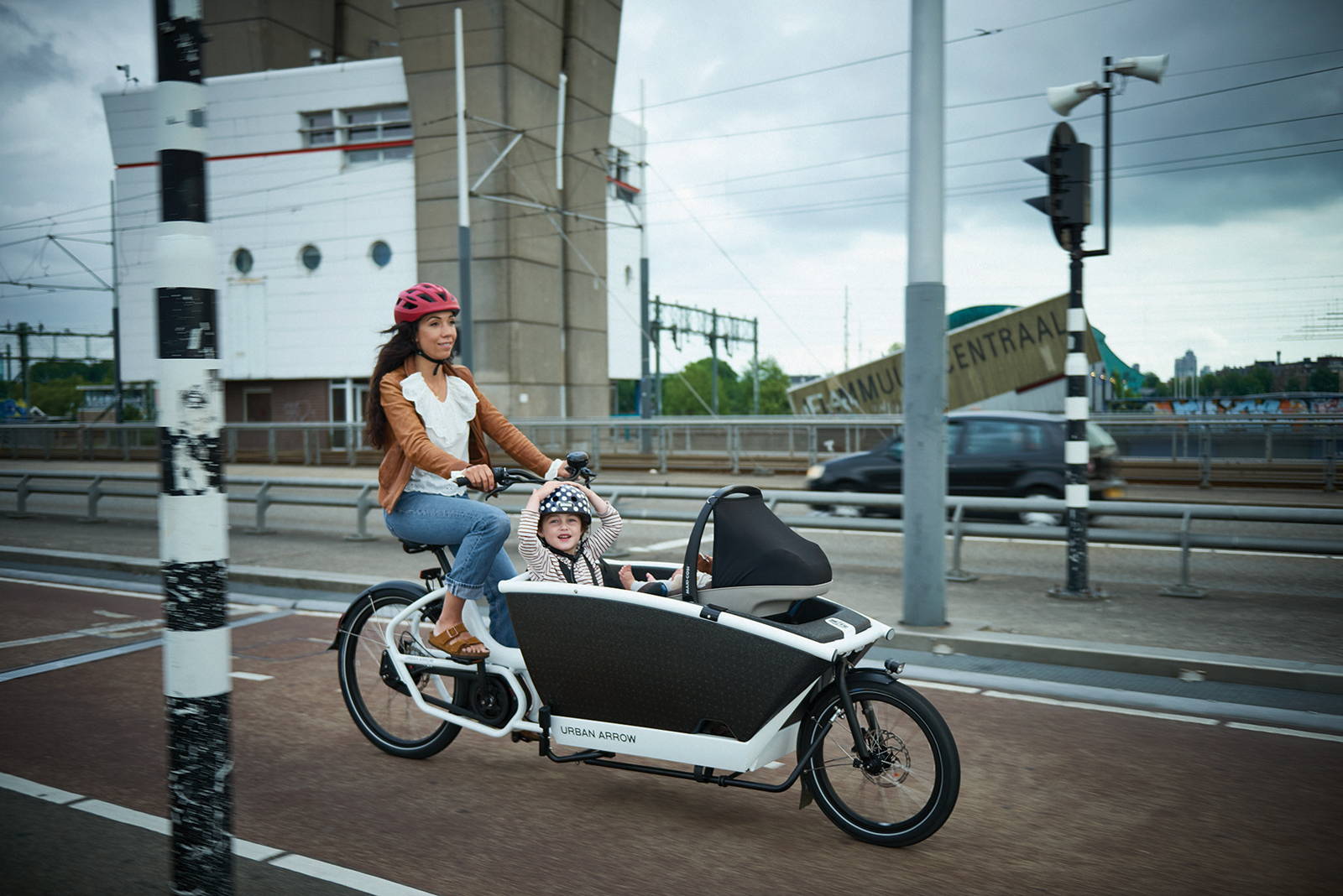 Ten years ago in Holland, you would have seen a sea of gorgeous steel-and-wood cargo bikes, a moving landscape as iconic as the windmills, gabled houses or North Sea rain. But icons can change, and sometimes they need to. We've often observed that the Dutch, as masters of product design, build things well once so they never have to revisit the drawing board. While it's true that the wood-and-steel cargo bikes of Holland are designed with a touch of immortality (they really seem to last forever), it could also be said that they might be a little arrested in terms of evolution. That's where Urban Arrow comes in.
Urban Arrow fits into the Dutch landscape like the cutting-edge modern architecture seen all across Holland. It represents a new approach to materials and technology while still remaining loyal to the Dutch benchmarks of durability and quality. The frame materials on an Urban Arrow move away from heavy steel to lightweight aluminum, and the box is ingeniously constructed out of EPP foam: even more impact-resistant than wood (and about 70% lighter too!). Here in North America where distances are longer and roads are less safe, these advancements are critical. Perhaps that's why Urban Arrow is considered the most international cargo bike brand - Urban Arrow took the near-perfect Dutch cargo bike and developed it for the world.
One of the most beautiful things about watching people use their Urban Arrow is seeing how parents can talk to their kids while enjoying the ride together. The whole trip becomes a great conversation! Plus your little ones get a front row seat to all the passing scenery. Take it out on the weekend and let the conversation steer with the bike. Go exploring!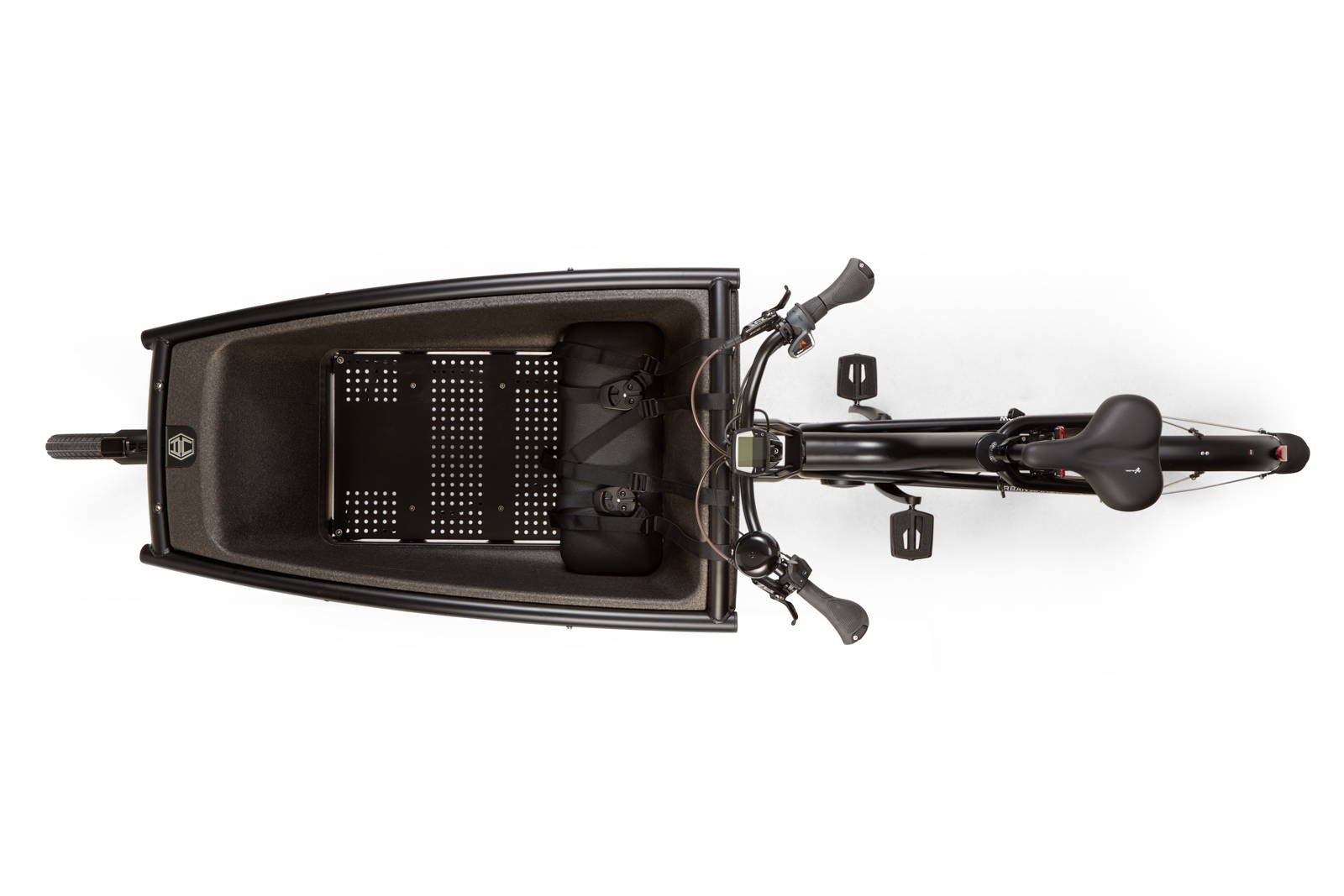 Kids grow up s0 a cargo bike has to grow with your family. What we love about Urban Arrow is how cleverly engineered their seating is. The Urban Arrow comes with one bench seat but you'll notice that the floor of the box has lots of perfectly drilled holes. Part of this is for draining rain-water (it rains a lot in Holland) but the other reason is to give you a ton of plug-and-play seating options that you can use as your family grows. Having a baby? You can install a Maxi Cosi car seat on the Maxi-Cosi adaptor, and there's still room for two kids on the bench! Have a toddler? Then install a Yepp Mini Adaptor where the Maxi Cosi seat was - still room for three kids! Need space for three or more kids? Add an extra bench and get the party going!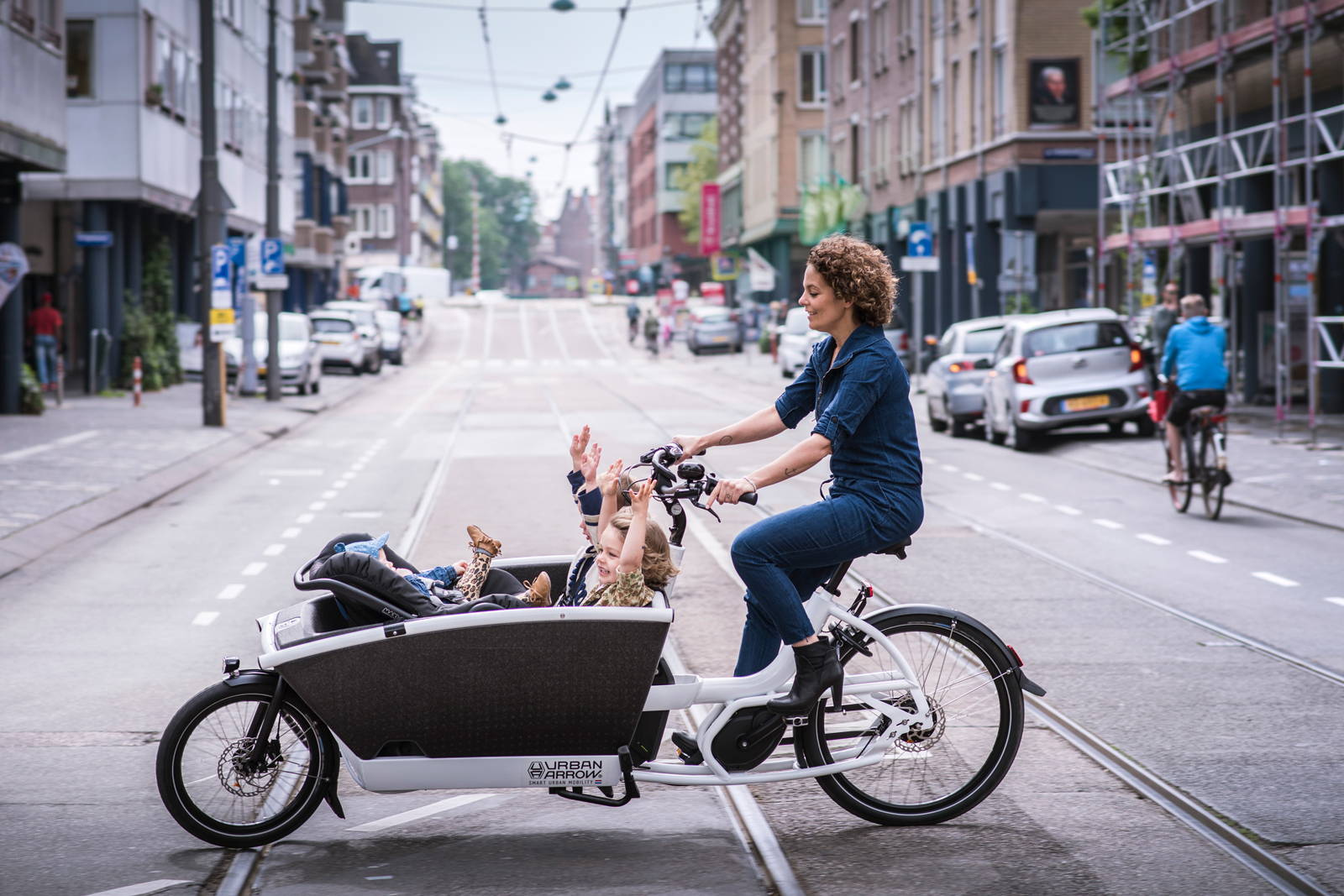 There's an indestructible element to Dutch design that is rather unique and unseen elsewhere. You might say that "planned obsolescence" is not a phrase in the Dutch dictionary. Some have speculated that Dutch design is so good because the entire country sits below sea level. Poor design or planned obsolescence could mean the dikes and polders breaking; literally losing the ground beneath your feet! So sure, an Urban Arrow may outlast the next flood or apocalypse, but more simply, they are designed for life. That is, they are made to last, but also to fit in with your life. It's a clever design that integrates and enhances your day-to-day.
4. YOUR PRIMARY CAR (OR SECOND CAR)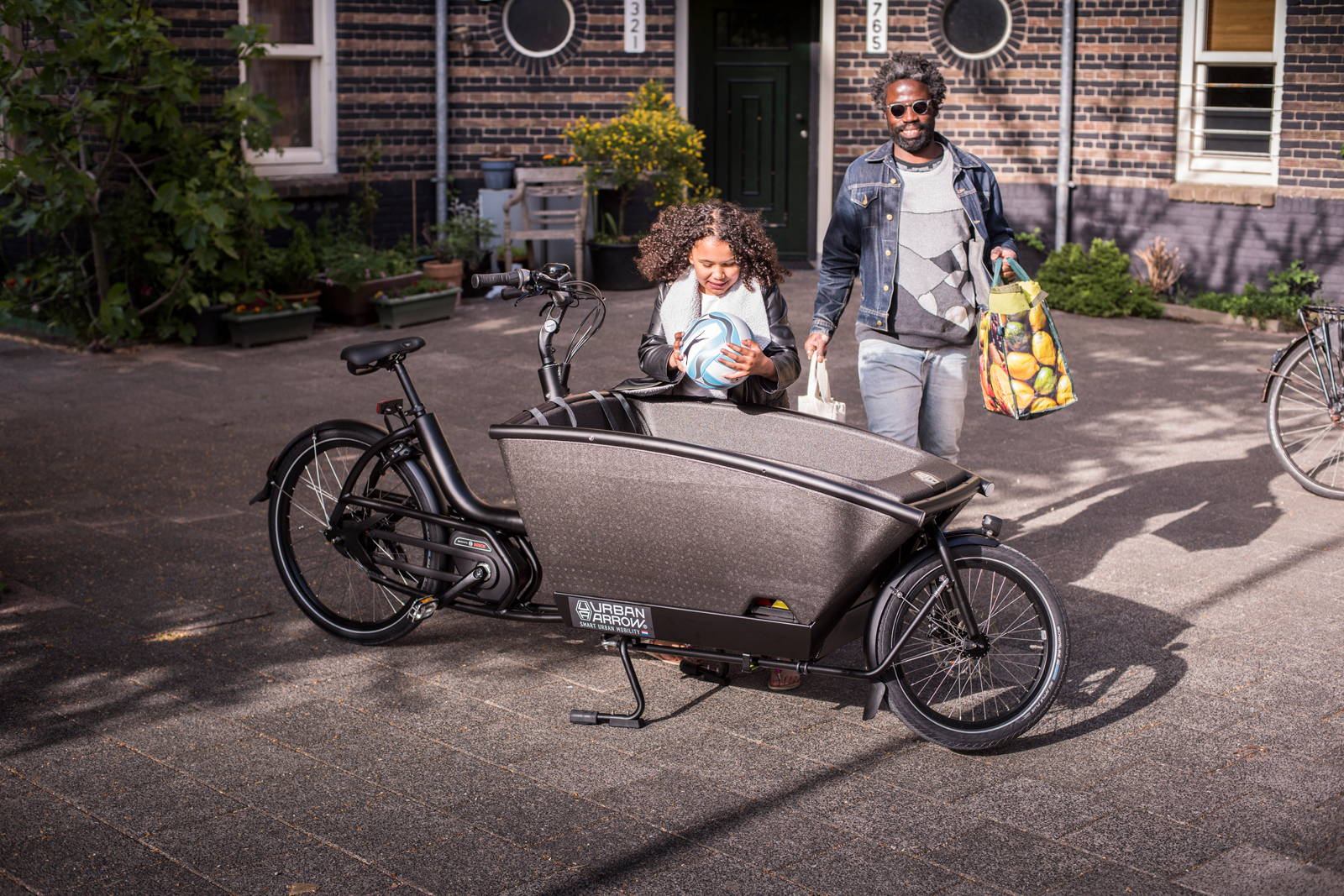 It has been said that Germans make great cars and the Dutch make great cargo bikes. Fair enough. It takes a driving culture to make cars, and a cycling culture to make great bikes. But what's interesting about Holland is that car ownership is directly correlated to bike ownership. You may be asking how the greatest cycling culture on earth is also one of the biggest driving cultures. The reason is simple and has absolutely nothing to do with identity politics. It has to do with the fact that a bike just does most stuff better than a car and a car does a very few things better than a bike. Ultimately, this is matter of distance. For the Dutch, the bicycle handles the majority of your trips. Why? Because it's been well documented that a majority of most trips are usually under 7.5km. This is true in North America too, but we drive this distance rather than bike. In Holland, it is really only distances greater than 7.5km where the car begins to compete, although recently the rise in e-bike trips has chipped away at car use for distances up to 15km. What does this mean for us, here on the other side of the pond? Well, maybe we have it all backwards. We've been using the car as our primary mode of transport when really a bike does a much better job. And, that bike saves us so much money as our main mode of transport that we could, if we wanted, buy a car. So, whether you think of your cargo bike as your 'second' or 'primary' car, the important thing is that it will handle most of your transportation needs, costs a pittance compared to a car, and makes you very happy indeed!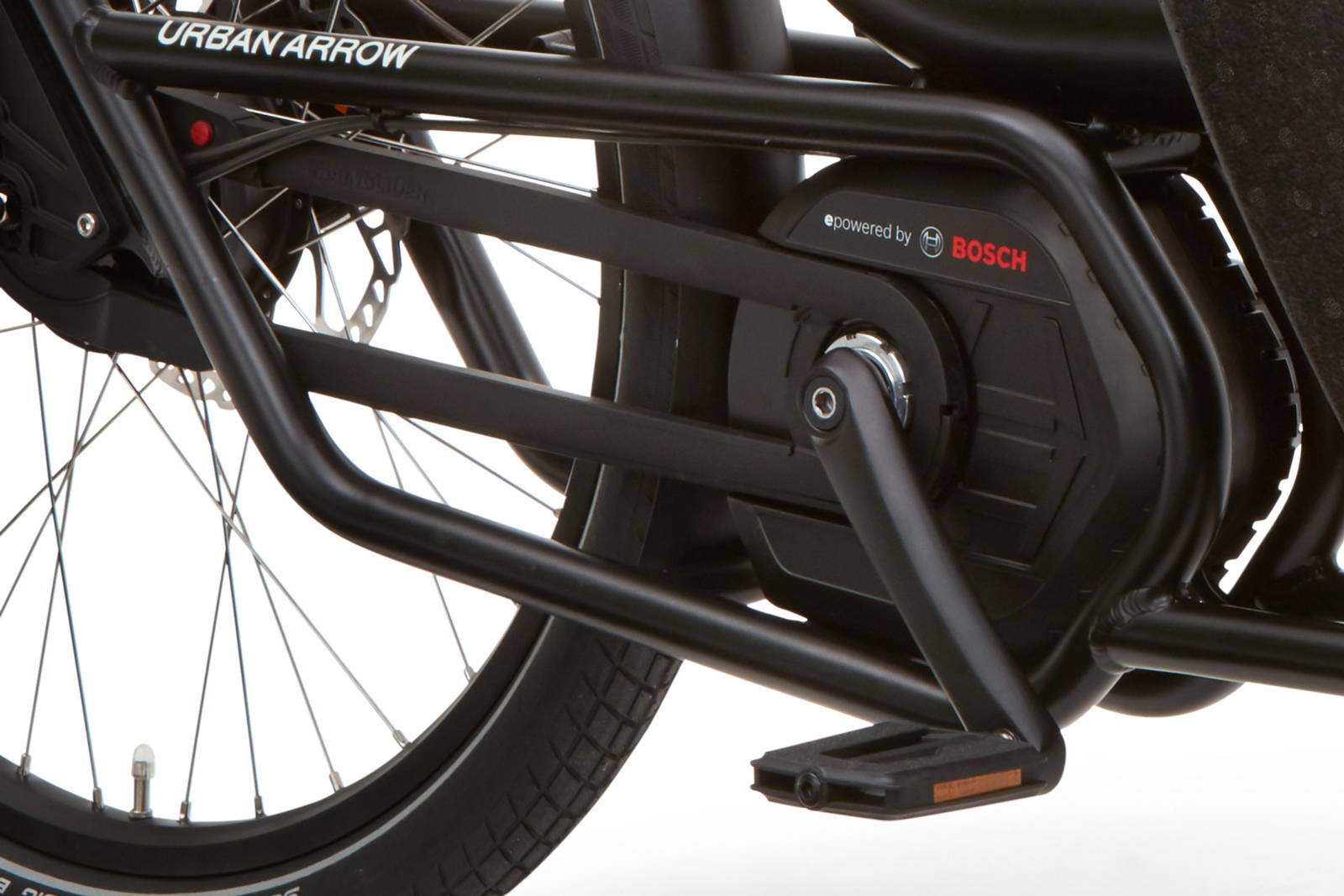 We like to say that a motor is only as good as its inherent quality and after-sales service. The e-bike market (in North America, at least) is a bit of a wild west these days. On one side there are proven and mature designs (mostly from the EU) that are highly serviceable and super high quality. On the other side there are a ton of companies who, as we like to say, are good at making money but bad with quality. Urban Arrow was the first cargo bike company to use Bosch mid-drive motors, and that set the trend for all cargo bike brands who followed. Bosch motors are mid-drives, meaning they are located at the pedals, not at the front or rear wheels. Why? Because the very definition of an e-bike is that it is a pedal assist. Today, these mid-drive motors are the benchmark, and Bosch stands out as the brand who really brings the power, the battery life, and the range - all very important for a heavier cargo bike. Of the two motor models available on Urban Arrow bikes, the Bosch Performance Line offers good flat-terrain power with a more limited range, while the Bosch Cargo Line offers all-terrain power with significantly more range. And they're totally serviceable too. Our mechanics love working with Bosch -- and if a mechanic likes it, you know that it's good.
6. IMPACT RESISTANT SAFETY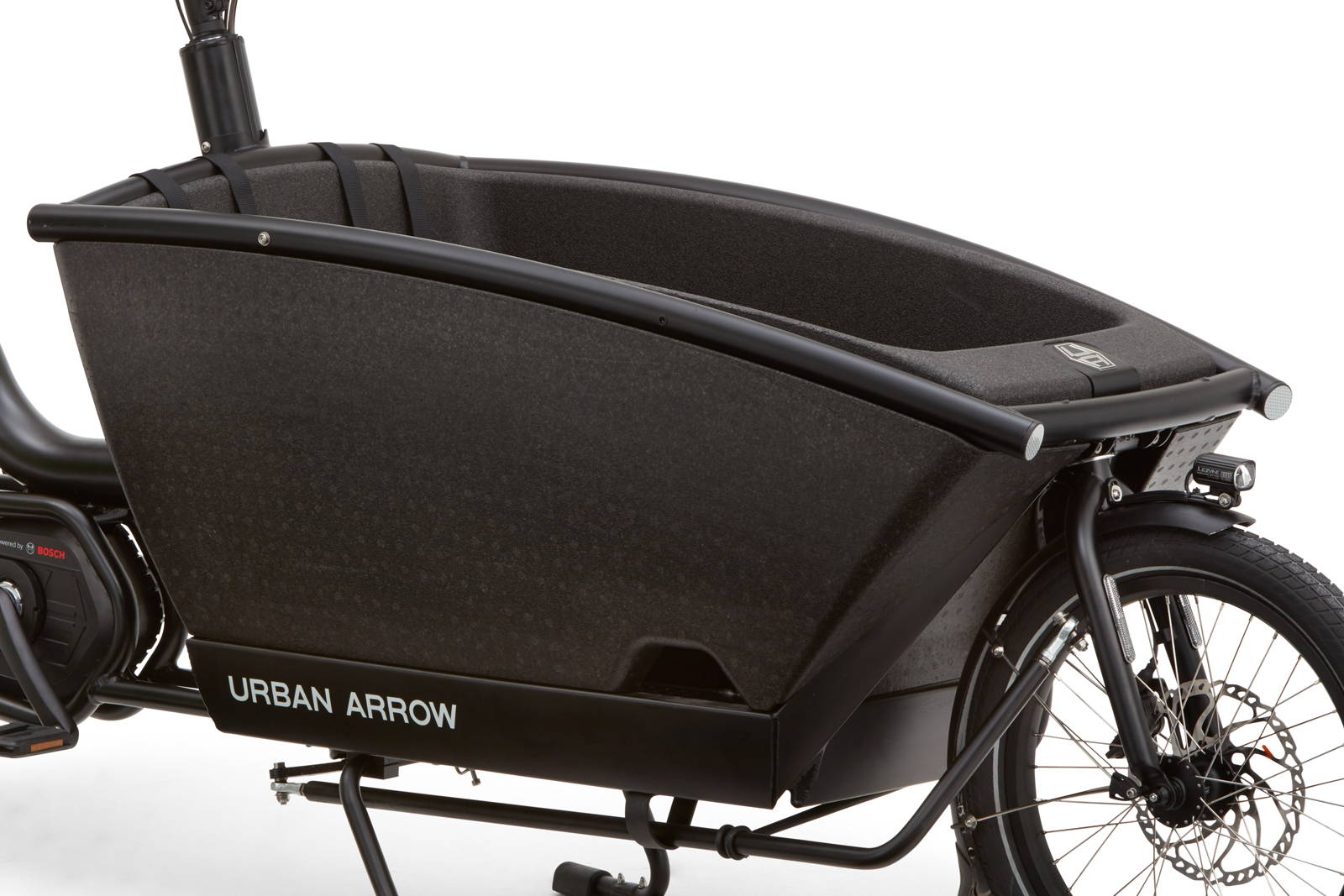 One of the funnest parts of owning a cargo bike is all the great conversations you get into. Cargo bikes really build a community! You may even say they are high impact this regard. But, a good cargo bike is actually designed to be impact resistant. The box on the Urban Arrow might just be the safest storage out there. That's because the box on an Urban Arrow is made of EPP foam - the same stuff used in bicycle helmets. That makes EPP foam one of the most tested and advanced materials on the planet: helmets go through millions of tests before they can be sold on the market! Also great about EPP foam is it's super light weight. If you compare an Urban Arrow to a Babboe City, for instance, the overall bike is nearly 40% lighter, and that's just because Babboe uses a heavy marine-grade wooden box. Lighter weight means more range and more adventures. But, with the Urban Arrow, it also means confidence that you've put safety first.
7. IT CAN WEATHER ANYTHING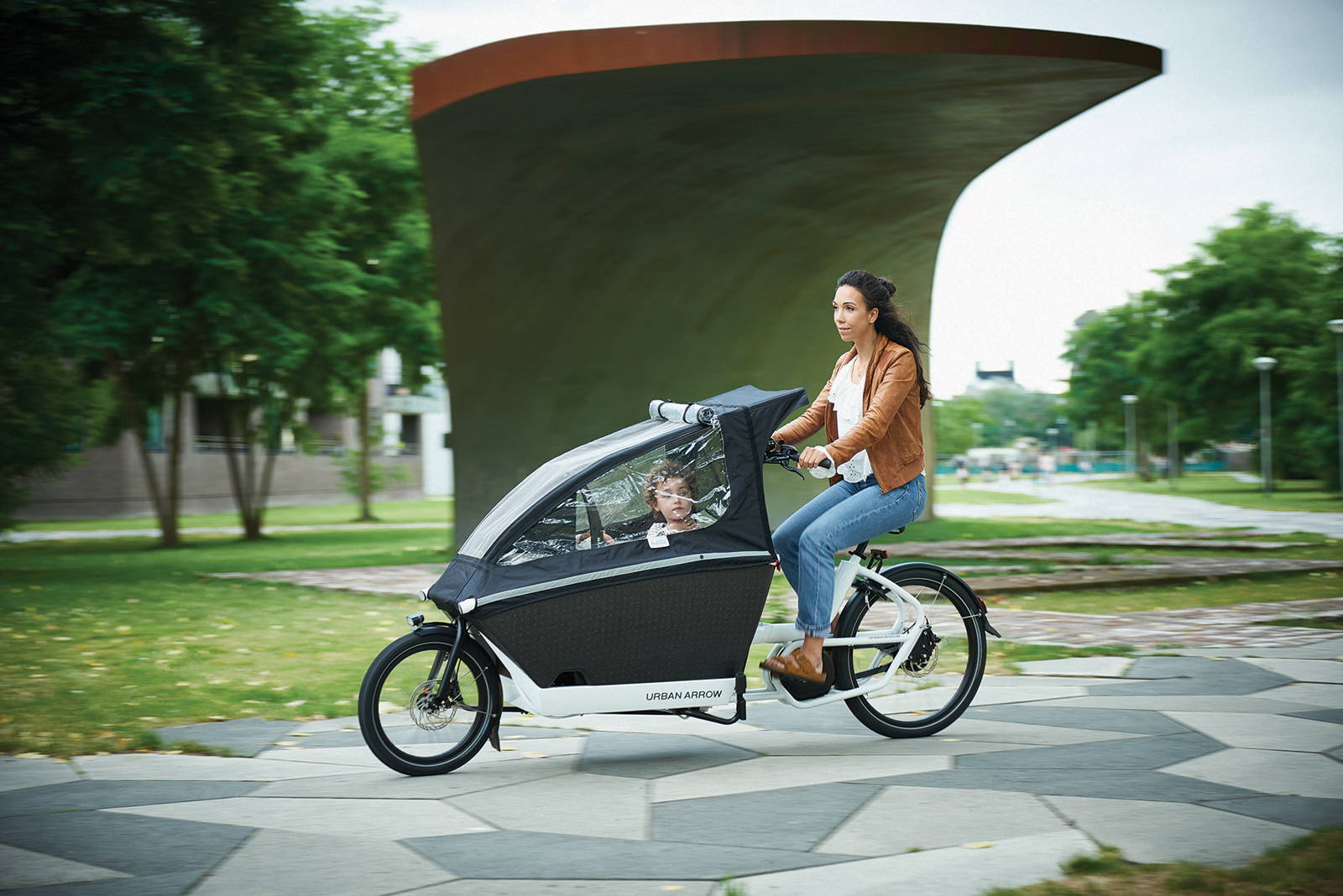 No country is more fearful of water than the Netherlands. It makes sense given the country sits below sea-level and is protected by man-made dikes and polders. So, perhaps it is not surprising that an Urban Arrow bike takes weather-sealing very seriously, right down to the paint used on the frame itself. Each Urban Arrow is finished with a strong chip-resistant powdercoat. The EPP box is surface-coated with Line-X polyurea abrasion-resistant coating (from Thunder Bay, Ontario!). Meanwhile, the gears are completely sealed inside the rear-hub - perfect for all-year outdoor storage and riding. And the brakes? Those are sealed too! Your Urban Arrow comes with two powerful hydraulic disc brakes. Hydraulic means tons of power, but also higher protection from freezing since the fluid is sealed from moisture. This is where Urban Arrow is very different from many North American cargo bike brands. Your Urban Arrow isn't designed strictly for recreational use - although it does that very well - it's designed to be transportation. You drive and park your car outside year round, and you can do the same with your Urban Arrow.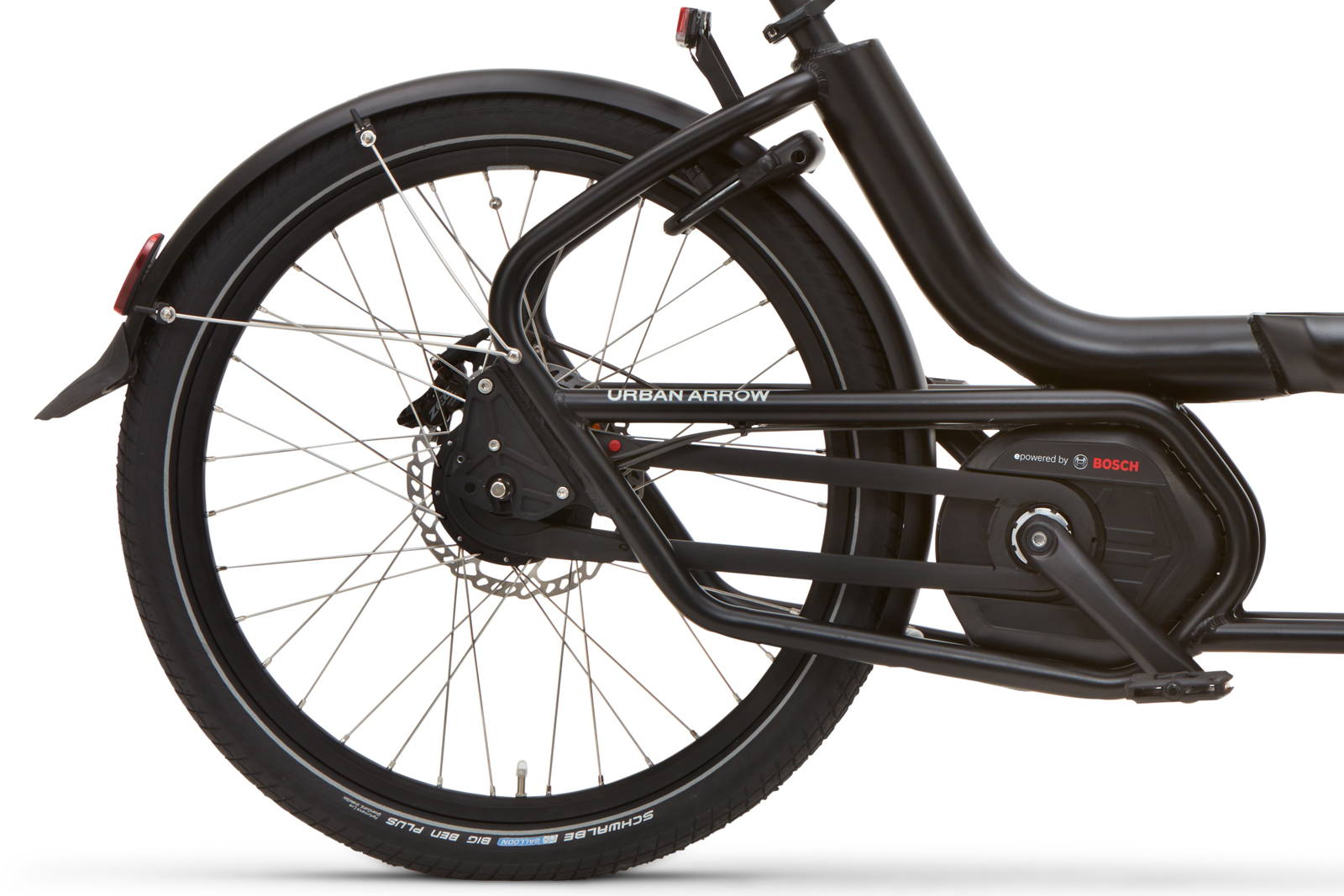 We mentioned that all the parts on Urban Arrow bikes are mechanically sealed. This has another benefit: low maintenance! If you've ever owned a North American mountain bike or hybrid bike, you might be surprised to hear that a bike can be low maintenance. That's because most North American bikes have a trillion speeds and really delicate mechanisms. The Urban Arrow bikes all use Enviolo internal gears, which are so simple in fact that you just twist the shifter wherever you want, and voila, you're in that gear. You might raise an eyebrow at this and suggest that the more gears you have the more range you have, but that's not true. The Urban Arrow has what we call a 380% gear range, pretty much the exact same high and low gear as a 21-speed hybrid bike, minus all the visits to the shop to get things adjusted.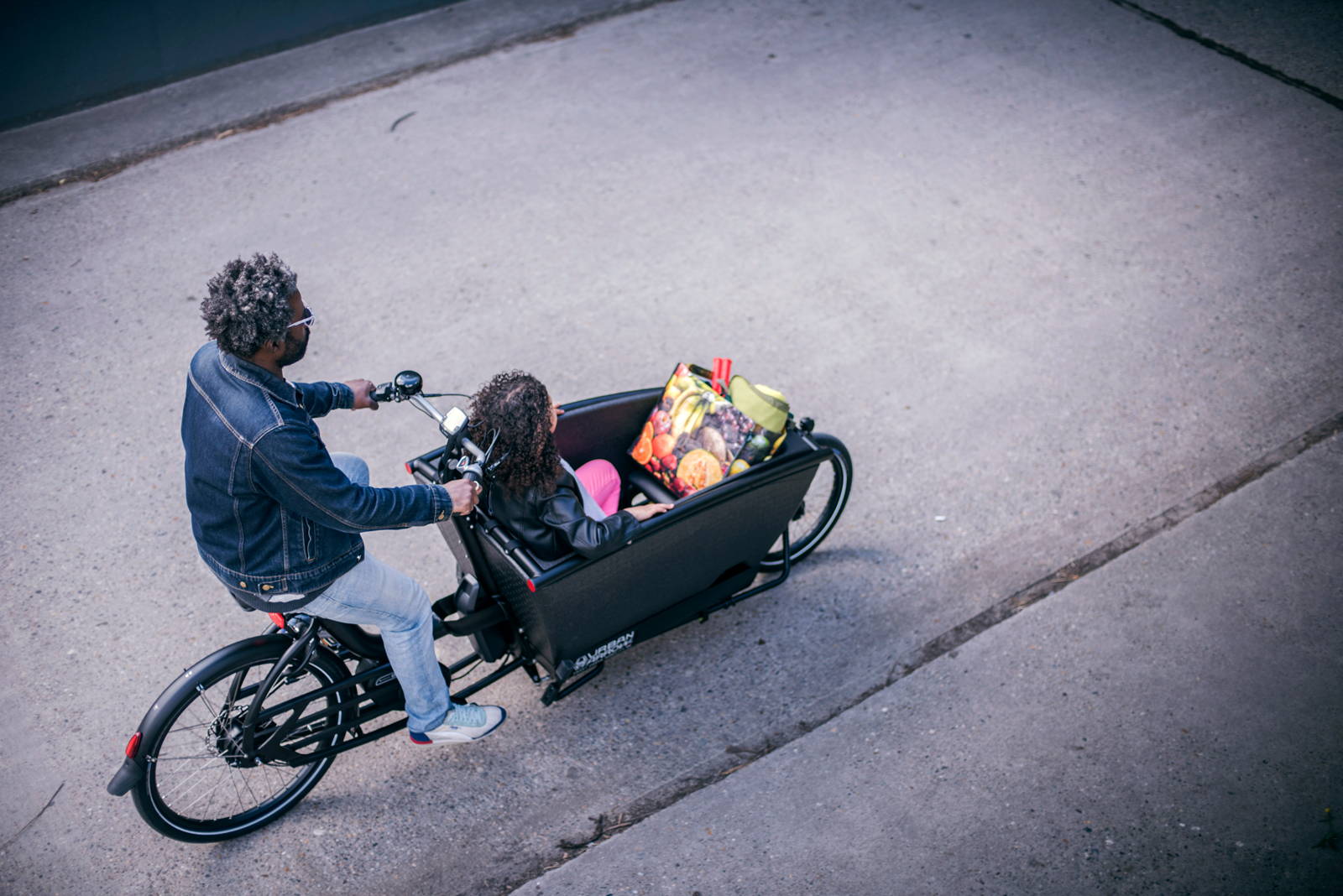 If you've bought a hybrid or mountain bike before, you probably wondered why the riding position was so hunched over and uncomfortable. That's because the assumption behind most bikes sold in North America is that you are out for a three hour fitness ride on a car-free bike path. Well, the Urban Arrow's set of assumptions couldn't be more different. It knows that you're riding precious cargo through traffic and need to see and be seen. The assumption is also that you are on a fun journey with your kids, so it's nice to be upright enough to point out the sights and focus on the conversation.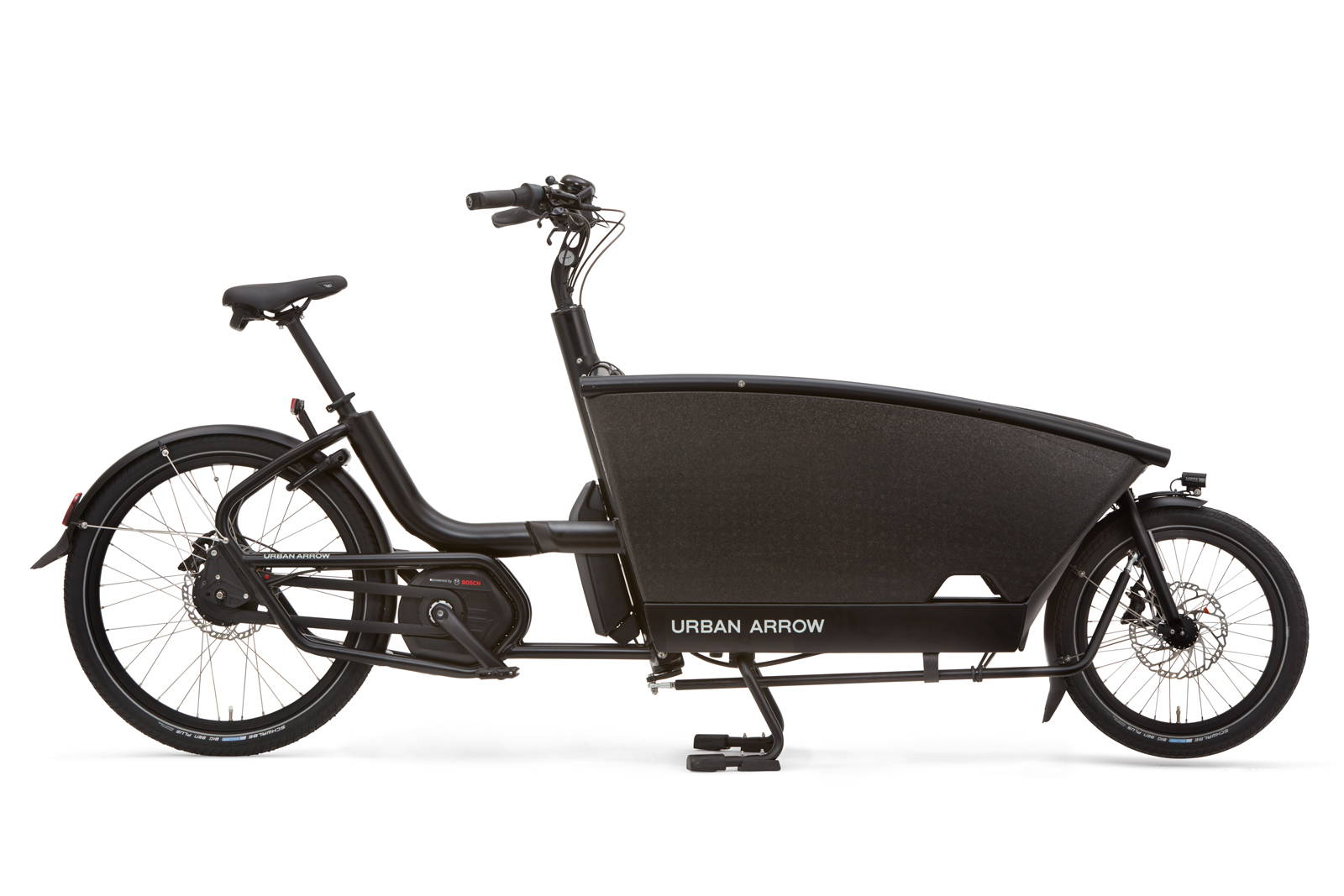 The cool thing about buying an Urban Arrow is that it pretty much comes with everything already. There are fenders to keep you dry, the wheels are bolted down to prevent theft, and all bikes come ready with high quality lights. There is even a bell! But look a bit closer and you'll see some other cool stuff. For instance, all the tires have a layer of puncture-resistant lining inside of them, because who likes flats? If you look at the rear wheel you might also notice a built-in lock that is terrific when you're dropping kids off (so you can ensure the bike won't ride away on its own). And finally, all Urban Arrow bikes come with a chainguard. In North America the assumption is you have to change into Lycra to ride a bike but, in Holland people dress up to ride their bikes! The chainguard keeps grease and grime away from clothing. That means white dresses and picnics in the park!